[kkstarratings id="2393"]
Translate this page:
Spanish House Price Index was up 4.5% in 2016
Strong trend lead by the two biggest markets: Madrid and Barcelona
With the data just released by the INE, we can say that the Spanish housing market is more than stabilising. The trend is led by the two biggest regions in Spain: the community of Madrid and the Catalonia region. That is a very good sign for the Spanish market in general!
Barcelona & Madrid: increases bigger than 7%
Prices increases for Madrid was 9% and was 7.8% for Barcelona on a year on year basis. The "Indice de Precios de Vivienda (IPV)" was up 4.5% for the country.
The two other regions benefiting from higher growth rate than the country are the Balearic Islands and Ceuta.
The regions growing at a rate under 1% are La Rioja, Murcia, Castilla y Leon and Extremadura.
Read our news of last week on Barcelona real estate market in 2017 and on the real estate evolutions in Madrid in 2017.
Have a look at our histogram with yearly and quarterly evolutions: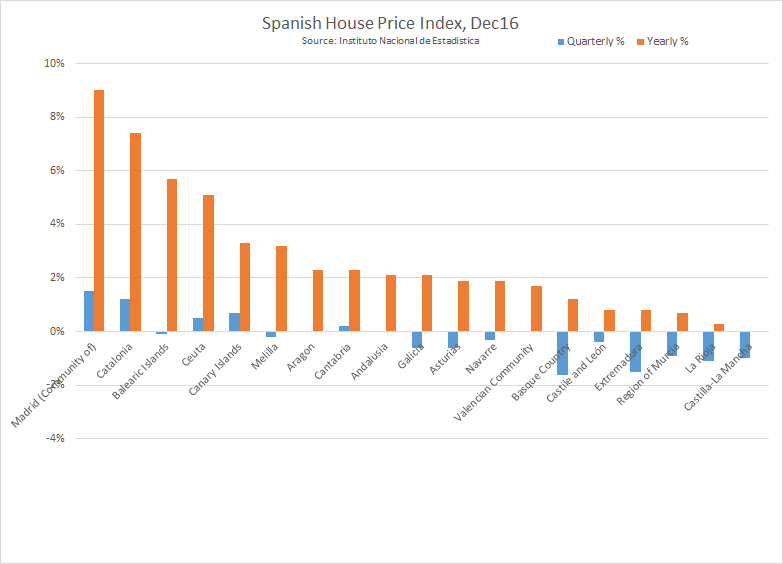 Last Quarter of 2016 mixed
2016 ended on a strong note for the same regions as on the yearly ranking apart for the Balearic Islands replaced by the Canary Islands: the community of Madrid, Catalonia, Canary Islands and Ceuta.
Interesting to note, four regions had negative growth rate bigger than 1%: The Basque Country, Extremadura, La Rioja and Castilla-La Mancha.
Have a look at the table with the index levels and the yearly and quarterly evolutions: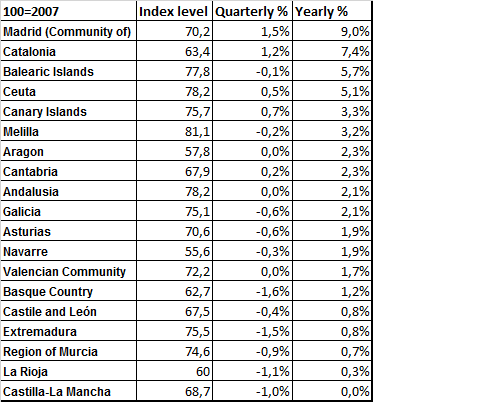 You will note that all the regions are still very much under the levels of 2007 (100=2007)… 10 years ago…
Do you want to check real estate prices of Spain vs other European countries? Have a look at our tables or check our rankings on many different periods: quarterly, yearly, 3 years, 5 years, 10 years.
Source: Instituto Nacional de Estadistica
Looking for an expert in Spain? Ask us directly!
Senior analyst and strategist at HTBIS
Check the full HTBIS team here
SHARE with the colour icons at the bottom of your screen