Translate this page:
Enjoy this delicious and refreshing Lavender Cocktail
Ingredients for 1 litre of Cocktail / 4 glasses
1 

litre of 

water 

0.1 

kilograms

sugar

10 

grams of lavender flowers

200 

millilitres of freshly squeezed 

lemon juice (i.e.

 4 lemons)

ice cubes
fresh lavender

sprigs for garnishing
Directions
In a pan, bring to a boil: 200 millilitres of water + the sugar + the lavender leaves. Once boiling, stir and cover.
Then remove from heat and allow the lavender to steep until the mixture returns to room temperature.
Squeeze the lemons, and removing any seeds.
When the "lavender infusion" has cooled, strain out the lavender leaves.
Pour everything together: the infusion, the lemon juice, and the rest of water into a large pitcher.
Add ice and garnish with delicate lavender sprigs!
Health Benefits of this Cocktail?
Non-Alcoholic 😉
Health properties of Lavender: the word lavender originally stems from the Latin word lavare which means "to wash". The herb is highly regarded for skin and beauty. Lavender oil is believed to have antiseptic and anti-inflammatory properties which can be used to help heal minor burns and bug bites. Research has revealed that the essential oil of lavender may be useful for treating anxiety, insomnia, depression, and restlessness. Some studies even suggest that lavender can help digestive issues such as vomiting, nausea, intestinal gas, upset stomach, and abdominal swelling. In addition to helping with digestive issues, lavender is used to help relieve pain from headaches, sprains, toothaches, and sores. It is also used to prevent hair loss and repel insects. Read More?





Health properties of Lemons: The health benefits of Lemons are due to its many nourishing elements like:For 100 grams: (% of daily value)

Vitamin C (64%), B1(3%), B2(2%), B3(1%), B5(4%), B6(6%), B9(3%), Choline (1%)
Minerals: Calcium, Iron,  Magnesium, Manganese, Phosphorus, Potassium and Zinc.
Water 87 grams
Energy 121 KJ (29kcal)
Sugar 2.5 grams
Fiber 2.8 grams
Fat close to zero grams
Protein 1 gram
Positive health effects suggested:  aids in digestion and detoxification, rejuvenates skin and heals the body, helps shed pounds, boosts energy and mood,…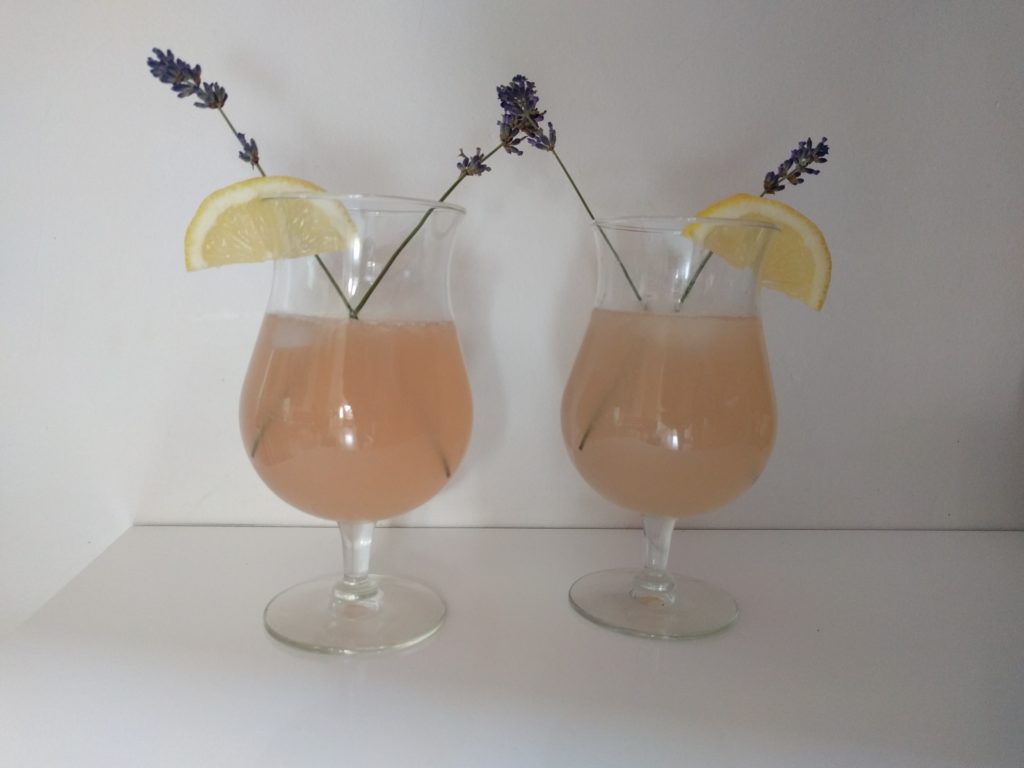 This Coktail recept comes from Yummly
SHARE with the colour icons at the bottom of your screen