Translate this page: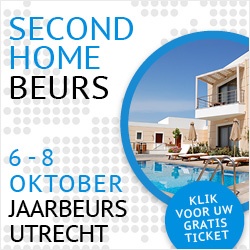 Visit us @ Second Home Fair in Utrecht 6 Oct – 8 Oct
We are very happy to announce that we will attend the Second Home Expo fair in Utrecht from the 6 October to the 8th of October.
This fair will have more than 158 exhibitors! So don't hesitate to come.
39 Countries will be represented by real estate agents, lawyers, advisers,…
We offer you a FREE "Early bird" access to the fair.
Book now, don't pay 15€  later!
We will be pleased to meet you there at our stall #339
After registration, you will receive your ticket by email.
Please print your ticket and take it to the exhibition.
SHARE with the colour icons at the bottom of your screen