Translate this page:
Malaga is een goede keuze als tweede verblijf
Malaga wordt beschouwd als dé Spaanse stad met de hoogste levenskwaliteit volgens de studie « Europese steden en hun levenskwaliteit 2015 » van de Europese Commissie. Malaga is een bloeiende stad in het Zuiden van het land. De stad werd bekend in de jaren 60 wanneer Spanje zijn deuren opende voor het internationaal toerisme. De Costa del Sol is een van de meest populaire toeristische bestemmingen tegenwoordig.
Super weer
Met bijna 3000 zon-uren per jaar is dit een « paradijsstad », zoals de Nobel prijs winnaar voor literatuur, Vicente Aleixandre, beschrijft in een van zijn gedichten. Dit ideale weer laat soms toe om nog te baden in december of januari. De gemiddelde jaartemperatuur is 18,5 graden Celsius … de gemiddelde jaartemperatuur in Londen is 9.6 graden.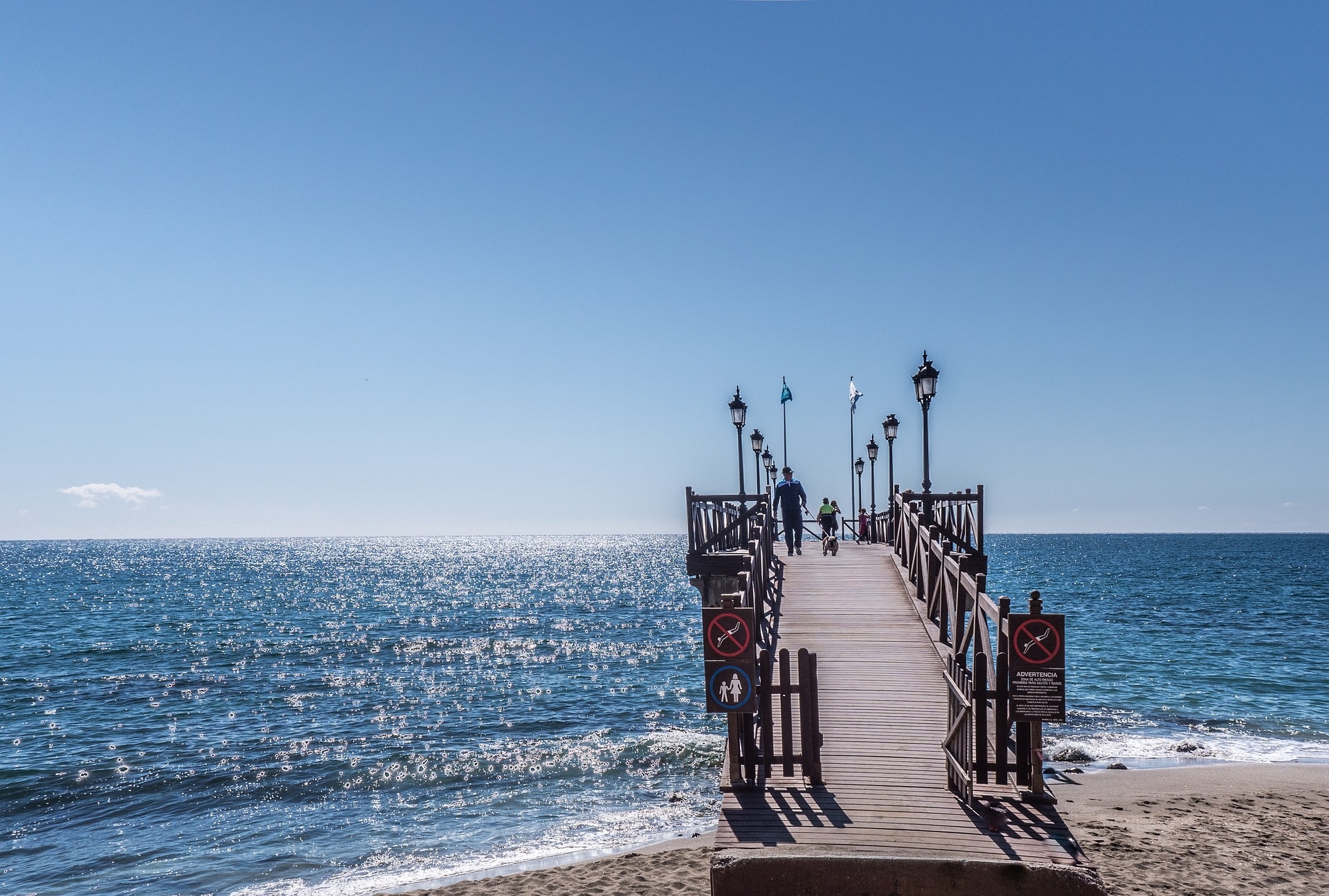 De vastgoed markt staat op het lijsje van vele buitenlanders: Engelsen, Scandinaven, Belgen, Duitsers en Fransen.
De provincie Malaga staat juist achter Alicante op het verlanglijstje van buitenlanders. Cijfermatig zien we dat ongeveer 15% van de bevolking in Malaga buitenlanders zijn (op het platteland zelfs 20%). Volgens Saskia Immobilien Handberg van Malaga:
"De Britten zijn het meest vertegenwoordigd (ongeveer 60 000 wonen reeds in de provincie),gevolgd door de Belgen, de Scandinaven, de Duitsers en de Fransen ».
« Er is een stijging van het aantal aankopen van appartementen door Chinezen » zoals ook te zien is in Barcelona en Madrid. Vroeger verkozen ze om te huren, en soms zelfs met drie generaties die samenwonen. Tegenwoordig kopen ze vastgoed om meer zelfstandig te gaan wonen met hun gezin, verduidelijkt Planeta Casa.
Prijs per district
De prijs van appartementen neemt zowel in de stad als op het platteland toe, maar evolueert niet aan dezelfde snelheid als Barcelona of Madrid. De prijs per vierkante meter steeg met meer dan 10%, uiteraard fel afhankelijk van de buurten.
Als we kijken naar de buurten Centro of Litoral Este, bedraagt de prijs per vierkante meter meer dan 3000 €, zoals verschillende andere wijken in de twee grootste steden van Spanje. Andere buurten, zoals Pedrizas, Teatinos een Litoral Oeste hebben prijzen die variëren tussen 2000 en 3000 € per vierkante meter. ER zijn ook wijken waar u een appartement kan kopen voor minder dan 2 000 € per vierkante meter. Deze buurten zijn Rosaleda, Puerto de la Torre, Campanillas en Churriana.
Prijs vergelijking tussen Malaga en Spanje
Waar leeft u het best ?
Bent u op zoek naar een centraal gelegen en artistieke buurt, dan is Soho de beste zone van de stad zoals Saksia Handberg (Immobilien Malaga) het observeert «het is de kunstenaarsbuurt, befaamd voor zijn nabijheid bij de zee en het centrum ». Wilt u vlakbij de zee wonen, dan raadt Planeta Casa (immobilienagentschap in Malaga) aan om appartementen te zoeken in Huelin, Cala del Moral, Torremolinos en Pedregalejo. Bent u echter op zoek naar residentiële buurten met goede verbindingen, dan opteert u best voor Teatinos, Carlos Haya en Ortega y Gasset Malaga is een grote stad, toch is het gemakkelijk om de afstanden te voet te doen zodat, onafhankelijk van de buurt, alle infrastructuurfaciliteiten nooit echt ver zijn. De stad heeft een luchthaven die vluchten aanbiedt met alle belangrijkste Spaanse en Europese steden. Er is ook de hogesnelheidstrein die andere grote steden van Andaloesië verbindt met de Spaanse hoofdstad Madrid. Waarom niet Malaga ontdekken door een Citytrip? Bekijk onze infographics en het Engels over dit onderwerp City trip to Malaga en Malaga for culture lovers.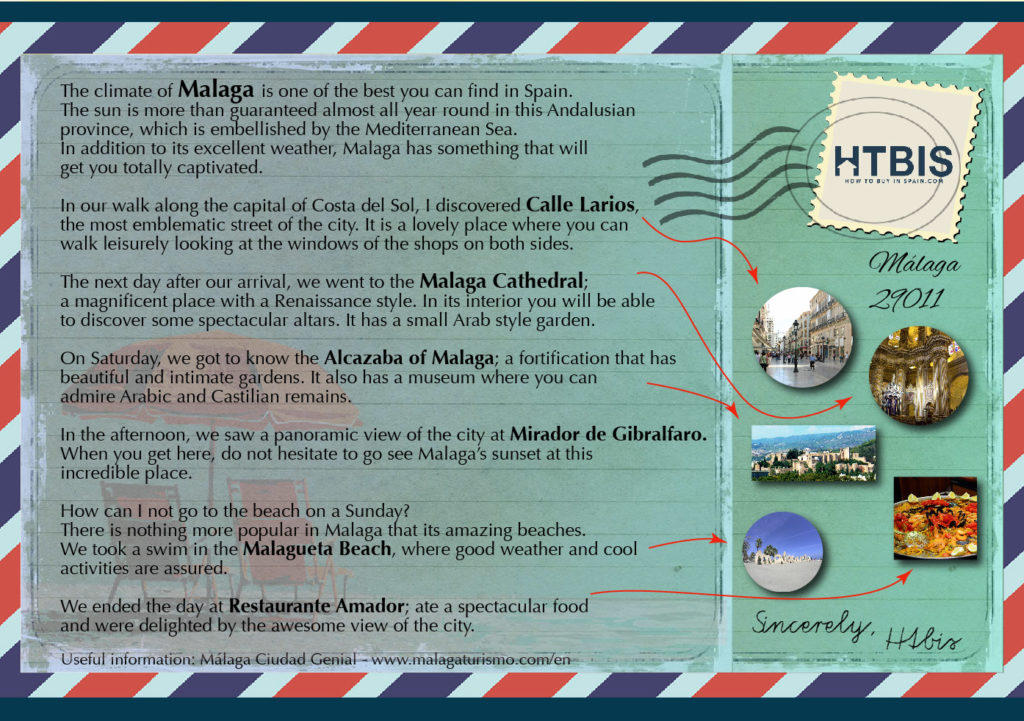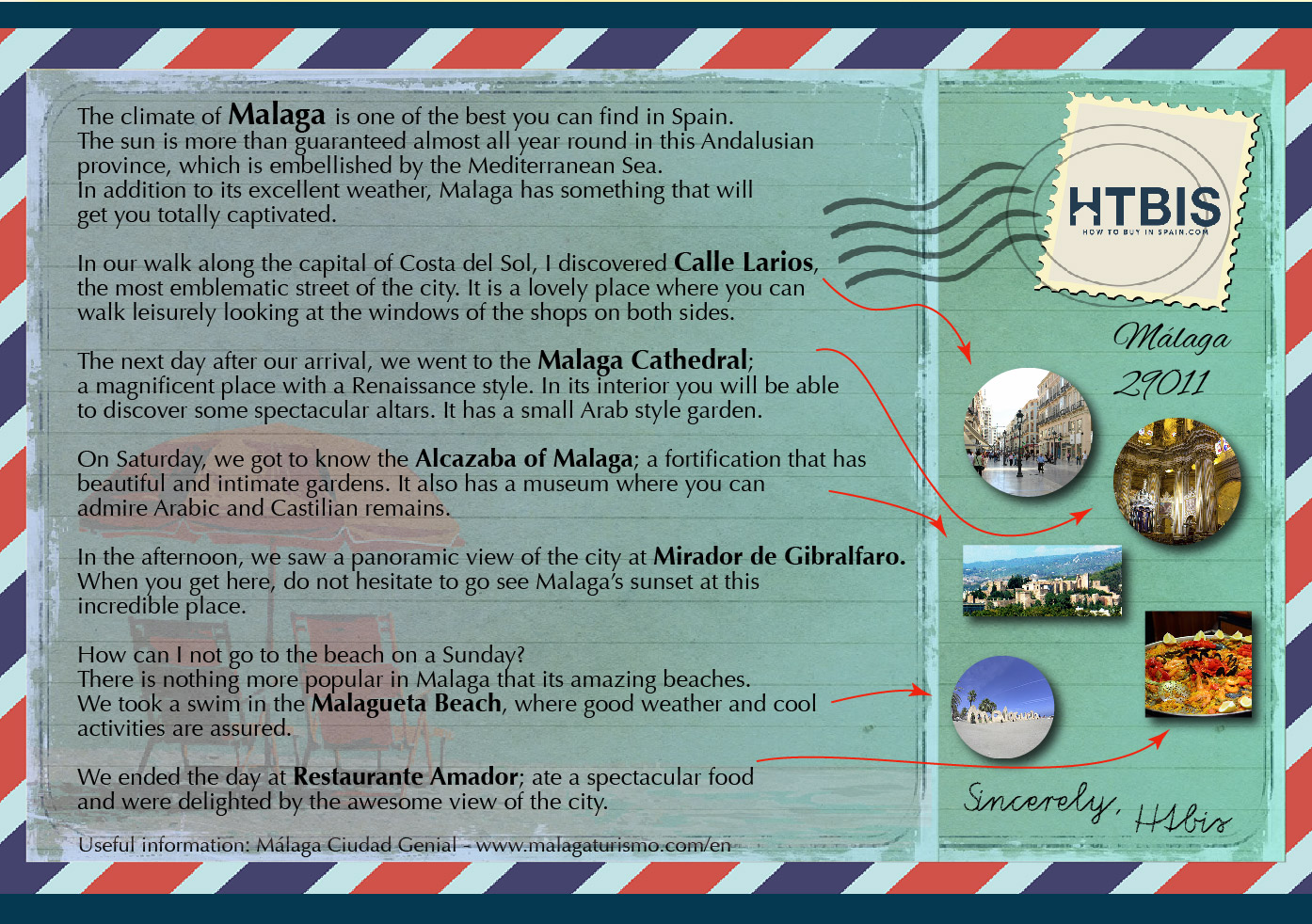 Als u wenst te kopen in Spanje, lees ons rapport met 10+ redenen om vastgoed te kopen in Spanje, in het Engels met automatische vertaler.
Wenst u  de jaarlijkse weerstatistieken in Malaga, te kennen, kijk naar onze infographics.
Abonneer u op onze nieuwsbrief om rechtstreeks te genieten van onze informatie https://howtobuyinspain.com/en/newsletter/
Wenst u de jaarlijkse weersstatistieken te bekijken voor Alicante (of om het even welke andere Spaanse stad) vooraleer te kopen? Kijk dit na op onze infographics.
SHARE with the colour icons at the bottom of your screen