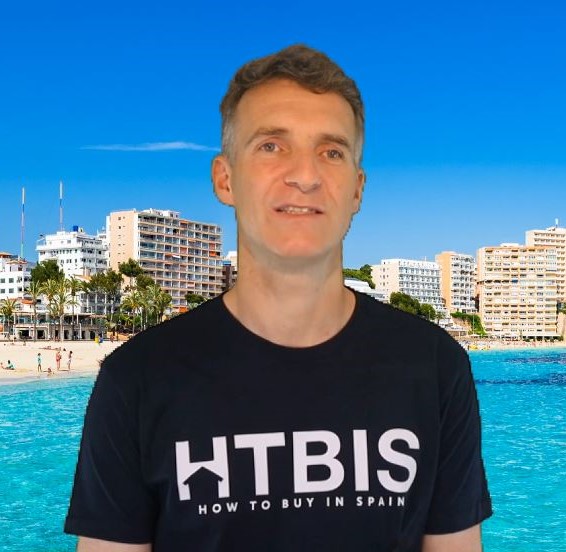 Reading time 4 minutes. Use our table of content for a quick read.
Last Updated on 17/07/2023 by STEPHANE
Click on any flag to get an automatic translation from Google translate. Some news could have an original translation here: News Nouvelles Nieuws Noticias Nachrichten
Congratulations, you found your Spanish dream property!
What is the cost of buying a property in Spain?
First question is:
Is it a new-build property?
Is it a resale?
Depending on your answer the cost will be slightly different but a good rule of thumb is 14%.
The cost of buying a New-build property in Spain: +/- 14%

VAT =10%
Property registration fees = 1.5%
Lawyer between 1 and 2%:
Other costs: Notary, stamps,…

The cost of buying a Resale property in Spain: will be between 10 and 14%

Transfer Tax = 6 to 10% at the general tax rate (but you have reduced rates in certain cases). This amount depends on which Spanish region this property is located.
Property registration fees = 1.5%
Lawyer between 1 and 2%
Other costs: Notary, stamps,…

Don't miss What is the legal due diligence for your Spanish property?

Do you need a property lawyer or a tax advisor to assist you in Spain? Find a Spanish property lawyer in our network.

Other costs to take into account

Banking costs: Usually a percentage of the amount wired + cost of holding an account

This could be very important if you don't have a Euro account and need to convert your currency like Pound, Dolar, Yuan, Shekel, Ruble,… up to 3%

Our Tip:

You have companies specialized in wiring funds internationally working with segregated accounts at the major international banks:

1. You can lock a currency level

=> you will know the commission BEFORE wiring the money

=> you will know the level at which you will convert your currency in Euros BEFORE wiring the money

=> you will know the exact amount you need to wire in your local currency BEFORE wiring the funds

2. You wire the money in your currency

3. The company will wire the money in Euros in Spain on your Spanish account (Don't forget your NIE, read our earlier paper on that) , your lawyer account,…

Mortgage costs:

Bank valuation of the property = +/- 750€
Mortgage deed = +/- 750€
If you want to check the monthly cost of your mortgage, or what is your purchasing power for a Spanish property, check our ultimate mortgage calculator!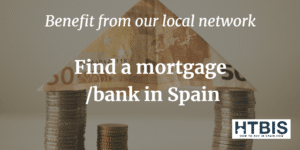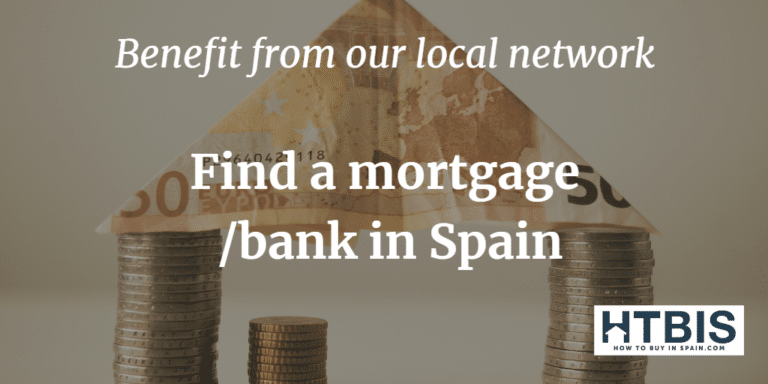 Related Your definitive guide to your Spanish mortgage. How to get the best rates?
Do you want to find the best Spanish mortgage rates? Fill this quick form and ask our partner for a quote
Real Estate agent fee: Here is the good news you were waiting for: the seller is paying this one 😉 in general.
Before buying, you want to know what is the annual cost of owning a property in Spain? Read our paper on this subject.
All those information are from reliable sources. We advise you to check those with your fiscal and legal agent in order to get all those costs up to date and adjusted to your specific situation.
Have a look at our detailed article and study on the subject.

If you are living in UK, here is our dedicated article: Cost of living in Spain vs UK.
Have a look at our detailed property buyers guides custom made for any nationality
Here are our FREE pdf property buyers' guides written for all the foreign nationalities looking to buy in Spain: Click on your country flag, you will find your pdf report at the end of each article. Get most of our tips there.
Do you want to start searching immediately?
Discover the best new build projects in Spain available right now
Don't know where to buy? Start with our general article: Everything you ever wanted to know about the top 20 Spanish real estate markets
Get your insights right to your mailbox? Register for our newsletter!
Our Tip: Don't forget all our checklists before buying your property: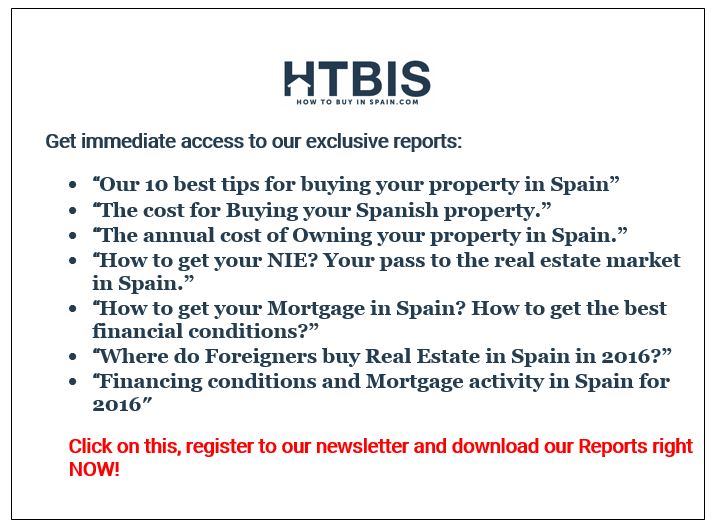 Finally, if you want more, check our very useful infographic: The 9 legal steps to your Spanish property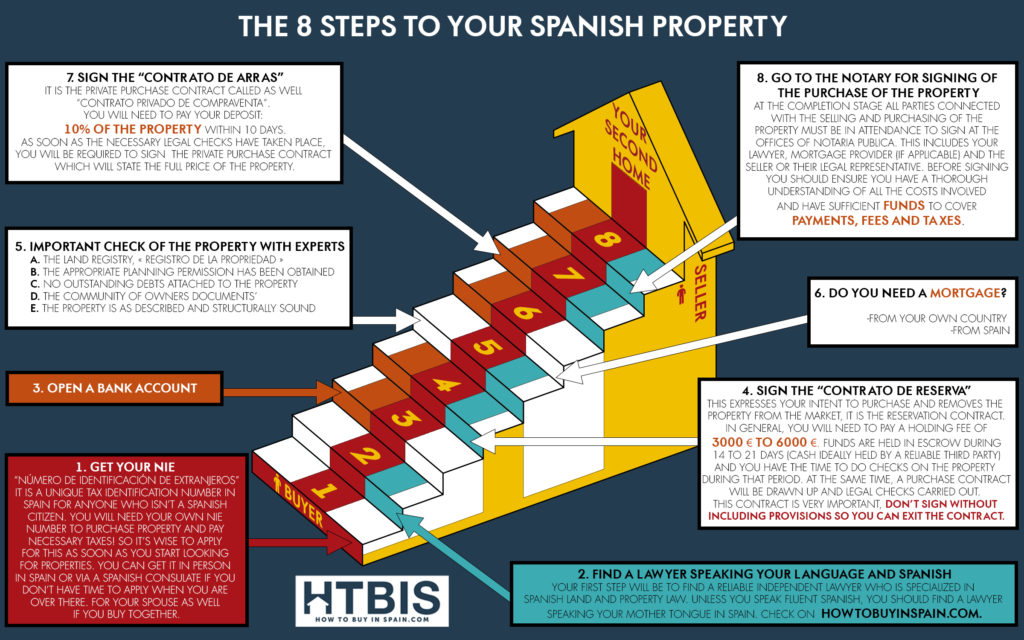 FAQ on the Cost of buying a property in Spain
Is buying property in Spain a good idea?
Spain is the number one country in Europe for holidays. It is 10% cheaper than Europe. Of course real estate is cheap as well and you have 320 days of sun. Read our article: 10+ reasons for buying a property in Spain.
How much is property purchase tax in Spain?
The cost of buying a property in Spain is between 10 and 15% depending on if it is a resale or a new build and where the property is located. Read our article for more on that.
Can I get residency in Spain if I buy a house?
In order to get residency in Spain, there are certain conditions attached to it (income, activity, nationality,...) So if you want to live in Spain and work in Spain, check with a lawyer. The Golden Visa could be the way to go as well. Read our article on that.
Do I need a Spanish bank account to buy a property in Spain?
The obvious answer is yes. You want to finance a property in Spain, you will have taxes, utilities, ... Get it right away. In order to open your bank account, you will need a NIE, see our news on that.
Looking for a property lawyer in Spain? Follow the link and get one of our local lawyer.
Looking for another real estate expert in Spain: Mortgage, Insurance, Survey of property, Property hunting, …? Ask us directly one of our 100+ local partner!
Senior analyst and strategist at HTBIS
Check the full HTBIS team here