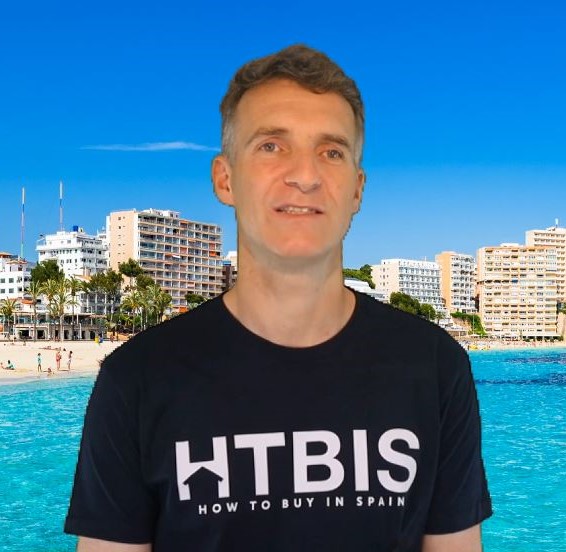 Reading time 6 minutes. Use our table of content for a quick read.
Last Updated on 17/07/2023 by STEPHANE
Click on any flag to get an automatic translation from Google translate. Some news could have an original translation here: News Nouvelles Nieuws Noticias Nachrichten
Your definitive guide to your Spanish mortgage
How to get the best rates?
Many foreigners think that because it is a second home and that because they are not Spanish that they can't get a mortgage. In fact you can get a mortgage but they are certain rules we will explain so that you get all our tips before applying. Thanks to those tips and our partners, you will get the best rates available on the market.
Here is the table of content of this extended article, don't hesitate to jump directly to the desired section.
Have a quick look at our 2-minutes 30 seconds video if you prefer videos, otherwise continue reading.



How much can you borrow for your Spanish mortgage?

For your second residence and as a non-fiscal resident, a bank will finance no more than

70 % of the value of your property.

We call this the

"Loan to Value" (LTV

: i.e.: the amount of mortgage you can get divided by the value of your property before tax), but this % is only for good inquiry. This means that you would need to invest at least

45% of the property value with your own pocket.

How did we found this percentage? 45% = 100% + 15% costs for buying the property – 70% of mortgage!

If you go for a LTV lower than 60%, most of the time, the bank will show more flexibility. In 2016, Mortgages issued in Spain had a LTV of 64% and only 15% had a LTV higher than 80%. Have a look at our table with up to date information on Returns, mortgages and short term and long term rates on the Spanish market.

If you read our article on bank properties for sale in Spain, you will be aware that there could be exceptions to this… if you buy a property from a bank… 😉

What are the documents requested for a Spanish mortgage?

What are the different steps of the application process for your Spanish Mortgage?

Set-up the credit profile of the customer and fill the mortgage request (see section 2)
Formal pre-approval of the mortgage by the bank risk department
Sending of the mortgage offer to the customer
Opening of bank account if the offer is accepted.
The client must send an appraisal provision.
The bank orders the valuation of the property and gets the approval of the mortgage.
Sending of the official mortgage offer.
The bank arranges completion with the client or legal representative in Spain.

Which customers will get the best mortgage rates?

You have to ask yourself this question: What is the ideal customer for a bank?The bank will take a risk, the risk of not being repaid and in this case the bank will need to take legal action to control your property and will sell it afterwards on the market. We saw what happened after the financial crisis of 2008: thousands of properties finished in the hands of the banks as owners couldn't pay their mortgages.

The ideal customer for a bank:

has good professional profile: he is employed and has a stable nice income stream,
has a good credit report, he has not too many debts vs his income,
can afford to have debts: his debt to income ratio is under 35 %, which means that his monthly net income is 3 times bigger than his monthly debts repayments,
the property has a good resale value:

the property price is correct vs the market
there is demand in the market for such a property

is coming from an OECD countries, as you know, with anti-laundering laws that came into effect all over Europe, it is very difficult for banks to give a loan to resident of certain countries. Of course, if you are a resident of the European Union, it will be the easiest.

At howtobuyinSpain.com, you are in good hands, we work with a mortgage broker (read next item for more on that) who asks the best mortgage prices to all the Spanish banks. Depending on your profile, certain banks will be more aggressive and others won't be.Our mortgage partner, knows that and they will go to the best bank, or will ask quotes to many Spanish banks in order to get you the best quote. They work with all the biggest Spanish banks: BBVA, Bankia, Santander,…

Click on the image bellow and fill the quick form in order to get a free mortgage quote.

What is a mortgage broker?

A mortgage broker is a financial professional who is helping their clients to find a home loan.

The role of the mortgage broker is to assist the home buyer with the application process.

Gather information about the client's need regarding his home loan
Help to create the financial profile of the customer
Help to establish the customer borrowing capacity
Gather information from banks about mortgage conditions
Suggest the best borrowing options according to his profile
Match the customer needs with the best corresponding bank products

Why a mortgage broker will get you the best mortgage quote?

You don't have to work with a mortgage broker, you can directly ask a mortgage to a bank but there are many advantages of working with a mortgage broker:

He has the knowledge and the expertise
He works with many banks
He knows which banks will have the best offers according to your financial profile/project
He knows which banks are most aggressive at a certain time
He knows which banks are most active in a certain region
He will manage the process and the paperwork
He will improve the odds of your mortgage request being approved if your profile is close to the "no go"
He knows the Spanish regulation
He speaks your language,… you don't need to speak Spanish
One contact… many bank offers…

What rate should you take for your mortgage? Variable or Fixed?

There are a wide range of mortgages available

Most of the banks provide a wide range of mortgage: variable, mixed and fixed rate. Due to the current rate environment, with short-term rates, Euribor, close to 0% and long-term rates very low, borrowers are taking the opportunity to get long-term rates at fixed prices. Before more than 90% of mortgages were issued as variable, nowadays this percentage is lower and 60% of the newly issued mortgages are issued with variable rates while 30% of newly issued mortgages are issued with fixed rates.

Read or detailed article on that subject: How do I choose between fixed and variable rates for a mortgage?

What are the current mortgages conditions in Spain?

Check our article update monthly with the most recent mortgage interest rates in Spain.

Updated as of November 2021

Please note that the mortgage cost is an average. In general, foreigners will get higher rates due to the fact that their assets and incomes are not in Spain but in their home country.

It is always interesting to check the financing conditions for banks:

You can always find all those data up to date on our table: "Returns and mortgage rates in Spain"

and you will be able to calculate everything for your personal project:

What are your monthly payments?
What is your mortgage schedule?
What is your maximum property budget?
How much mortgage can I afford in my Spanish home?
How much money do I need to buy my Spanish second home?
What is the minimum down payment you will need to have to buy your Spanish property?

What is the cost of a €100,000 mortgage over 10 years?

If you want to go into the details, here is a calculation example we did:As you will see, if you take a mortgage of €100.000 on 10-year with a rate of 3.5%, your monthly payment to reimburse your mortgage will be €989.

Thanks to our Spanish mortgage rate calculator, you can change any number and calculate your monthly reimbursments depending on your own situation.

Summary table of your monthly reimbursements for a €100.000

Mortgage

What is the activity on the Spanish mortgage market in 2020?

333.721 mortgages issued in 2020

In 2020, 333.721 mortgages were issued. This is a 7.6% decrease vs 2019. You should compare that to the number of properties sold in 2020 of 487.000, which means, in our opinion, that the market is not over leveraged. Have a quick look at the table for statistics since 2014. Yes we are far from the high leverage situation we had in 2007.

Follow this link to read our detailed article on the mortgage activity in Spain.

Are you buying a property in Spain as an investment?

Buy to let?

Our best tip: Don't forget to take the mortgage when you buy, not after, if you want to reduce the taxes on your rental income thanks to your mortgages costs. So, taking a mortgage will increase your net yield. Of course, take only a mortgage that you could afford even if you have financial problems.

Looking for a qualitative new build project from reliable developers?

Our other resources on that subject

FAQ on mortgages in Spain

Can I get a Spanish mortgage?

It is very easy to get a mortgage in Spain. What are the documents requested?

1.Your Passport / ID for all the applicants

2. Your NIE: "Número de identificación fiscal para extranjeros" or Foreign Resident's Tax Number.

3. Last 3 paychecks with the contract of employment Proof of incomes/Contract

4. A view on your assets and debts

5. If it's a new building: the "Deed for new building"

6. The private sale-purchase contract

7. If you have a mortgage at home, land registry information on the property and the mortgage

8. If pensioners: Official proof of annual income.

Read our detailed article on that

Can foreigners get a mortgage in Spain?

Yes, foreigners can get a mortgage up to 70% of the Value of a property.

How long does it take to get a Spanish mortgage?

About 6 weeks. Although, we have to say that since the new law got into effect in August 2019, there is a new 'cooling-off' period of 10 days, so this increases a little bit the timing for getting a mortgage.

Do I need a Spanish bank account to buy a property in Spain?

The obvious answer is yes. You want to finance a property in Spain, you will have taxes, utilities, ... Get it right away. In order to open your bank account, you will need a NIE, see our news on that.

How much can I borrow for a mortgage in Spain?

For your second residence and as a non-fiscal resident, a bank will finance no more than 70 % of the value of your property. If you include 15% of costs, this means that you would need to invest at least 45% of the property value with your own pocket.

What are the costs of buying a house in Spain?

The cost of buying a resale or a newbuild in Spain is between 12 and 15%. Please read our full article on that subject.

What is the interest rate in Spain?

As of October 2019, the average mortgage has an interest rate of 2.50% (vs 2.51% last month). The lowest rate ever is the current rate 2.50%! Read our dedicated article on that subject with the last available data.

Looking for a mortgage? A lawyer? A property hunter in Spain? Ask us directly, we have a solution within our network!

Senior analyst and strategist at HTBIS