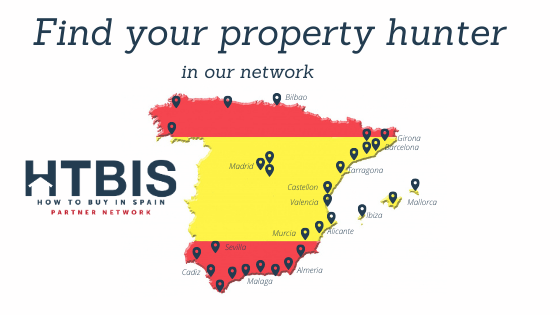 Contact your property finder anywhere in Spain
Our property finders based in Spain are sorted per city: click on any city and get in direct contact with them
How your property finder will help you with your property search?
Of course, you can decide to search on your own and think that you will save money. Actually, as you don't know the local markets, you won't know if the properties' prices are correct, you won't know if the neighbourhood is safe,… you will miss a lot of issues. Last but not least, most of the time you are living in a foreign country and can't visit easily a property, so a first screening to optimise your visits is very helpful as well.
So, at first, you could think that working with a property hunter in Spain would be a cost, but many of our customers made a lot of money thanks to their services: by not buying a crap property, by not buying a property at the wrong location and as well thanks to the price negotiation of our partner with the seller.
#1

He knows the market
He knows: the market and the prevailing prices and the last deals traded, the neighbourhoods, the reliable partners and which properties are coming to the market before they are visible to others.
#2

He will save money for you
Once you found your property, your personal real estate shopper knows if the price is correct or not, and he will negotiate the best deal for you. This will save you a lot of money, and for many deals, you will recoup your personal shopper fee by itself!
#3

He may have access to off-market properties
and get the first call for local agents thanks to his network. Off-market properties are properties that will never hit the market. Most of the time those are quality properties which are in high demand.

#4

He will save your time
Your personal shopper will search the market for you. He has his own contact in the industry and is doing this 7/7, 10 hours per day. He is on the ground and can make many visits in one day… Surfing the Internet in search of your ideal property, arranging meetings and visiting them will take a long time. It´s complicated. So, that's really obvious!
#5

He will protect your interests
What are the properties that buyers are searching for today? Which one suits your project the most? Which are the best neighbourhoods in the city? Where to start searching? Who to trust? When you don´t know the answers to these questions, property buying can turn into a very stressful process. The property hunter is not working for the seller as the real estate agents are. His goal is to protect your interests: the interests of the buyer.
#6

He speaks Spanish and your language
Language could be a barrier which brings additional challenges. The search is mainly in Spanish, as most local real estate agents are only speaking Spanish. And of course, all the legal paperwork in Spain is Spanish. So, it will help the process a lot to have a local intermediary speaking Spanish and at the same time speaking your language or at least English.
#7

He will find solutions after your purchase
Once you bought the property, the real work starts: Opening utility meters, getting in contact with the property owners, paying taxes,…Renovation work? I guess you will need some local partners, no? Buying for investment, I guess you will need a property manager,…

How does a property finder work?
It is a 6 steps process:
#1

Interview with the customer
Most property hunters will organize a meeting or a call in order to understand what the customer is ideally looking for:
Criteria about the location
Where do you want to buy it? Define region / city / Don't know
What kind of environment do you like?
City? Beach? Countryside?

Proximity to airport

Proximity to a big city centre

Proximity to the beach (usually a must for foreigners)

Proximity to golf courses,…
Criteria for the property
New build or resale? If it is a new build, you are looking for, check the new build properties listed on our website, otherwise, get the best deals with our local property hunters.
Space inside, Outside Space: Garden / Terrace?, Swimming pool

Number of rooms,

Kitchen size, Sleeping rooms size
Garage, Lift, Security: fence and/or entrance gate, alarm systems, …Energy efficiency: Solar panels,…Property maintenance costs, Personal feelings,…
Budget?
The property hunter will clarify if he thinks that he can find the ideal property within budget or not and will explain how the Spanish residential market is in general and how the local market is in particular.
The property hunter will help the customer to define the ideal location according to his criteria: specific requests, and budget, but as well depending on the motivations of the buyer.
Two main motivations for buying a property in Spain:
In general, foreigners could have two main motivations for buying a property in Spain:
And of course, some are looking to buy both at the same time!
Buying a property in Spain has its own costs. Owning a property as well! So, it's important to know where you are going from the start!
#2

Contract
Once the customer knows all about the personal shopper and he is confident that he is a good partner, the real estate personal shopper will send his contract to the customer with the detail of his mission and the financial terms. After signing the contract, usually, the customer will have to pay an initial down payment to cover the initial costs and start the mission. Once the mission is completed and successful, the customer will have to pay the remainder, the "success" fee. That's another big advantage of working with a property hunter: he will get a big part of his commission, only if his mission is fully completed!
#3

The property search and visit of properties
The real search is starting now. The real estate shopper will first establish a list of the different criteria of his customer. Then he will get in touch with his contacts at many different real estate agents and he will search the market and the different portals. Once he has found a property, he will organize visits.
#4

Feedback and exchange of views with the customer
Once the property finder has found a property fitting the criteria, he will revert to the customer. Depending on the market, if there are a lot of possibilities on the market, he will even come back with many different properties fitting the criteria of the purchaser. Depending on the feedback from the customer, the property hunter will continue his mission or not. In general, the customer will come as well on the ground, surely if his main motivation is a purchase for himself so that he can have a strong view on the different propositions and go ahead with any one of those.
#5

Purchase of the property if the customer agrees
Once there is an agreement on a property, the property hunter will begin to negotiate with the seller and will try to get the best price for his customer. At the same time, it's the start of the purchase of the property which involves many different steps. Please read our Infographic on those: "The 8 Steps of buying your Spanish property".
#6

The real estate personal shopper will assist his customer with formalities
Assist the customer with all the paperwork, the set up of utilities, the registration of the property with local authorities, with the community of owners…
And he will help the customer to find local partners for renovation work or interior design. This part is as well important for foreigners as most of the time they don't know reliable partners and don't speak Spanish.
Check the accomplished missions of our property hunters
No need for a property finder for a new build property, we agree.
Our FAQ on property hunting in Spain
Can I buy a property in Spain without being there?
Yes, it is indeed possible to purchase a property in Spain without physically being in the country. This can be accomplished by granting a 'Power of Attorney' to a trusted representative, often a lawyer, who can then act on your behalf in Spain. This individual can sign documents, engage with the seller, and handle other necessary tasks. It's critical, however, to ensure this is a trusted individual and that you're comfortable with the arrangement. HowToBuyInSpain.com's network of local legal advisors can be an asset in facilitating this process.
Can you get residency in Spain if you own property?
Yes, you can gain residency in Spain if you own property, but it's subject to certain conditions. Spain has a 'Golden Visa' program that grants residency to individuals who invest €500,000 or more in Spanish real estate. This program offers a path to residency, but it doesn't automatically grant you the right to work in Spain. Read our dedicated article on that subject. Further, it's important to note that this does not equate to citizenship. Legal and immigration rules can change, so it's always best to consult with a professional or check the latest updates on official Spanish government websites. HowToBuyInSpain.com's network of local advisors can assist with navigating these complexities.
Is buying property in Spain easy?
The ease of buying property in Spain largely depends on your personal circumstances, the type of property, and your level of familiarity with the Spanish real estate market and legal system. While the process can be straightforward, it involves several steps, from getting a tax identification number to transferring funds and signing contracts. It can also be more complex if there are issues with the property's legal status or if you're obtaining a mortgage. For those unfamiliar with the Spanish system, having a local representative, such as a solicitor or real estate agent, can be helpful. HowToBuyInSpain.com provides a network of local experts who can simplify the process and assist with potential challenges.
What are the issues with buying property in Spain?
Several potential issues could arise when buying property in Spain. Some of the most common include legal complications surrounding property rights and land boundaries, hidden debts attached to the property, incomplete or inaccurate property documentation, and dealing with property laws and contracts that are in Spanish. It's also important to be aware of potential property scams. Additionally, navigating the financial aspects, like securing a mortgage or transferring funds internationally, can be complex. To mitigate these risks and ensure a smooth transaction, it's advisable to engage a local property hunter and real estate lawyer, such as those in the network provided by HowToBuyInSpain.com.
Alicante
Almería Altea Ayamonte Badalona Barcelona Benahavis Cádiz Calpe Cartagena Castellón de la Plana Córdoba Elche Estepona Fuengirola Girona Granada Guadalajara Huelva Ibiza Javea Lleida Madrid Málaga Mallorca Marbella Mataró Mijas Miramar Murcia Navarra Ojen Orihuela Las Palmas de Gran Canaria Palma de Mallorca La Rioja San Cristóbal de la Laguna Santa Cruz de Tenerife Sevilla Sotogrande Tarragona Telde Toledo Torrevieja Valencia Vilajoyosa Zaragoza