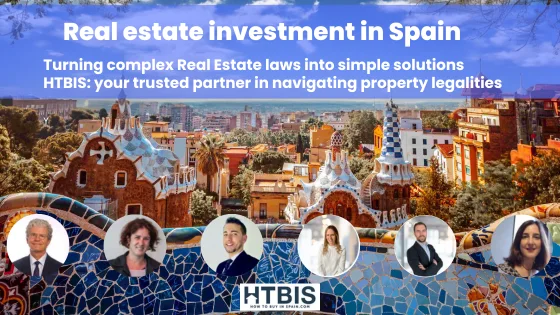 Find your local Spanish property lawyers or tax adviser anywhere in Spain in our HTBIS network.
Buying a property in Spain is easy as we described here The 9 steps to your Spanish Property but there could be many pitfalls.
We wrote an extensive article covering the legal and tax aspects of property acquisition in Spain:
Independent means that they work to protect your interest, not the one of the real estate agent or the one of the developer.
Looking for a Spanish real estate lawyer with offices in Spain and in your home country?
Available soon
click on your country flag to check if we have already a partner, if we don't have a partner, you will get our property buyers guide dedicated to your home country.
Don't want to lose time? Ask us directly!
If you want to have further advice from a lawyer from your home country we could help you as well.
If you don't find a property lawyer in your city, just ask us directly we are constantly adding new partners and we will search in our network.
Here is why Spanish property lawyers are strongly advised for property purchase in Spain – our 2 minutes video
Would you like to watch this video in your own language? Click at the bottom right of the video on "cc" to get subtitles in your language.
Too busy to read our article? Here is our quick-read summary:
Spanish property lawyers: 11 compelling reasons why you need one.
The Spanish notary, while responsible for preparing the contract and issuing public deeds, has limited obligations and investigations that may not fully protect the buyer's interests.
The role of the lawyer is essential in collecting the necessary documents and conducting audit procedures to help the buyer understand the ins and outs of his property purchase.
Lawyers assist in procuring documents like the general assemblies of co-ownership, energy supply invoices, occupancy licenses, the urban planning report, and others that are not readily accessible.
Real estate agents may argue that not all these documents are necessary for the purchase, but these documents provide vital information to understand what the buyer is purchasing.
Legal representation can help prevent issues that might arise due to improper due diligence, such as buying a property in a green space where the building is forbidden or property with latent urban charges.
Lawyers work closely with the Spanish notary to ensure the property purchase is watertight.
Lawyers can make the communication of non-mandatory but essential information contractually mandatory to prevent unforeseen issues.
Having a lawyer can help to avoid potential legal pitfalls, such as purchasing a property for a value lower than the cadastral value.
Lawyers help review and carefully draft the contract of "reservation", which forms a private contract of purchase.
Lawyers help understand whether a non-resident buyer can legally purchase certain properties in Spain.
Legal assistance can help mitigate the risk of purchasing a property in areas where building restrictions apply.
Let's have a look into more details at why you actually need a property lawyer in Spain. Have a look at all our interesting information here:
Why an independent lawyer is strongly advised?

Many issues could happen when you buy a property if you don't do your due diligence properly

That is why your Spanish lawyer will work for you hand in hand with the Spanish notary to make everything watertight.
The practical aspects linked to the purchase of your Spanish property as a foreigner.

Are you allowed to buy a property in Spain as a foreigner?

Who is buying the Spanish property?

What are the impacts of your matrimonial regime if you are buying a property in Spain?

What documents should you provide if you are buying a property in Spain?

How do you finance your Spanish property purchase? Do you need a mortgage?
Legal due diligence checklist for a Resale property in Spain

How do you settle the IBI tax, "Impuesto sobre Bienes Inmuebles", between the seller and the buyer?

Pay attention to the pre-emptive rights of the administration

Legal due diligence checklist for a new build (or "off Plan") property purchase in Spain

Once the construction has been finished a few items should be checked
Taxes related to:
the acquisition of a property (new build or resale),
the ownership of a property, and
the sale of the property.
The Spanish last will and testament will make the process of succession and inheritance over your Spanish assets quicker, easier and less costly.
Here are some of our published articles on Spanish property laws:
Our FAQ on Legal work when buying your property in Spain.
Do I need a solicitor to buy a house in Spain?
While it's not legally obligatory to have a solicitor for buying a house in Spain, it's strongly recommended, particularly for foreign buyers. The process involves complex legalities that a solicitor can expertly navigate. HowToBuyInSpain.com has a network of local real estate lawyers ready to assist with your property purchase, ensuring a smooth and secure transaction.
What are the legal requirements for buying property in Spain?
To legally purchase property in Spain, you need an NIE Number (tax identification), a Spanish bank account for funds transfer, and it's advisable to obtain a Land Registry Report to verify the property's legal status. While having legal representation isn't obligatory, it's highly suggested due to the complexity of the process. Various taxes and fees, such as property transfer tax or VAT and notary fees, must also be accounted for. Changes in property laws underscore the importance of current, professional advice. To streamline the process, HowToBuyInSpain.com offers assistance through its network of local legal advisors, ensuring a safe and efficient property purchase.
How much are solicitors fees in Spain?
The cost of solicitors' fees in Spain can vary, contingent on the intricacy and duration of the procedure. Generally, you can anticipate professional legal charges to fall between 1% and 1.5% of the property's purchase price, in addition to the prevailing VAT rate at the time of purchase.
How long does a property purchase take in Spain?
The timeline for a property purchase in Spain can vary widely based on several factors such as the property's status, financing arrangements, and legal complexities. Generally, if all goes smoothly, the process can take approximately 6 to 8 weeks from the point of agreeing on the sale to completing the transaction. However, it's important to note that this is a guideline and delays can occur. It's advised to have legal support to ensure a smooth process. This timeline doesn't include the time you may need for property hunting and decision-making.
Alicante Almería Altea Ayamonte Badalona Barcelona Benahavis Cádiz Calpe Cartagena Castellón de la Plana Córdoba Elche Estepona Fuengirola Girona Granada Guadalajara Huelva Ibiza Javea Lleida Madrid Málaga Mallorca Marbella Mataró Mijas Miramar Murcia Navarra Ojen Orihuela Las Palmas de Gran Canaria Palma de Mallorca La Rioja San Cristóbal de la Laguna Santa Cruz de Tenerife Sevilla Sotogrande Tarragona Telde Toledo Torrevieja Valencia Vilajoyosa Zaragoza