[kkstarratings id="3844"]
Translate this page:
Voor wat staat de NIE nummer?
De NIE, is de afkorting voor "Número de Identificación de Extranjero", het betreft een fiscaal identificatienummer voor buitenlanders die langer dan 3 maanden wensen te verblijven in Spanje of die een transactie in Spanje willen afhandelen.
Waarom heeft u dit nodig?
Opening van een bankrekening
De aankoop van een eigendom of de dekking van deze laatste door een verzekering
Afsluiten van een hypothecaire lening
Afsluiten van een telefooncontract of een internetverbinding
Opening van een contract voor water, gas en elektriciteit
Aankoop van een auto of het behalen van een rijbewijs
Tekenen van een werkcontract en aanspraak maken op de sociale zekerheid
Een onderneming opstarten
… het betalen van belastingen.
Kijk onze 1 minuut video
Welke document heb ik nodig?
Vul twee documenten in "EX – 15 Solicitud de Numero de Identidad de Extranjero NIE y Cert". U moet de Spaanse versie invullen!  Hier gaat u vinden de versie met instructies in het Nederlands (Hier hetzelfde maar voor mensen uit Nederland)
Een copie van alle pagina's van uw pasport
Uw spaans adres
Twee recente pasfoto's
Een document ter verantwoording van uw aanvraag voor een NIE. Dit hangt af van uw intenties, in de meeste gevallen betreft het een van deze redenen:
Aankoop van spaans vastgoed
Het tekenen van een arbeidsovereenkomst met een spaans bedrijf
Het starten van een zaak
Studies : een aanvaardingsbrief van een school
Niet-europese ingezetenen zullen eveneens een bewijs nodig hebben dat ze op wettelijke manier verblijven in Spanje (landingsbrief / toegangsverklaring)
Forfait om een NIE te behalen/ tenminste 15€(Over het algemeen zal u dit moeten in cash bij de dichtstbijzijnde bank)
Hoe kan u dit bekomen?
1.Bij een Spaans consulaat in uw thuisland.
2. In Spanje; bij het hoofd politiekantoor, verzeker u ervan dat u geen online registratie moet doen vooraleer u er heen gaat. Dit is onder meer het geval in Barcelona.
Wie kan die stappen ondernemen?
Uzelf
Een vertegenwoordiger die u mandateert
Hoelang duurt de procedure?
Dit varieert van enkele uren tot 2 maanden, hou er dus rekening mee!
Download en print onze infographics in het Engels hierover om het voor u duidelijk te houden!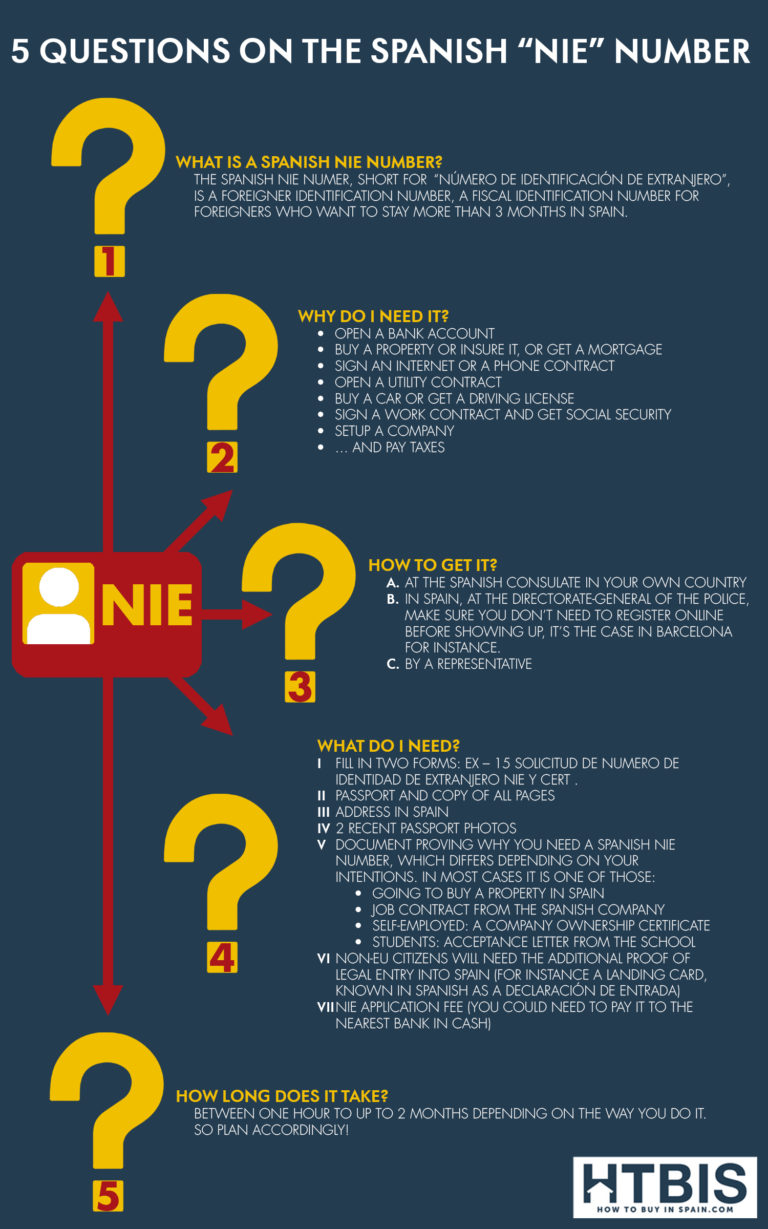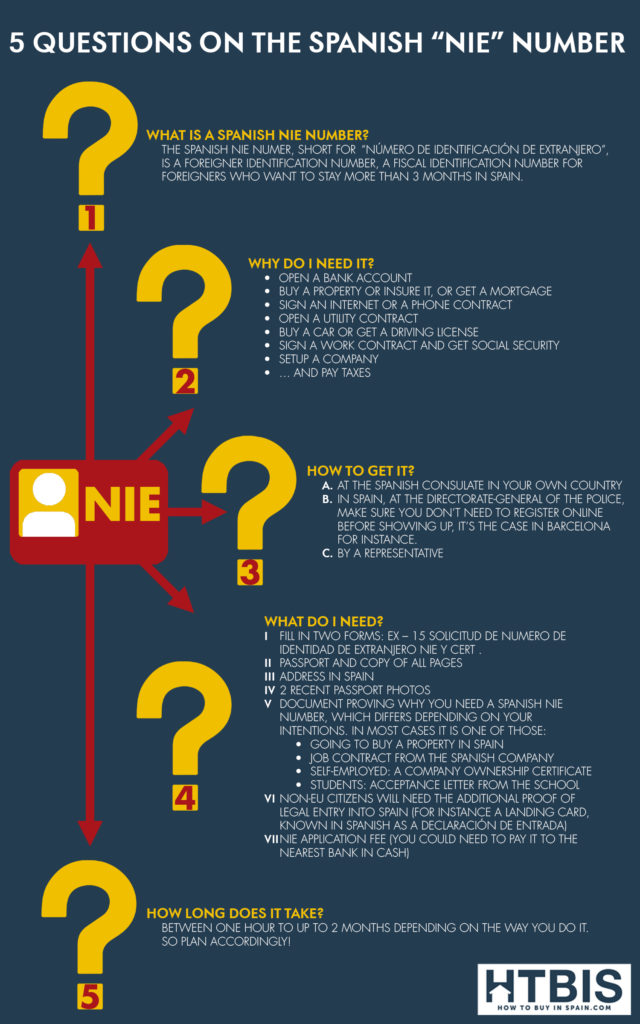 Mocht u twijfels hebben om te investeren in Spanje, lees dan ons artikel in het Engels « Why you should invest in Spain residential market now? » met een automatische vertaler.
Vooraleer u uw vakantie in Spanje boekt, bekijk even onze ePostcards sur Barcelone, Madrid, Alicante et Malaga om uw Citytrips voor te bereiden.
Gun zeker onze infographics van de maandelijkse weerstatistieken van 18 Spaanse steden alvorens te kopen.
Abonneer u alvast op onze wekelijkse Engelse nieuwsbrief om onze artikels rechtstreeks te ontvangen:
Subscribe to our weekly eNewsletter: Benefit of all our work and get it directly in your mailbox!
Zoekt u een expert in Spanje? Vraag het ons!
Senior analyst en strateeg van HTBIS
SHARE with the colour icons at the bottom of your screen