Click on any flag to get an automatic translation from Google translate. Some news could have an original translation here: News     Nouvelles     Nieuws     Noticias     Nachrichten
De 9 stegen till din spanska fastighet
Om du föredrar, lyssna på våra 2 min 30 sekunder Video:

Innan du hittar din fastighet:
1.Få ditt NIE 
Det är ett spanskt skatteID för utländska medborgare. Kolla vår tidigare video för mer information.
2.Hitta en jurist som talar ditt språk och spanska
Som är  
Pålitlig, 

Självständig

Specialiserad i fastigheter

Talar ditt språk
Hitta en jurist på HowtobuyinSpain.com
3.Öppna ett bankkonto
Köper du utanför euroområdet? Detta papper kan vara intressant för dig: Hur betalar du för din spanska egendom i euro – € medan du bor i ett land utanför Euro?
4.Behöver du ett lån?
Kolla vår tidigare video 
Hitta din lånegivare tack vare våra partners på HowtobuyinSpain.com
Begär en inteckning från en av våra partner
Läs vår artikel på engelska om detta: Your Spanish Mortgage: How to apply? How to get the best rates?
Har du hittat din drömfastighet?
Här är nästa steg:

5.Signera "contrato de Reserva"
Detta är väldigt viktigt: Det uttrycker din avsikt att köpa fastigheten och tar därmed bort den från marknaden.
Det är en reservation för kontraktet. 
Signera ej 
Utan din jurist och

Utan att inkludera provision! 

Så att du kan avsluta kontraktet.
Betala reserveringsavgiften, vanligtvis €3000 till €6000. 
=> Se till att pengarna hålls av en pålitlig tredje part
6. Be om lån vid behov
7. Besikta och undersök fastigheten: 
Lagar
Besikta
Här är de största felen att kontrollera:
fastighetsregistret

rätt tillstånd

inga skulder anslutna till fastigheten?

Community of owners dokumenten

att fastigheten är som enligt beskrivningen
Letar du efter en expert i Spanien? Fråga oss direkt!

8. Signera "contrato de Arras"

eller "Contrato Privado de Compraventa".
Det är de privata köpekontraktet
Betala handpenning med 10% av fastighetsvärdet
Inom 10 dagar.


9. Signera köpekontraktet på notaries kontor
Vilka ska delta?
Alla partner kopplade till köp och försäljning av fastigheten måste delta, eller representeras, för att signera i Notaria Publica.. 
Du (och din partner om ni köper tillsammans) Din jurist 
Din lånegivare (om du har) 
säljaren eller deras representant.

Grattis, du är nu klar. 
Njut av 320 dagar av sol!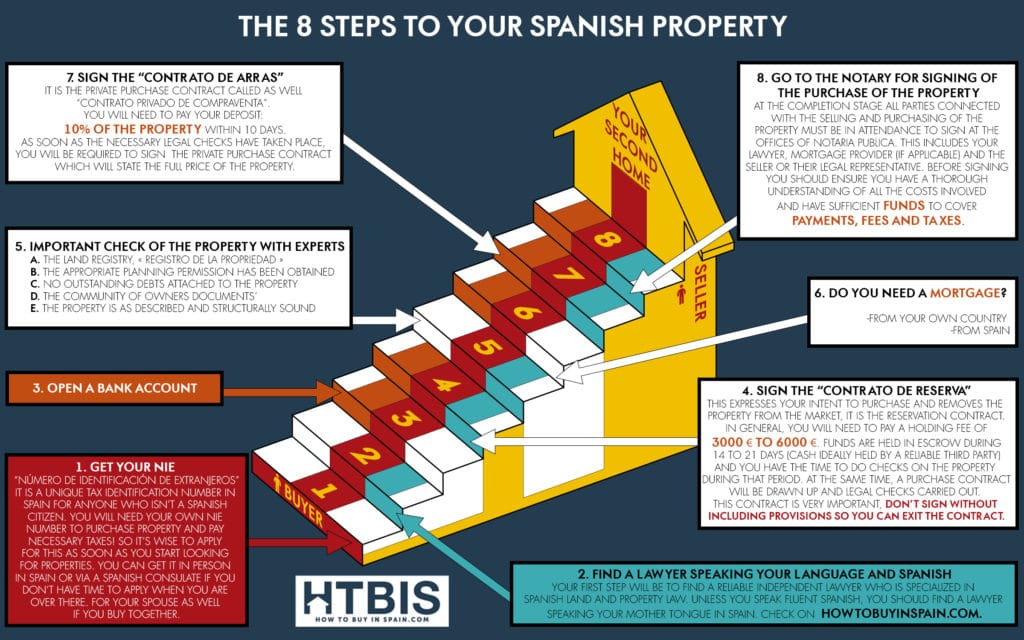 Looking for an expert in Spain? Ask us directly!
Senior analyst and strategist at HTBIS
Check the full HTBIS team here
SHARE with the colour icons at the bottom of your screen