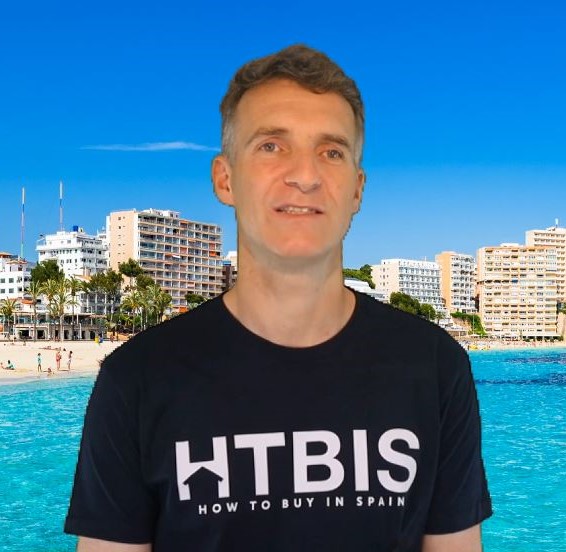 Reading time 5 minutes. Use our table of content for a quick read.
Last Updated on 17/07/2023 by STEPHANE
Click on any flag to get an automatic translation from Google translate. Some news could have an original translation here: News Nouvelles Nieuws Noticias Nachrichten
Our ultimate 2023 guide to buying your property in Spain
Since we started to invest in the Spanish real estate market in 2012, we have built a network of local real estate experts in Spain and become the one-stop-shop solution for foreigners looking for help to buy a property in Spain.
Foreigners, we have built this network first to find the solution for ourselves… then we wanted to share our network and our experience with other foreigners.
In six years, our readership grew to more than 460,000 from around the world!
To assist you even better, we launched this new series of four articles so that you get all your answers and all our tips before going after your dream property. We will cover the subject with 4 main articles:
Too busy? Here is our quick-read summary:
The ultimate guide to buying your Spanish property – Our key insights.
The article is the introduction guide for foreigners buying property in Spain, leveraging the authors' expertise and network.
It outlines the process for starting a property search, including setting objectives, budget, and home criteria.
It lists the different criteria you should use to compare the different potential properties and avoid an emotional decision.
Criteria are different for a first home, a second home or an investment property.
Don't miss our dedicated pdfs with our exhaustive lists of criteria for each case in our third article: The best search tips for buying your Spanish property
It recommends working with local experts as property hunters, and technical advisors, and obtaining an NIE (local tax number).
To avoid pitfalls, the guide suggests hiring a real estate lawyer for legal aspects.
Our ultimate guide to buying your Spanish property, our 2 minutes video
Would you like to watch this video in your own language? Click at the bottom right of the video on "cc" to get subtitles in your language.

But before going into more details about your own property search in Spain, let's answer some typical questions asked by our readers:
Is buying property in Spain a good idea?
Spain is one of the top destinations for property investment, for three main reasons: 320 days of sun per year, its quality of life and the property prices are not too expensive compared to other European countries. Here we have listed more than 10 reasons for buying a property in Spain.
Is it a good time to buy property in Spain in 2023?
Property prices were very strong before the financial crisis in 2008, they fell up to 2013-2014 and since 2014 we saw a nice rebound in terms of prices and activity. Have a look at our Spanish real estate outlook for 2023 and don't miss our Spanish real estate prices quarterly report for more on that.
What do I need to know about buying a property in Spain?
With good experts, you can even buy a property without being physically in Spain. We strongly advise you to work with a property hunter and a technical survey of the property could be interesting as well. Apart from that, you need an NIE (local tax number) and a bank account to be able to buy your Spanish property. Read more on the NIE here: Your ultimate guide to your Spanish NIE number.
What are the pitfalls of buying property in Spain?
It is cheap and easy to buy a property in Spain if you are assisted by local experts speaking your language. To avoid any legal or technical risks, we strongly advise you to hire a real estate lawyer to ensure that all the legal aspects of the property are fine. If you have doubts about the structure or technical aspects of the property, you can ask for a technical survey of the property. Last but not least, a property hunter will help you as well to avoid pitfalls and to make the process easier, quicker and even less expensive.
If you want to read more on that subject: Why do you need independent legal and tax partners for your property acquisition in Spain? and The 7 pitfalls of buying a property in Spain.
Now that the introduction is done, let's start with our first article on your Spanish property search.
Here is the content we will cover:
How should you start your Spanish property search?
Why would you buy a property in Spain?

Buying a property abroad most of the time starts with one of those two objectives: either enjoy a better quality of life (buying for yourself) or diversify assets (investment). People looking to enjoy the Spanish lifestyle will either buy a second home, relocate or retire in Spain. Don't miss our article on working remotely from Spain.
We will first take the view that you purchase your property to enjoy a better quality of life. We will review later the pure investment case to diversify assets.

What are your objectives?

To be efficient in your property search, don't hesitate to list your objectives: most of the time, you are not alone to share this new dream and listing your objectives is important to find the property fitting most criteria of all persons involved in the project. Is it a second home? Is it a first home? Is it a house or an apartment? Do you want it close to the beach? Do you want a pool? Do you want a garden? Do you want a terrace?… Each person involved in this project should list his own objectives so you will be able to draw a list common of all the people involved in this project.

What is your budget?

Of course, your budget will be the first thing to consider before searching for a property: how much can you spend? So, the first step before searching is valuing your assets. After that, you will check with your local banker if they can give you a mortgage for a property in Spain and you will check if you can get a mortgage from a Spanish bank. Read our guide for more on this: Your ultimate guide to your Spanish mortgage. Most of the time, you don't need a mortgage but it could be wise for two reasons: better diversifications of your assets and it could diminish your taxes if you rent your property.

The perfect criteria for your future dream home

Buying for yourself?

Second home or First home?

Foreigners looking to buy a property in Spain are usually buying a Spanish second home to enjoy the sun 320 days per year, for the quality of life and for the beaches. For sure, Spain has a lot to offer. Spain is for instance ranked as the healthiest country in the world, in front of Italy and Iceland. There are many reasons for this, to give a few: higher life expectancy at birth, better health care system, Mediterranean diet, and better work-life balance,…

Property criteria

Criteria important for second-home buyers could be split into two main categories: location criteria and property criteria.

Location criteria

Beach proximity
Airport proximity
Golf proximity
…

Property criteria

Number of sleeping rooms
Pool
Terrace
Specifics about the property
…

First home Criteria

If it is a first home, of course, your criteria will be different than if it is a second home.

Proximity to shopping is more important
Access to public transportation
An active neighbourhood 12 months per year and not only in the summer
School proximity could be important for families
Proximity to hospitals and other medical facilities could be important for people retiring

Even if you buy your Spanish property as a second or first home and not as an investment property (to rent it), we would advise you to read the next section as a lot of foreigners forget that one day, they will need to sell their property. So, it is important to understand if the property would fit the local market or not.

Buying as a real estate investment?

If you buy your property as an investment, your criteria will be different than if you buy the property for yourself: your goal will be to secure a net return on your investment over your holding period.

Investment criteria

Amount to invest: make fair estimates of the cost to be invested in the property: the property itself, renovation costs, furniture (if any),…
Mortgage costs. Read more on that in our detailed article: Find the best Spanish mortgage rates
Yearly costs related to the property: maintenance costs,
Costs related to the management of your property: many third parties involved: access, cleaning,…
Fees related to the rental of your property: rental websites, local partners,…
Regulations: rental regulations vary depending on the local regulations for local Spanish authorities: short-term rentals are not allowed all the time. Read more on that: Tourist rental in Spain: What is it? Is it legal?
Taxes related to your property: most of the time you have to pay taxes locally and in your home country. Read more on that: What taxes do you have to pay on your Spanish property?
Don't forget that you will need to sell your property later on: try to buy a property that is in demand on the market where you buy: Not too big, not too small, 2 bedrooms, with outside space like a garden or a terrace (even more since Corona), in a not too bad neighbourhood,…

Have a look at one of our earlier articles on that subject: What return will you make on your Spanish property?

The criteria for searching your investment property in Spain won't be the same as if it was your own property: if you buy a property for yourself, you will look for a property with specific characteristics: sea view, pool,… When you look for an investment property other location and property criteria could come to mind.

Location criteria

As your goal will be either to rent your property to people living in the city or to tourists some specific criteria will be important

Close to local transportation
Close to economic activities (Companies, universities, research centres,…)
Close to tourist activities in the case of tourist rental

Property criteria

Go for a standard size
Try to buy a sound property

How much does it cost to buy a property in Spain?

Depending on the fact that you are buying a resale or a new build, the cost will be different but a good rule of thumb is 14%. Read more on that in our detailed article: The cost of buying a Spanish property.

How much does it cost to own a property in Spain?

A good estimate is 0.7% as we wrote in our detailed article: The cost of owning a Spanish property.

How do our partners help you with those first steps?

We have a local mortgage broker dedicated to getting mortgages for foreigners. Ask for a free mortgage quote.
Our property hunters are there to assist you to find the perfect property more on that in the 3rd article: "How should you search for your dream property?"

With our team of more than +100 local real estate partners, HowtobuyinSpain helps foreigners to buy real estate in Spain.

The experts from our network are active in all the fields you need:
Are you looking for a property lawyer in Spain? Follow the link and get one of our local lawyers. Looking for another real estate expert in Spain: Mortgage, Insurance, Survey of property, Property hunting, …? Get in contact with one of our 100+ local partners!
Stéphane Senior analyst and strategist at HTBIS
Stéphane, with over 20 years of experience in real estate, finance and entrepreneurship, is the co-founder of www.howtobuyinspain.com. With an extensive network of local partners in Spain, his deep commitment to the real estate sector combined with strong analytical skills and a problem-solving mentality have fueled his success. Constantly eager to learn and passionate about teaching, Stéphane believes in the power of knowledge sharing to master any subject.