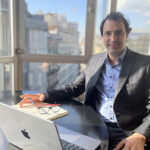 Raf  is our local experienced Barcelona property expert.
Raf and his team of qualified licensed property finders is there to help you buy better and pay less in Spain. The property jungle in Spain is often misleading, which has severe consequences for buyers. Our variety of services, help to prevent mistakes and guarantees you a risk-free buying process.
Raf and his team are active on the Costa Brava and Costa Blanca.
Allow us to introduce ourselves
First, here is some complementary information about Raf, our CEO:
Founder & CEO

Professor at the University of Barcelona

Ex-management consultant (Accenture)

Often interviewed by leading media for sharing his opinion

Economist, specialised in Finance

World-citizen, long-term Barcelona resident (2001)
DESCRIPTION OF OUR TEAM
Wondering how to navigate the Spanish property jungle when buying a place to live/a second residence or making a smart investment?
Critical to know: How does the Spanish property market (not) work?
No protection as a buyer due to poorly regulated market

Agencies work for the seller, not the buyer

Notary has no control duty

Currently low prices offer great investment opportunities

Many people offer help to buyers, but are often stand-alone workers without the necessary all-round experience and specialisation.

Your interests are our priority!
We are the pioneer and leading company that is truly focused on helping international buyers in Spain. Our team of qualified licensed property finders, lawyers, architects, deal makers and mortgage specialists, is passionate about finding the apartment or house of your dreams and accompanying you throughout the process until you have the keys in your hands.
What do we offer you?
Realistic planning

Property search

Off-market properties

Pre-visits and shortlisting

Appraisals

Price negotiation

Renovation cost estimates

Property lawyer

Architect's inspection

Investment planning

Open bank account

NIE number

Power of Attorney

Golden Visa

Renovations
ON YOUR SIDE.
The real estate market in Spain is poorly regulated, transparency is inexistent and realtors who show you properties, work for the sellers, not for you. It is a jungle for buyers and regrettable mistakes are unfortunately made too easy too often. At the same time good properties sell quickly, so quick decisions might be needed. We are independent Buyer Agents and help you search, evaluate and buy the best property in Spain. We are on the buyer's side.
We also constantly invest in properties ourselves too. That experience is priceless for our customers!
YOU ARE NEVER ALONE.
We provide all-time guidance while making important decisions. Our team of property hunters, lawyers, architects, deal makers and mortgage specialists will make it a stress- and risk-free project. We do more, you care less.
What AREAS OF SPAIN do we cover?
With headquarter in Barcelona, we provide our buyer-services in: Costa Brava (e.g. Palamos, Begur, Tamariu, Llafranc, Calella, Calonge, Lloret de Mar, …), Maresme, Barcelona, Sitges, Tarragona, Valencia, Alicante, Costa Blanca, Murcia, …
We invite you to:
– Walk into our virtual office by contacting us directly with the button on top.
– Get some tips from recent international buyers.
Interested in buying property in Spain, or do you simply have some questions? Send us a short email and we look forward to helping you!
Languages: English, French, German, Dutch, Spanish, Catalan and Russian.
Here are the different articles written by Raf or for which Raf did collaborate:
Looking for a general article on the many advantages of buying your Spanish dream home with a property finder?