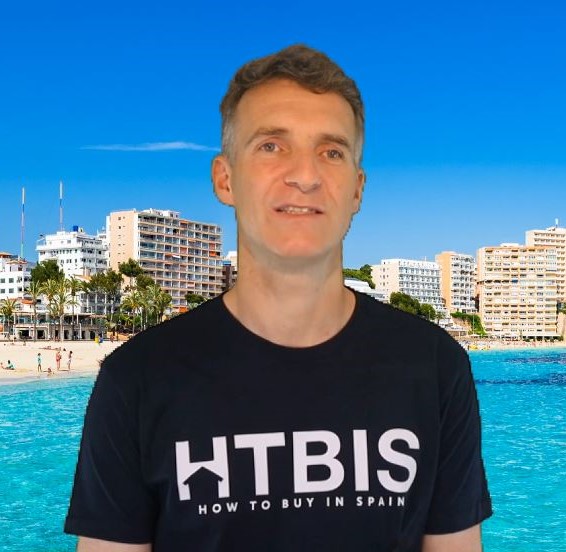 Reading time 3 minutes. Use our table of content for a quick read.
Last Updated on 06/03/2023 by STEPHANE
Click on any flag to get an automatic translation from Google translate. Some news could have an original translation here: News Nouvelles Nieuws Noticias Nachrichten
How to refresh and decorate an apartment with a €15,000 budget?
It is a passion finding special places with a lot of character and give them even more life through renovations and interior decoration. In this case study you might learn some new tricks and tips to lift your apartment's feeling to a higher level. With a limited budget of €15,000 this apartment was completely renovated and furnished/decorated. Whether you want to restyle your investment to give a higher return or renovate your own place, this example can be perfect to guide you.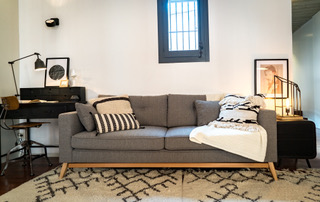 An investor was interested in buying a beautiful property in a prime area of Barcelona. In Born, one of the most beloved neighborhoods of the city with its best bars and restaurants, he found just that. An amazing location to live, the perfect choice! The only challenge was a €15,000 budget for a full renovation.
While visiting the neighborhood he noticed a beautiful and charming building that used to be a palace from the 15th century. Centuries went by and thanks to an important refurbishment (in 2006) the whole building was converted into apartments. Now the property is a stunning combination of medieval and modern architecture. The apartments' interior on the other hand were quite out-dated. It was not looking charming nor attractive. The flat was dark but had decent fundamentals to begin with.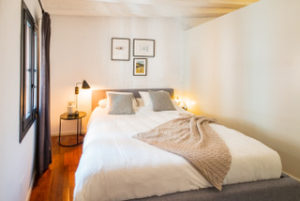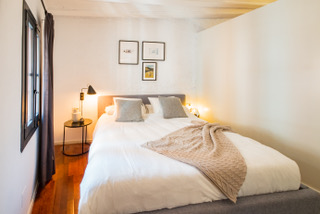 First you always have to make sure you check the condition of all installations in- and outside the property. The next step is to bring a wow-factor into the apartment and figure out how to optimize the surface of 65m2. The uniquely large terrace was the most important aspect of this house. Who doesn't want to spend time reading, chilling an
d enjoying the sun on a terrace overlooking the roofs of the old town of Barcelona? To bring elegance to the terrace, the walls were painted dark grey. Adding some decorative ligh
ts to give character at night, placing lovely plants in a Feng-Shui structure. The ugly old tiles were covered with Iroko wood, which is water resistant and similar to teak to give a more natural and luxury feeling.
The inside of the apartment was painted with neutral colours to give more light and create the sense of spaciousness. Windows and balconies were tinted in black with a matt finish to bring an attractive contrast. It was important to preserve the contemporary look & feel of the apartment. Using a mix of industrial and BOHO furniture with natural wood, in combination with neutral colours like white and grey. To catch the eye, shots of colour were added in the interior, also the use of pictures and pieces of art give this extra feeling of class.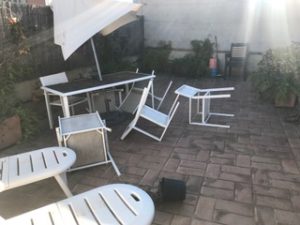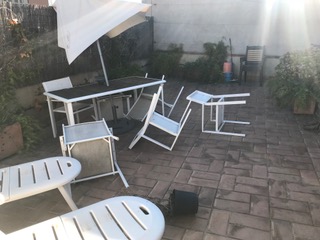 There are 3 tips for you:
1. Decide which style you want before starting
you need to decide which specific style you like and fits your interior. Find inspiration in magazines or through online platforms like Instagram or Pinterest to broaden your possibilities. Two famous styles are Scandinavian and Contemporary. Scandinavian interior is very simple and minimalist but functional and comfortable. It contains mostly white colours and uses rough cotton, non-waxed wood and simple details. A contemporary style allows you to mix and thus creating an atmosphere more depending on your mood, taste and furniture you already own. Combining various elements from different styles is another possibility.
2. Use neutral

colours

for the walls and ceilings
A good idea is to start with neutral colours to give your space a bigger and brighter look. Try to use colours like white, beige, ivory and taupe. These colours create tranquility in your house. Apartments in Barcelona are usually not that big, so creating visual space is advised. Other than that, you can mix different tones and tints of white and beige to give a warmer feeling or to break contrast.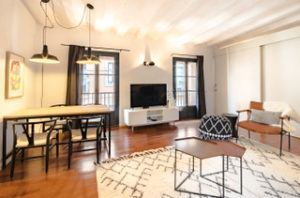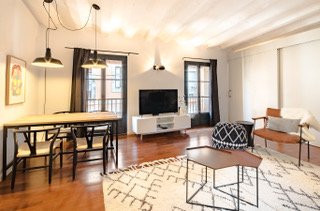 3. Add

colourful

elements as an eye-catcher
Using neutral colours as a base in your house, allows you to be very adventurous with accessories and art to give your house more life. A couple examples: a colourful pattern in your carpet, colourful pillows or blanket, vases in bright colours, bold statement accessories, flowers and plants, artwork etc. You will immediately feel another vibe in the house.
I hope you enjoyed reading this article and are inspired to make something special of your own project.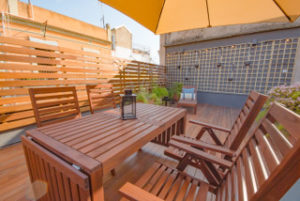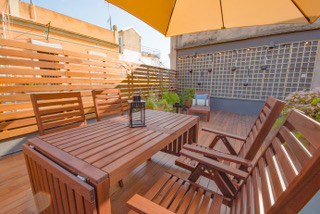 Read the other paper Raf wrote about his activity in Barcelona: Barcelona property investment: a Case study
If you are looking to buy in Spain, we would suggest that you read our earlier paper on Property hunting: 6 essential reasons for loving your Spanish real estate shopper. This paper is very interesting and gives you some of the important reasons why working with a property hunter is very useful for foreigners looking to buy in Spain. You will find specific samples our independent local partners worked on in Alicante, Valencia, Barcelona and Madrid. If you are looking to buy a property in Madrid, you can read our first "Case study" written on Property hunting in Madrid.
About Raf and his team, our Property hunter in Barcelona.
Partner for Barcelona region.
Raf is an economist, specialized in finance, ex management consultant, and known from his radio shows and international seminars on the property market and buying in Spain. Raf is a guest lecturer at university for a Real Estate Master Programme and is the Founder & CEO of a boutique real estate buyer advisory firm.
Barcelona, for its localisation and its vanguard, is the leader in tourism in Spain since it opened to the world in 1992. The first international hotel chains had their headquarters here and national and international investors bought buildings that are now tourist apartments.
Barcelona is a centre of attraction for tourists from all over the world while at the same time it holds conferences and meetings throughout the year.
Looking for a property hunter, a lawyer, an architect,… a local expert in Spain? Ask us directly!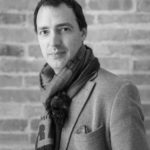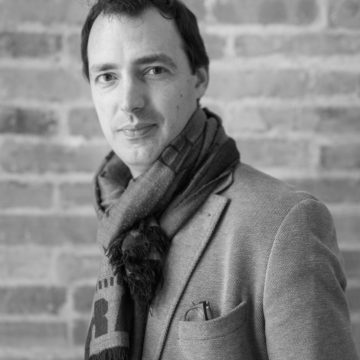 Looking for a local property finder anywhere in Spain? Check our network
Check the full team of HTBIS here
[insert_php] echo get_scp_widget();
[/insert_php]
SHARE with the colour icons at the bottom of your screen