Translate this page:
Wij hebben het werk voor u gedaan :
Hierbij de lijst van websites met vastgoed dat verkocht wordt door Spaanse banken.
Alisedainmobiliaria is de website van de 5de grootste Spaanse bank.
Altamirainmuebles is de website van Banco Santander, de grootste Spaanse bank.
Bankinter is de 6de spaanse bank.
BBVA Vivienda of Anida, is de website van BBVA Vivienda, filiaal van Banco Bilbao Vizcaya Argentaria. BBVA is de tweede Spaanse bank.
Casaktua is de website van Banco Banesto, de derde Spaanse Bank. Banco Santander kocht een meerderheidsaandeel in deze instelling.
Haya Real Estate is de website van Bankia.
HolaPisos is een website die vastgoedaanbiedingen van Spaanse banken groepeert.
Inmobiliariabancaria is eveneens een website die vastgoedaanbiedingen van Spaanse banken groepeert.
Sareb heeft meer dan 200,000 in activa, gewaardeerd aan 50 billion euro in twee fases. Het grootste deel werd getransfereerd van 4 nationale banken in 2012 : Bankia, Catalunya Banc, Banco de Valencia et NCG-Banco Gallego. De tweede transfer komt van 4 banken die staatssubsidies kregen: Liderbank, BMN, Caja3 en Banco CEISS.
Servihabitat is de website van « la Caixa Bank ».
Solvia  is de website van Banco Sabadell. De vierde Spaanse bank.
Tu Casa en la costa is het derde initiatief van Sareb die alle vastgoed groepeert aan de kust. Deze werd gelanceerd in de lente van 2017 en zou zou afgerond worden in juni 2017.
Wij hebben deze websites hernomen op onze pagina « Useful link »: Properties for sale by Spanish banks.
U kan de vastgoedaanbiedingen van Altamira terugvinden op een kaart via deze link.
Idealista, de grootste vastgoedwebsite van Spanje, een lijst van 30 000 eigendommen van Sareb en 16 000 eigendommen van Altamira.
Een ander pluspunt mocht u een van deze eigendommen wensen te kopen is dat u uiterst goeie voorwaarden kan bekomen voor uw hypothecaire lening  en dit tot zelfs 100% van de waarde van het goed, tegenover 70% in de meeste andere gevallen.
Waarom zou u niet even een kijkje nemen?
Krijg al onze Engelse nieuws rechstreeks in u mailbox:
Subscribe to our weekly eNewsletter: Benefit of all our work and get it directly in your mailbox!
Lees onze infographic over:
Wie koopt een tweede

verblijf in Europa

?

Waarom wil hij kopen?
Welke zijn zijn criteria's?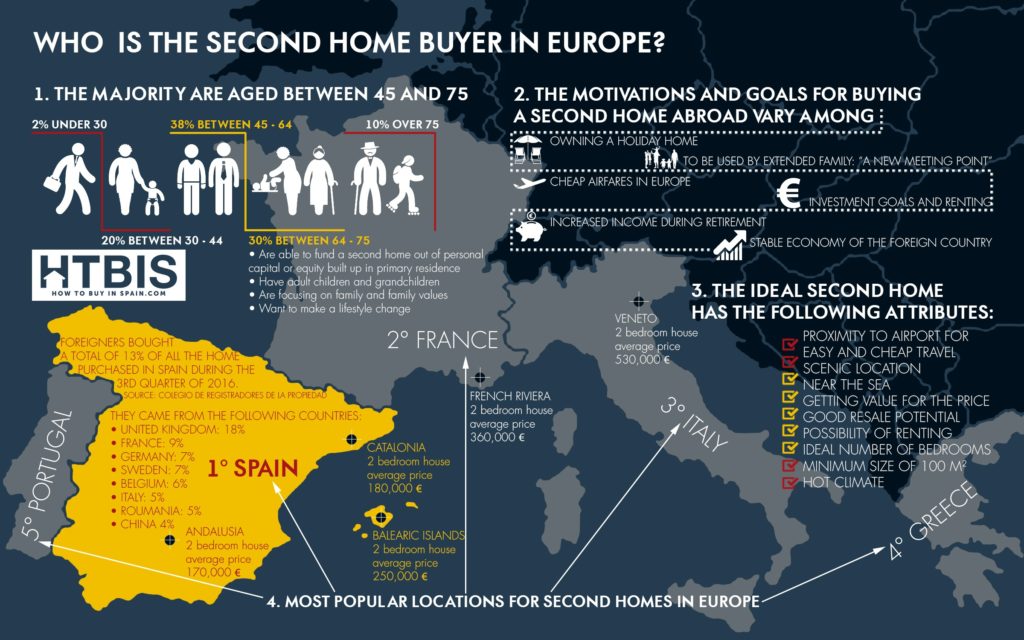 SHARE with the colour icons at the bottom of your screen