Klicken Sie auf eine Fahne, um eine automatische Übersetzung von Google Translate zu bekommen. Einige Nachrichten können unter Umständen hier über eine Originalübersetzung verfügen: News     Nouvelles     Nieuws     Noticias     Nachrichten
Sie brauchen Sonne aber müssen auch arbeiten?
Sehen Sie sich unsere Liste mit den besten spanischen Städten für Ausländer zum Arbeiten an
Spanien ist ein beliebtes Ziel für Expats. Nach dem Konjunkturrückgang stieg die Arbeitslosigkeit in Spanien stark an.
Heutzutage ist die spanische Wirtschaft jedoch die am schnellsten wachsende Wirtschaft Europas. Sehen Sie sich unsere "Must-see-Grafiken" zu diesem Thema an und vergleichen Sie die voraussichtliche Wachstumsrate des BIPs für 2017 und 2018 für Spanien mit der Wachstumsrate von allen anderen europäischen Ländern.
Am begehrtesten sind Lehr- und IT-Berufe.
Im Folgenden haben wir die besten Städte für Ausländer aufgelistet: Barcelona, Madrid und Valencia aber auch die andalusische Region.
Barcelona
Beliebteste Stadt für Expats
Zuhause vieler Gemeinschaften
Nachtclubs ziehen junge Leute und Künstler an
Familien kommen wegen der internationalen Schulen
Lesen Sie sich unsere englischsprachigen Artikel zu Barcelonas Immobilienmarkt durch.
Madrid
Spricht Jung und Alt an
Stadtleben im Zentrum, Grün und Platz für Familien in den Randbezirken
Die teuerste Stadt zum Wohnen
Kulturelle Sehenswürdigkeiten, Tapas Bars, aufregendes Nachtleben
Lesen Sie unseren englischsprachigen Artikel zum Immobilienmarkt in Madrid: "Madrid on the top 3 list in Europe to invest in"
Valencia
Annehmlichkeiten einer großen Stadt, ohne eine Metropole zu sein
Strände und Nachtleben, bezahlbarer und dennoch ruhiger Lebensstil
Nähe zu Alicante, größeres Unterhaltungsangebot
Schnell wachsende Bevölkerung, da mehr Expats sich für Valencia entscheiden
Valencia ist bezüglich der Einwohnerzahl die drittgrößte Stadt Spaniens
Lesen Sie unseren letzten englischsprachigen Artikel zum Immobilienmarkt in Valencia.
Andalusische Region
Expats strömen nach Sevilla und Granada, die größten Städte der Gegend
Die Gegend ist ländlich geprägt und eng mit den maurischen und römischen Kulturen verbunden
Sevilla zieht ältere Leute an, da sie konservativer ist
Granada zieht jüngere Menschen an
Ruhiger Lebensstil mit vielen Krankenhäusern, Kinos, Restaurants
Nähe zur Costa del Sol für kurze Strandausflüge
Wie Sie bereits wissen, ist Spanien bei Start-ups beliebt. Sehen Sie sich unsere Infografik zu diesem Thema an: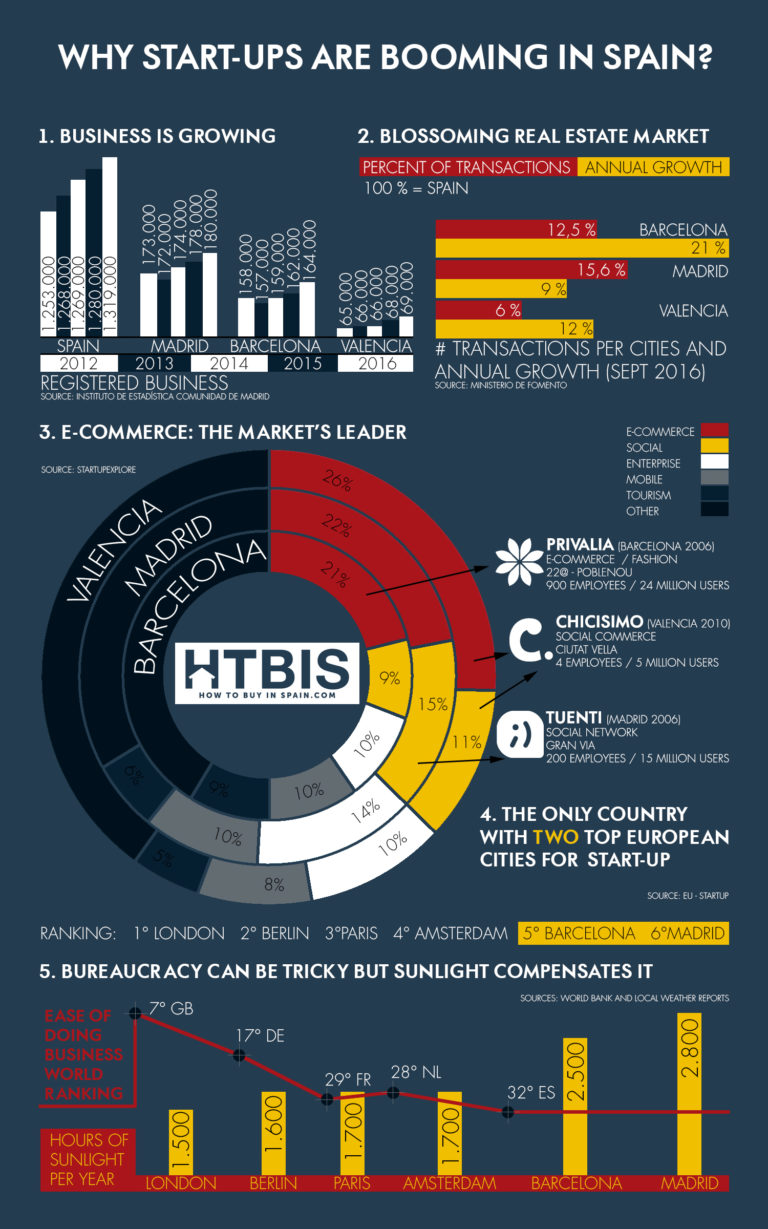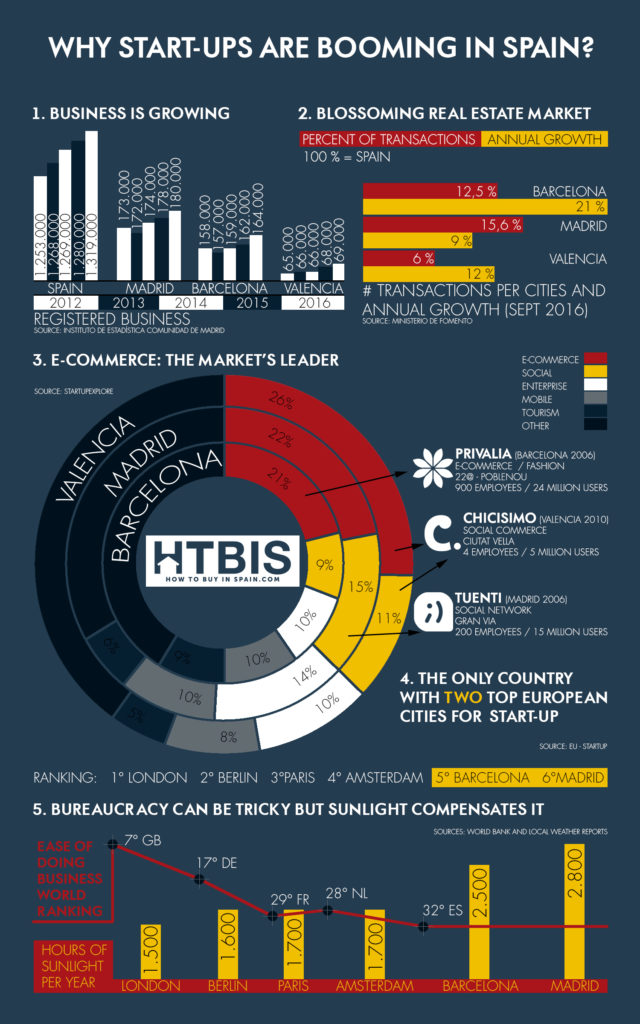 Wenn Sie eine Reise nach Madrid und Barcelona (oder Alicante und Málaga) organisieren möchten, in unseren Infografiken finden Sie ein paar Ideen zum kulturellen Angebot dieser Städte.
Natürlich spielt das Wetter auch eine Rolle, obwohl es in den meisten spanischen Städten sonnig ist. Sie können unter folgendem Link die monatlichen Wetterstatistiken für alle dieser spanischen Städte vergleichen.
Auf der Suche nach einem Experten? Fragen Sie uns direkt!
Senior-Analyst und Stratege bei HTBIS
Sehen Sie sich hier das gesamte HTBIS-Team an
TEILEN Sie mit den bunten Symbolen am unteren Bildschirmrand