Click on any flag to get an automatic translation from Google translate. Some news could have an original translation here: News     Nouvelles     Nieuws     Noticias     Nachrichten
Heb je een vakantiehuis in Spanje gevonden? Heb je een interessant pand op het oog? Proficiat! 
De 9 stappen tot je Spaanse eigendom
Luister desgewenst naar onze 2 min. 30 seconden video:

Voor je volledig eigenaar bent van het vastgoed, zijn er 9 stappen die je moet nemen. Daarna kan je volop genieten van je investering! Overleg uiteraard even met de makelaar of hij een aantal van deze stappen voor u uit handen kan nemen.
1. NIE aanvragen "Número de Identificación de Extranjeros"
Het  "Número de Identificación de Extranjeros" is een uniek identificatienummer dat je nodig hebt om als niet-inwoner vastgoed te kopen en belastingen te betalen. Het is aan te raden om dit al aan te vragen wanneer je begint uit te kijken naar panden. Je kan dit doen in Spanje zelf of via het Spaans Consulaat (in je thuisland). Ook de eventuele persoon met wie je samen het vastgoed koopt (bv. echtgeno(o)t(e)) heeft dit nummer nodig. Lees ons artikel voor meer info: Waarom heb je de Spaanse NIE nodig?
2. Zoek een meertalige advocaat
Een betrouwbare, bekwame advocaat die gespecialiseerd is in Spaans vastgoed en eigendomsrecht is een must als je een vakantiewoning koopt in Spanje. Zorg dat hij/zij zowel Spaans als je eigen moedertaal spreekt.
Zoekt u een advocaat in Spanje? Vraag het ons!
3. Open een bankrekening
Een bankrekening heb je nodig om de betalingen te verrichten die gepaard gaan met de aankoop van het vastgoed in Spanje.
4. Heeft u een hypotheek nodig?
Zie onze vorige video over dit onderwerp: "Hoe krijg ik de beste hypotheekrente in Spanje?".
Ontvang een offerte voor uw hypotheek in minder dan 24 uur, dankzij onze partner.
Heb je het eigendom van je dromen gevonden?
Hier zijn de volgende stappen:
5. Teken het "contrato de Reserva"
Met dit contract "reserveer" je het vastgoed en geef je aan dat je het wil kopen. Hiervoor dien je een  bedrag te betalen tussen €3000 en €6000. Je hebt vanaf dan 14 tot 21 dagen tijd om het pand te controleren. Dit is een belangrijk contract; teken het niet zonder de provisies te bepalen. Anders kan je het niet meer verbreken, mocht je je bedenken.
6. Controle van het pand door experten
Samen met één of meerdere experts wordt het pand nauwkeurig geïnspecteerd: is de « Registro de la Propriedad» in orde, hangen er geen schulden vast aan het pand, ziet het eruit zoals beschreven?
7. Ga een lening aan?
Als je niet over voldoende eigen middelen beschikt om de aankoop van het tweede huis in Spanje te financieren, kan je een lening aangaan in je eigen land of in Spanje.
8. Teken het "contrato de Arras"
Dit is het uiteindelijke koopcontract, ook wel "Contrato Privado de Compraventa" genoemd. Eerst dien je binnen de 10 dagen een voorschot te betalen van 10% van de volledige prijs van het vastgoed. Na de controle van het pand zal gevraagd worden om het contract te tekenen, waarin de totale koopprijs vermeld staat.
9. Ga naar de notaris
Ter afronding van het koopproces worden alle betrokken partijen verwacht bij de notaris: koper, verkoper, advocaat, bank (als je een lening aangaat). Het koopcontract wordt ondertekend.
Zorg dat je goed op de hoogte bent van alle kosten en dat je over voldoende middelen beschikt om alles te betalen.
Eenmaal al het papierwerk achter de rug is, bekijk dan even onze Laatste zes weken countdown: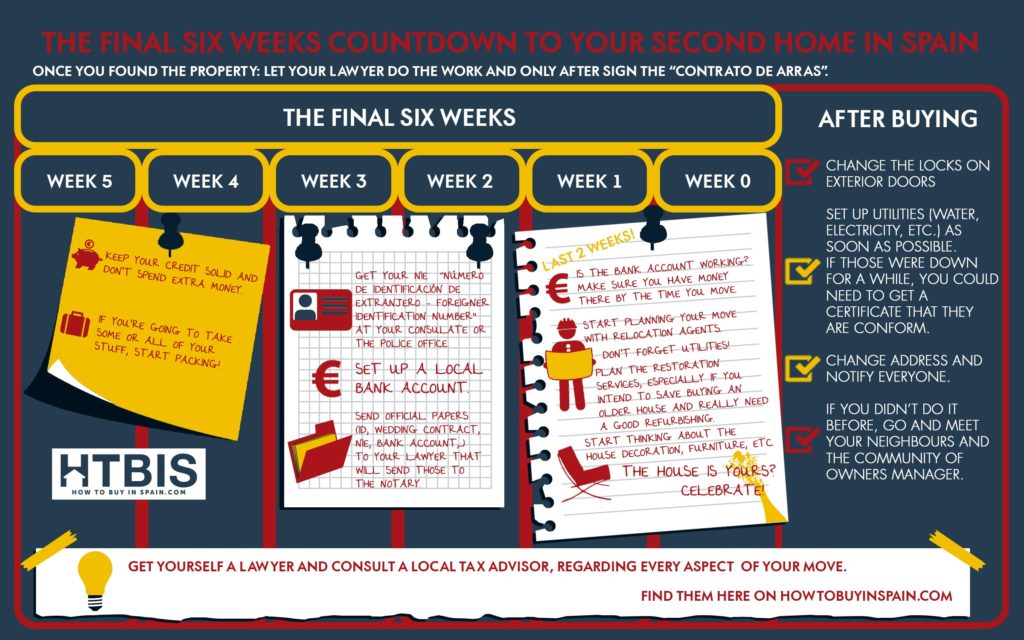 U kan interesante informatie vinden over dit onderwerp op de site of the notaries in Spain.
Als u wenst te investeren in Spaans vastgoed, aarzel niet om ons speciaal rapport in het Engels te lezen waarin de tien voornaamste redenen staan waarom u daar zou moeten investeren (bovenop de aantrekkelijke zon, de stranden en tapas ;)) 10+ redenen om vastgoed te kopen in Spanje, in het Engels met automatische vertaler.
Onze twee "absoluut te lezen" artikelen als jullie in Spanje willen kopen:
Abonneer u op onze nieuwsbrief om rechtstreeks te genieten van onze informatie https://howtobuyinspain.com/en/newsletter/
SHARE with the colour icons at the bottom of your screen