[kkstarratings id="10649"]
Click on any flag to get an automatic translation from Google translate. Some news could have an original translation here: News     Nouvelles     Nieuws     Noticias     Nachrichten
Aluminium house – Madrid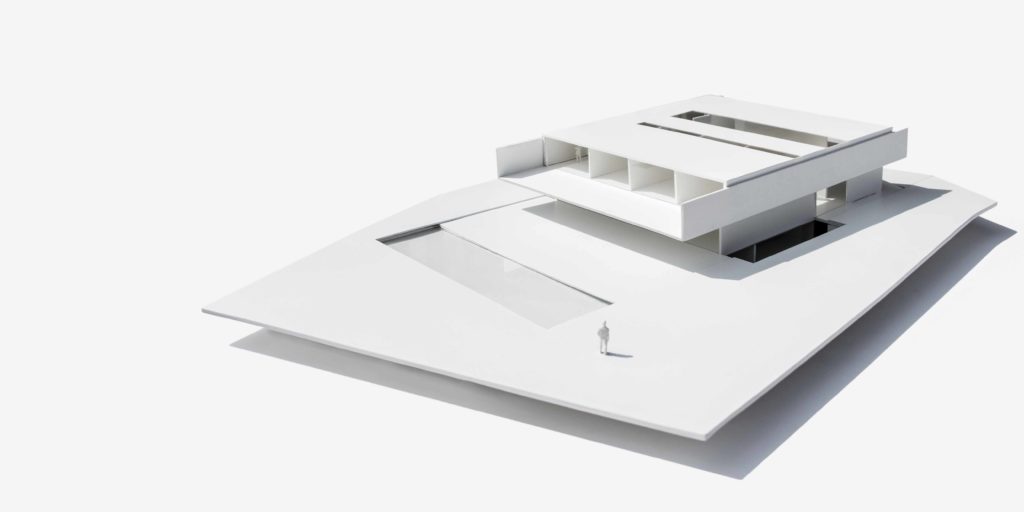 A consolidated landscape surrounded by gardens with big trees within the metropolis of Madrid is the fortunate starting point of this house.
The piece, of metallic and horizontal nature, produces the effect of having just one storey. With its proportions and materiality, it both contrasts and blends with the tall trees of its environment.
The scale of the house is moderated through the understanding of the day area as a base emerging from the same natural stone which paves part of the plot. The night zone is placed on it and focuses the view to the north and south while protecting itself from the eyes of the neighbours and generating shaded terraces in which to enjoy the exterior.
The substantially square plan is designed to unite the program in a compact way. The staircase and central inner atrium distribute the rooms, establishing a functional hierarchy in which all spaces open up to the garden.
Twenty-one plateaus and seven volumes tell the story of this house.
The aim of the project is to give a new and even identity to a house belonging to the same family for several generations. The original house formed by the aggregation of different interventions at different times, with different construction systems. Each of the rooms in the house describes a moment in the life of this family story. Thus it was essential to maintain the structure, spaces, uses, garden and memories, presenting them in a new way.
The further layer built in the history of this place employs new volumes used for new parts of the program. In this way leisure areas are projected, containing always the scale of the building and are presented as a sort of aggregation of small parts, which draws courtyards and narrows areas, as the traditional Mediterranean architecture does.
Have a look at all the pictures of this project:
Fran Silvestre Arquitectos is working everywhere in Spain and in some parts of the world, ask us to be put in touch with them and benefit from the strength of our network.
The good news is that it is affordable for everybody.
Why wait to live your dream?
Are you looking for a lawyer, an architect, a property hunter anywhere in Spain?
Ask us directly an access to our network of local experts!
Senior analyst and strategist at HTBIS
Check the full HTBIS team here
SHARE with the colour icons at the bottom of your screen