Automatic translation from Google translate:
+23.1% Spanish properties sold in January vs one year ago
The INE, the "Instituto Nacional de Estadisticas", has just released the numbers of property transactions for the month of December.
Here is our quick snapshot of the main information:
+23.1% transactions growth to 47.289 (vs 2016)
+46.8% growth vs December 2017 (it was +30.2% one year ago)
Spanish regions with the highest property transactions growth
Asturias: +55.7%, with 939 transactions
Valencian community: +40.5% with 7.409 transactions
Cantabria: +37.4%, with 672 transactions
Murcia: +38.8%, with 1.514 transactions
Andalusia: +31.1%, with 8.988 transactions
Spanish regions with the lowest property  transactions growth
Extremadura, +1.3%, with 631 transactions
Aragon, with 1.139 transactions
La rioja, with 344 transactions
Top 4 Spanish regions
Andalusia: 8.988 transactions and 31.1% growth
Valencian Community: 7.409 and 40.5% growth
Catalunia: 7.334 and 8.2% growth
Madrid Community: 6.526 and 14.2% growth
Remember our infographic on the most active regions for foreigners: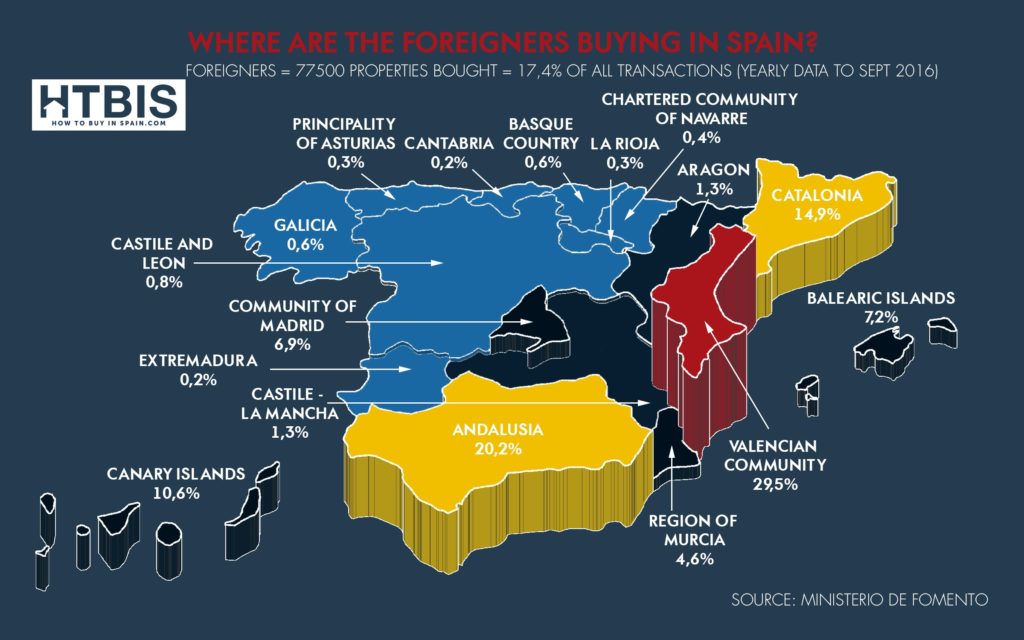 Read our interesting article of December 2017 on the same subject: What are the top 10 cities in Spain where foreigners are buying real estate?
Read the official press release from the "Instituto Nacional de Estadistica" in Spanish here
Looking for an expert in Spain: Lawyer, Property hunter,…? Ask us directly!
Senior Analyst and Strategist at HTBIS
Check the full team of HTBIS here
SHARE with the colour icons at the bottom of your screen