Translate this page:
The "Instituto nacional de Estadisticas", INE, just released the Mortgage statistics of Spain for the month of June.
The number of home mortgages registered in the registers of the property in June increased by 16.5% vs last year to 29,516.
Here are a few facts:
The average amount of these mortgages increased by 4.4% since last year and stands at €116,629
In housing, borrowed capital is 3,442.4 million, i.e. an annual increase of 21.6%
It is a 7% growth between June and May 2017
It is a 4% growth if you compare 2017 and 2016 (six first months of the year)
What are the mortgages characteristics?
They have an average interest rate of 2.68%
Their duration is 22 years
65% have variable interest rates
35% have fixed interest rates
The average rate for variable rate mortgages is 2.6%
The average rate for fixed rate mortgages is 3.2%
7411 property changed conditions in June 2017

The one with fixed rate benefited on average from a decrease of 0.7 percent
The one with variable rate benefited on average from a decrease of 1.3 percent
All the regions benefit from very strong growth rates, up to 60%, for the number of newly issued mortgages apart from 4 regions (on the right on this chart – green line- right axis):
Castilla-La Mancha
Basque Country
Balearic Islands
Aragon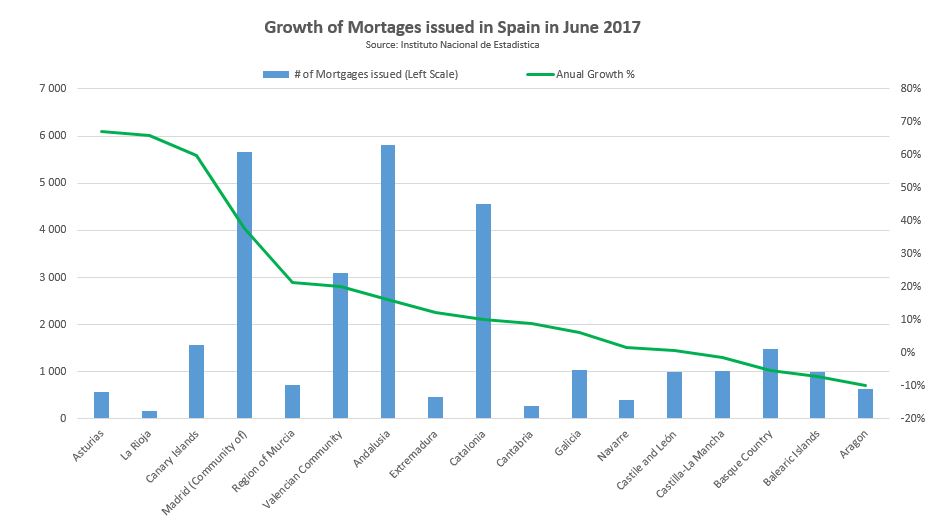 You are about to buy a nice second home in Spain. Do you want to know how to get the best mortgage rates on your Spanish property?  Even as a foreigner? Check our detailed paper on this subject.
For more information please read the INE report.
Looking for an expert in Spain? Ask us directly!
Senior analyst and strategist at HTBIS
Check the full HTBIS team here
SHARE with the colour icons at the bottom of your screen