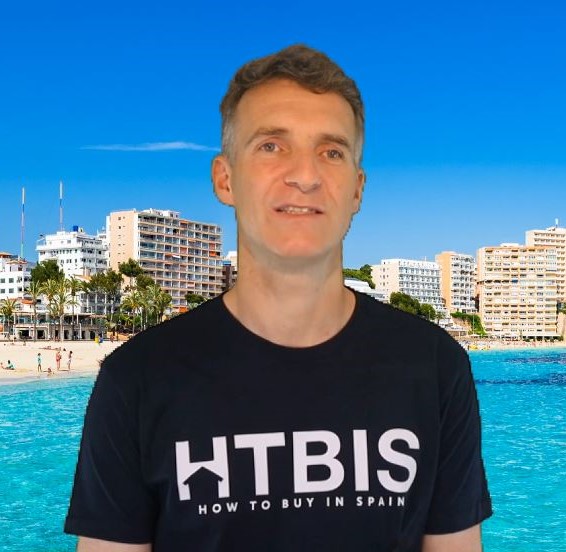 Reading time 6 minutes. Use our table of content for a quick read.
Last Updated on 17/07/2023 by STEPHANE
Automatic translation from Google translate:
Everything you ever wanted to know about the Costa de Barcelona
Costa de Barcelona is a geographical area that is famous for decades. It has a lot to enjoy: gorgeous beaches, beautiful cities, lovely and exciting culture, and most importantly, the kind and wholesome people.
This Costa enjoys the well-known Mediterranean climate, with warm summers that allow you to swim six months a year. Location-wise, this is the southernmost section of Catalunya, a region within Spain, with the French frontier on the North, the Mediterranean to the south and the east.
Within the touristic name "Costa de Barcelona" there are different counties: such as Maresme, with Mataró as its capital, Bajo Llobregat, surrounding San Feliú de Llobregat, Galtraf, with Villanueva y Geltrú, Alto Penedés, with Villafranca del Panadés, Vallés Occidental and Vallés Oriental, their capitals being Tarrasa y Sabadell and Granollers respectively.
This area as a whole is highly touristic, and it is very focused on improving the experience of the travellers. And as such, there are many more recreation centres and leisure activities than what you might find in other cities of the same size, which is nothing to be surprised about, knowing that the province gets more than 19 million visitors each year, with only 7.5 million people living there.
If you have been keeping an eye on the news, you might have heard of the independence of Catalonia, this is a somewhat complicated geopolitical matter, but we'll do our best to explain it, so that you can see what you are getting into.

Views of Barcelona
Catalonian relation with Spain
The relationship between Spain and Catalonia has almost always been quite unstable, and nowadays it seems to be more than ever the case. The reasons for this are not only cultural but economic and political as well.
In the economic spectrum, Spain has been suffering from the 2008 crisis for a long time now, and Catalonia is one of the very few communities that are sustainable. Because they pay more taxes than they spend, thus, Catalonian Nationalists argue that Spain is only holding them back and that they would be much better off being a Country by themselves.
Nevertheless, the Nationalist influence got to its climax a few months ago, when the Independentist party called a vote to either leave or stay in Spain. This whole process, though, was illegal and it did not ask permission from the Spanish Government, and there was repression towards the people trying to vote.
Not long after the claim of Catalonian independence, also illegal and not recognised by the Spanish state, the Independentist party and the autonomous local government were dismantled, and the leaders were imprisoned or exiled.
There are still some tensions, but the problem has scaled down. This whole situation affected the Catalonian economy since many tourists stopped going there because of the demonstrations and protests, but the economy seems to be recovering.
Costa de Barcelona Must-See Locations
Now that we've tackled the elephant in the room, let's relax and take a look at the astonishing places that Costa de Barcelona can offer us, with more than 100 km (62 miles) of coastline, I am sure we won't be disappointed.
First of all, we have to talk about the landscapes and natural locations, which are one of this place's strong points. There is a wide variety of natural parks, such as Montseny, Sant Llorenç del Munt y el Obac, Montnegre y Corredor, and many, many others that will introduce us to the natural wonders of this area, like the Mountain ranges, protected beaches and sea life preservation centres, there is just too much to see!
On the other hand, we have the other most popular kind of tourism in the area, this is for those that want to get to know the culture and traditions of the locals, and for them, this is the jackpot.
There are small towns and villages full to the top with incredible architecture, such as the modernist buildings at Sitges, Mataró and Sant Joan Despí, towns with a historical centre replete of antique architecture, some of which have even been made into museums.
Barcelona has four Unesco sites:
Palau de la Música Catalana Barcelona (1997),
Hospital de Sant Pau, Barcelona (1997),
Works of Antoni Gaudí Barcelona (1984,2005),
Poblet Monastery Barcelona, (1991).
For the wine lovers out there, Costa de Barcelona also has a lot to offer, with towns like Vilafranca del Penedés and Sant Sadurní D'anoia, local capitals of oenology, where tourists can enjoy themselves around vineyards and learn the techniques and traditions of making the wine, which comes, of course, with more wine tasting than you can have.

The beach of Sitges
Are you a real estate investor?
The real estate market in Catalunya as a whole has had somewhat of a slowdown in the past few months, this is due to the geopolitical uncertainties with the independentist party, but as the situation has scaled down, the market has gone back up.
Investment in this area has always been massive since Barcelona is the second-largest city in Spain, some even call it the second capital. But the market is facing another problem right now, a lack of real estate.
This is not a problem at all for those owners whose properties' values have skyrocketed, of course, but for people trying to invest, it might be a problem, since prices are higher than they would be otherwise.
Nonetheless, people are looking for ways to create or liberate more useful ground to build new properties; ergo, this problem should not last very long if new projects come on the market. The smartest decision could be to wait, maybe just a couple of years, as the prices go back to normal.
But if you do not want to wait, you will have to pay big money, since Barcelona has become the most expensive city in Spain, with prices averaging 17.5 €/m2 on rent and 4 300€/m2 on used property. Of course, if you compare that with international markets, Barcelona remains on the cheap side of the market.
But if what you want to do is ride the prices until the real estate generation process is solved, you are free to do so.
Real estate prices in Barcelona: €2,536 /m² as of March 2022
Prices in Barcelona are, on average, 40% higher than the national average and rebounded about 15% from the lowest levels reached since the crisis of 2008. If you take into account the number of transactions, Madrid and Barcelona are the two strongest markets.
For more on that, read our detailed quarterly report on the Barcelona real estate market and Spanish property market.
Have a look at a few papers we wrote on the real estate market in Barcelona and Sitges:
Is Costa de Barcelona an excellent place to retire?
If you are looking for a calmer place to spend your last years, you might want to go somewhere else; Costa de Barcelona is filled every year with tourists, often young people looking to have fun, which does not get along well with a calmer lifestyle. Within Costa de Barcelona, Sitges is the quiet place you could be looking for!
If you are looking for adventures, though, this is the place for you. Hundreds of interesting and exciting activities are organised all the time in Costa de Barcelona to attract tourists year-round. You will find it difficult to get bored.
In San Juan's Festivity, celebrated every twenty-fourth of June, huge parties are thrown to celebrate the summer, with fireworks and campfires being lit all around. It is traditional to have Coca de San Juan for dinner, along with some Cava, a particular Spaniard wine.
There is also the Carnival of Vilanova I la Geltrú, el Corpus de la Garriga, in fact, each of the counties capitals' have a specific day to throw parties, there is as well the International festival of Terrassa`s Jazz, along with Sabadell's Opera, long story short, you will rarely find yourself without something interesting to do, or somewhere interesting to go over the weekend.
And the quality of living is one of the greatest in the world, it is not for nothing that Spain is second only to Japan in the average lifespan of their citizens, a properly built transport system, good food for not much and a relaxed lifestyle, with not much to worry about are the factors that make Costa de Barcelona such a great place to live in.

Mataró mountains
Should you take your holidays in Costa de Barcelona?
To buy a summer (or winter) house on the Spanish coast is something that rarely people regret, it is utterly enjoyable, with lovely weather for most of the year, beautiful landscapes, a fantastic set of welcoming kind people, and fun activities to do all the time, there is almost nothing to complain.
But this specific costa has even more advantages than most of the other ones: it has a huge city a couple of miles away, Barcelona is a centre of entertainment, with a heavy dependence on tourism and such a massive number of visitors per year, it merely has to have everything.
Going to the beach one day, do some Urban Exploration the next one, then go to a nightclub and have a drink, to go hiking or mountain biking the next day, the options are almost limitless! Whether you are a single person looking to have fun, a couple enjoying their relationship, or a fully-fledged family with grandpas included going for a family holiday.
In Conclusion
The community of Costa de Barcelona is a complete location all around, there are exciting, interesting activities that will keep you busy for however long you decide to stay there, the locals are used to tourists and outsiders, they will welcome you as they have done with many, many people that have decided to go there before, and will go there after you do.
If you want to check the monthly weather statistics Barcelona or Sitges follow to link.
Are you going on a city trip to Barcelona? Check our citytrip epostcards to Barcelona here.

Are you looking for a local partner: Lawyer, or property hunter on the Costa de Barcelona? Don't look further check our team and ask us for the correct contact.
Costa de Barcelona Infographic information
Airports: Barcelona – El Prat
Ave stations: Barcelona
Cities: Barcelona (1,600,000 inhabitants), Sitges (28,500 inhabitants), Mataró (125,000 inhabitants), Badalona (215,600 inhabitants), Vilanova i la Geltrú (66,000 inhabitants), Premià de Mar Plana (27,900 inhabitants)
Unesco sites: Palau de la Música Catalana and Hospital de Sant Pau, Barcelona (1997),Works of Antoni Gaudí (1984,2005), Barcelona, Poblet Monastery (1991), Archaeological Ensemble of Tárraco (2000). Find all the UNESCO Sites in Spain on our page: "10 reasons why you should buy in Spain"
Top beaches: Balneario Titus (Arenys de Mar), Balneario Hotel Colón (Caldes d'Estrac), Santa Susanna, Malgrat de mar (Maresme), PREMIÀ DE MAR (Maresme), San Bartolomé y santa Tecla, Vilassar de mar (Barcelona), playa principal de Calella (Calella), Roca Grossa (Calella), Barceloneta Beach (Barcelona), La Playa de Sitges (Sitges), Beach Castelldelfels Barcelona (Castelldefels), Playa de Castelldefels (Castelldefels), Playa Balmins (Sitges), Bogatell Beach (Barcelona), Platja de Ribes Roges (Vilanova i la Geltru), Badalona Beach (Badalona), Passeig Marítim (Sitges), Nova Mar Bella Beach (Barcelona), Playa de Sant Sebastia (Sitges), Ocata Beach (El Masnou), Delta del Llobregat (El Prat de Llobregat), Playa del Hombre Muerto (Sitges), Sausalito Beach (Sitges), Platja de la Nova Icaria (Barcelone), Platja de Gava (Gava)
Kids Parks: Parque Tibidabo (Barcelona), Isla Fantasía (Vilassar de Dalt), Zoo (Barcelona)
Shopping Malls & Outlets: El Corte Inglés (Barcelona), Mataró Park (Mataró), Diagonal Mar (Barcelona), La Maquinista (Barcelona), Vila Lauren (Vilanova i la Geltrú)Gran Via 2 (Barcelona), Pedralbes Center (Barcelona), Maremagnum (Barcelona), La Roca (Granollers), Gran Via 2(Hospitalet de Llobregat). Read our earlier paper on that subject: The best Spanish shopping experience: Alicante, Barcelona, Madrid, Malaga
Traditional & Flea markets: Els Encants Barcelona, LA BOQUERIA Barcelona SANTA CATERINA MARKET Barcelona PRINCESA MARKET Barcelona SANT ANTONI MARKET Barcelona
Top golf courses: Sant Joan, San Cugat, Terramar, Vallromanas, La Roca Play with the best golf clubs sets in Spain thanks to our local partner.
Natural Parks: Parc del Garraf, Parc polivalent Francesc Macià, Parc-Espai Natural, Parc Natural Corredor, Tordera,Salt Petit, Riera de Pineda, Montnegre i el Corredor, Consorci del Parc de la Serralada de Marina, Parc de la Ciutadella,
University: Universitat de Barcelona, Universitat Autònoma de Barcelona, Universitat Pompeu Fabra, Universitat Politècnica de Catalunya, Universitat Ramon Llull, Universitat Internacional de Catalunya
Hospitals: Hospital Clínic, Hospital del Mar, Hospital Universitari de la Vall d'Hebron, Hospital Sagrat Cor (Barcelona), Hospital Municipal de Badalona (Badalona), Hospital de Mataró (Mataró)
Read further on the Costa de Barcelona and Spain
TOURIST OFFICE:
GOLFS: Reread our Summer paper on the subject What are the top golf courses in Spain? Play with the best golf clubs sets in Spain thanks to our local partner. Check the Spanish Federation here: Looking for a Golf Club in Spain?
MUST VISIT IN SPAIN: Our top 5 UNESCO World Heritage Sites in Spain, Find all the Unesco sites in Spain
Find all our other articles and maps on the Spanish Costas: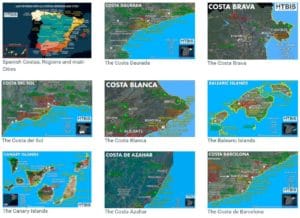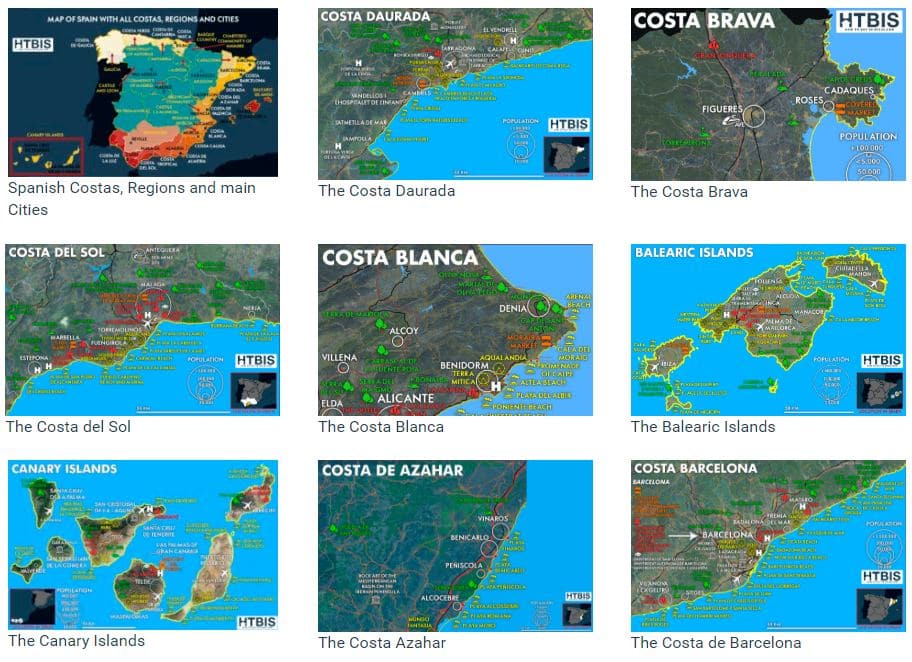 With our team of more than +100 local real estate partners, HowtobuyinSpain helps foreigners to buy real estate in Spain.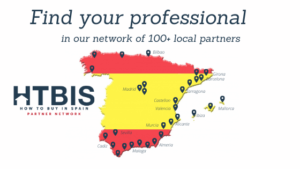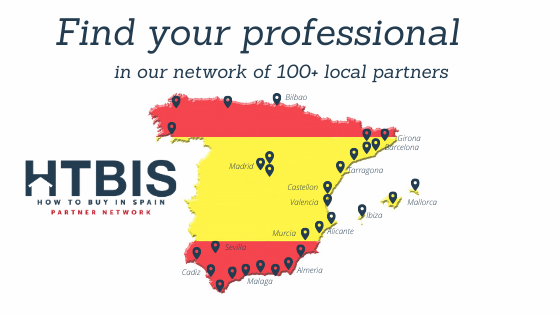 The experts from our network are active in all the fields you need:
Looking for an expert: Architect, property hunter, lawyer,… in Spain? Ask us directly!
Senior Analyst and writer at HTBIS