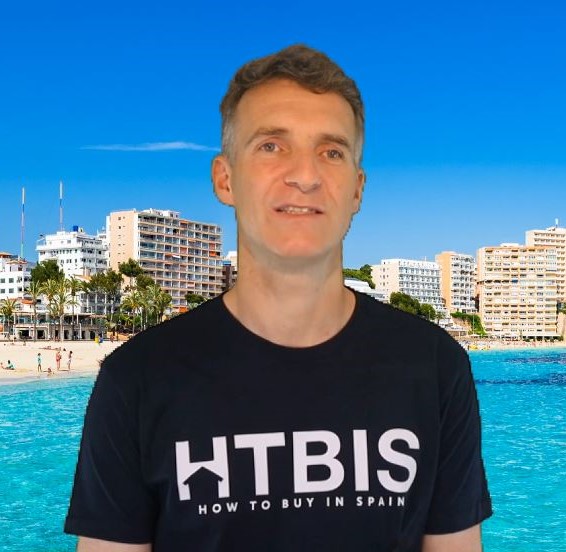 Reading time 4 minutes. Use our table of content for a quick read.
Last Updated on 06/04/2023 by STEPHANE
Click on any flag to get an automatic translation from Google translate. Some news could have an original translation here: News     Nouvelles     Nieuws     Noticias     Nachrichten 
In order to get closer to the market in Murcia, we asked our independent local property hunter, Sabine, to write about her latest activity there. Should you need more information, we will put you in touch with her, she is one of our local independent partners of howtobuyinSpain.
Unlocking the Potential of Murcia Real Estate Investment
Let's have a look at the property hunting job realized by our local partner in Murcia
First, let's have a quick look at the region around Murcia: Costa Calida.
We'll guide you through the beautiful Costa Cálida and the Murcia region in Spain, two captivating destinations that are becoming increasingly popular among real estate investors and homebuyers. This enchanting corner of Spain offers an idyllic blend of sun-kissed beaches, rich cultural heritage, and a diverse landscape that begs to be explored. Whether you're seeking a permanent residence, a vacation home, or a profitable rental investment, the Costa Cálida and the Murcia region have something for everyone.
Costa Cálida, aptly named the 'Warm Coast,' stretches along the southeastern coastline of Spain and is nestled between the well-known regions of Costa Blanca and Costa Almería. This sun-drenched haven boasts over 250 kilometres of pristine beaches and a unique microclimate that blesses the area with an average of 320 sunny days per year. The region's exceptional climate, combined with its stunning coastal beauty, makes it an irresistible destination for those looking to buy property in Spain.
Let's start by exploring the region's capital, Murcia, a bustling city that perfectly balances historical landmarks with modern amenities. Here, you'll find the stunning Cathedral of Murcia, a breathtaking example of Gothic architecture, as well as contemporary shopping centres and a thriving culinary scene. The city's lively atmosphere and rich cultural offerings make it an attractive destination for both tourists and residents alike.
Next, don't forget to venture to the ancient port city of Cartagena, where over 2,000 years of history come to life in the form of ancient ruins, fascinating museums, and beautifully preserved architecture. The city's picturesque marina and bustling city centre offer excellent shopping, dining, and entertainment options, while its unique blend of history and modernity creates a captivating atmosphere that appeals to a wide range of buyers.
Further south, don't forget to visit the popular coastal resort of Águilas, renowned for its golden beaches, crystal-clear waters, and vibrant nightlife. With numerous beachfront properties available, Águilas is the perfect destination for those looking to invest in a holiday home or rental property along the sun-soaked shores of the Mediterranean.
Throughout your journey, you will be surprised by the natural beauty of the Costa Cálida and the Murcia region, which boasts a diverse landscape that includes rugged mountains, lush pine forests, and the impressive saltwater lagoon of Mar Menor. This vast lagoon, separated from the Mediterranean by a narrow strip of land called La Manga, is a haven for water sports enthusiasts and nature lovers alike.
For golf enthusiasts, the region is home to several world-class golf courses, making it a golfer's paradise. We'll provide you with an insider's perspective on the best courses, along with tips and advice for making the most of your golfing experience in the Costa Cálida and Murcia region.
If you want to read more on Costa Calida, have a look at our detailed article on Costa Calida.
Let's discuss the practicalities of investing in real estate in the region of Murcia, including the affordability of properties compared to other Spanish coastal regions, the steady growth experienced in recent years, and the potential for capital appreciation.
Murcia Real estate market's latest trends
Let's check the property prices in Murcia.
As of December 2022: real estate prices in Murcia are at €1,026 /m², -0.1% yr/yr
Property transactions for the property market in Murcia: 26,030 +15%
Have a look at our Murcia real estate interactive price chart:
Real estate prices in Murcia are about 35% below the national average. They remain at the lowest levels seen since 2008.

Let's move further and check the property hunting mission realized by our local property hunter.
Property hunting in Murcia
Client profile
A bachelor sustains himself by earning rental income from multiple apartments he possesses in France.
The budget of this buy-to-let property in Murcia
less than €80 000
Objective of this real estate project?
Rental Investment in the region of Murcia.
What makes Murcia a suitable choice for investing in rental properties?
It is undeniable that Murcia, a region in Spain, is both beautiful and reasonably priced. On Costa Calida, there are many exquisite coastal towns and residential areas to choose from, one of which could potentially be your new place of residence.
The region of Murcia is a worthwhile destination to consider due to its relatively lower land prices compared to more established areas like the Costa Blanca and Costa del Sol
Making an investment in Murcia can be a wise choice because of its enjoyable climate, economical air travel choices, reasonable real estate expenses, and the potential for profitable rental income and appreciation in property worth.

There are certain facts about Murcia that you need to be aware of
Currently best value property in Spain
2 large airports used by low-cost airlines
Big English community
22 golfs in the region of Murcia
New Corvera airport
New motorway network
New fast train to Madrid
Regeneration of the cities of Cartagena and Murcia
Beautiful golf courses
Cleanest air in Spain by WHO organisation
Best place to play Golf
The Region of Murcia has become a popular golf destination in Europe, with top-quality courses available within a 50 km radius. With numerous amenities and facilities, golf enthusiasts and professionals can enjoy their time here without any disappointment. It provides a desirable alternative to other popular but crowded golf destinations, such as the Costa del Sol and Algarve. This region is renowned for its picturesque greens, which are surrounded by bright blue skies, making it the perfect spot for golf enthusiasts. Essentially, Murcia is nothing short of paradise for those who revel in the game of golf. If you enjoy playing golf in Spain then you will enjoy Murcia, as it is fast becoming one of the best golf destinations in Europe. For everyone who wants to get pleasure from some of the most beautiful championship courses in Spain, with the most spectacular panorama and magnificent warm climate all year round, then Murcia is the place for them.
We presented numerous pleasant areas in the region of Murcia
to our clients in order to assist them in acquiring their property. One of those is La Puebla. There are numerous shops available, along with a supermarket, bars, and restaurants. The village is conveniently located as it only takes 15 minutes to drive to Cartagena and 10 minutes to Los Alcazares where the beaches of Mar Menor are situated; furthermore, Murcia International Airport is just 30 minutes away.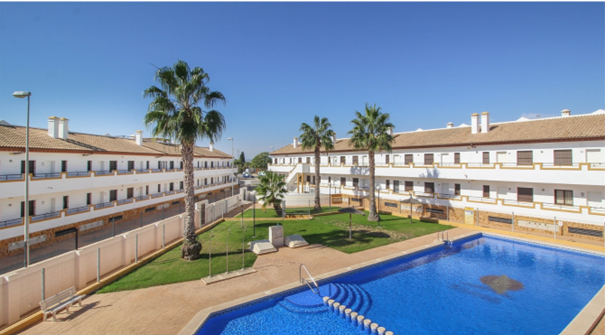 Let's have a look at the property we found in Murcia for our customer
This property includes a combined living and dining area, two spacious bedrooms with built-in closets, two bathrooms (one with a shower and one with a bathtub), and a kitchen with a breakfast bar. There is also a balcony that leads to a private rooftop solarium and storage space.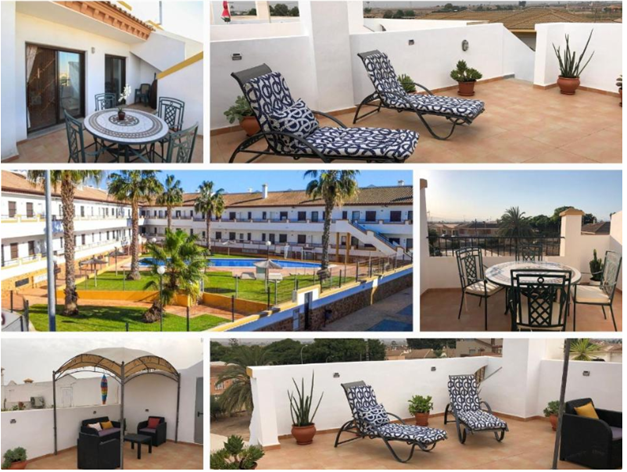 The property was sold fully furnished and is available for rent.
What about rental yields on this property?
Target reached ! Rentability :
The flat price is €72,000.
We succeeded to negotiate the price down to €66,500
With all the taxes to be paid ( ITP , notary, register the total amount was €74,320)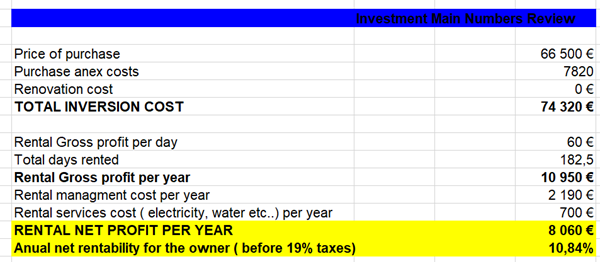 This flat is now on booking with an average of €80 per night.
If you are looking to buy in Spain, we would suggest that you read our earlier paper on Property hunting: 6 essential reasons for loving your Spanish real estate shopper. This paper is very interesting and gives you some of the important reasons why working with a property hunter is very useful for foreigners looking to buy in Spain. You will find specific samples from all our local property hunters everywhere in Spain, for instance in Alicante, Valencia, Barcelona and Madrid. Here are our other case studies written on Madrid, Barcelona and Tenerife:  Property hunting "Case study" in Madrid, Property hunting "Case study" in Barcelona and Property hunting "Case study" in Tenerife written by our local independent property finders. Looking for a property hunter anywhere in Spain? Follow the link where you will find all our case studies as well.
About Sabine, our local independent Property finder in the Region of Murcia
Sabine is our local property finder in the Costa del Sol and the Costa Dorada.  Sabine is active on the Costa del Sol since 2021 and Costa Dorada since 2019 and lives in Spain since 2015. She is our
local independent partner in this region.
Looking for a property hunter, a lawyer, an architect,… a local expert in Spain? Ask our network of independent local experts directly!
Property finder in Costa Calida and the Costa Dorada
Local independent partner of HTBIS Network
Check the full team of HTBIS or check our independent local partners