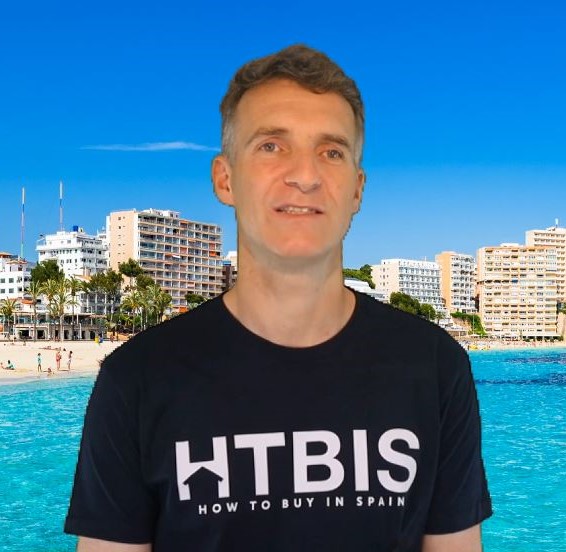 Reading time 3 minutes. Use our table of content for a quick read.
Last Updated on 12/03/2023 by STEPHANE
Click on any flag to get an automatic translation from Google translate. Some news could have an original translation here: News Nouvelles Nieuws Noticias Nachrichten
In order to get closer to the market in the Costa Brava, we asked our independent local property finder, Séverine, to write about her latest activity there. Should you need more information, we will put you in touch with her, she is our local independent partner of howtobuyinSpain.
Case Study: A countryside villa in Tossa de Mar

First, let's discover the Costa Brava
Located between the Pyrenees and the Mediterranean sea, the Costa Brava is one of the most beautiful areas of the Western Mediterranean. Its mild climate, with an average temperature of 17 degrees, and its more than 300 days of sunshine per year make it an excellent place to live. To find out more on the weather, check our infographics with the monthly weather statistics of the 18 biggest cities in Spain.
With more than 240km of coastline, it is the ideal holiday destination for all your water sports, sightseeing or cycling. Its infinity of virgin coves and great beaches attract millions of tourists worldwide each year.
To discover more about the Costa Brava, read our paper: Everything you should know about the Costa Brava.
Tossa de Mar is one of the oldest coastal town of Catalonia
Tossa de Mar is a municipality in Catalonia, on the coastal Costa Brava, about 103 kilometres north of Barcelona and 100 kilometres south of the French border. It is accessible through Girona Airport.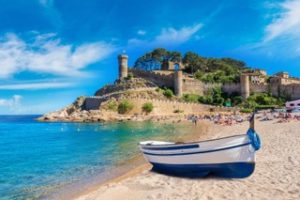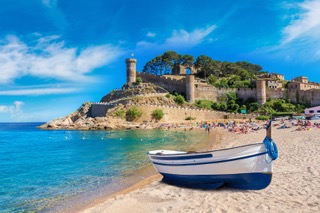 Tossa de Mar beach Castle ruins – Catalonia
What is the current situation for the real estate market in this region?
Whether it is a purchase to spend your retirement, a family second home or an acquisition of real estate for rental purposes, the investment in this region appears to be a very interesting option because the prices per square meter remain attractive. Of course, weather statistics could be a little bit colder in the winter months but they remain very warm if you compare to many northern countries. If you love nature, this is as well a fantastic region. As Catalonia is close to the French border and as real estate is cheaper than in France prices are close to the Spanish average and well supported. So, real estate is more expensive than on the Costa Blanca but not too expensive. Interesting to note as well is that the cost of life in Spain is much lower than in France.
Here is a quick look at the real estate price evolution in Girona, the capital of the province, over the last 20 years
Girona property prices: €1,535 /m² (end december 2020), -1% yr/yr
Transactions for the real estate market in Girona: 10,321 -15%
Prices in Girona followed the national prices as if Girona was the national market really funny! Check these two charts!
Acquire a resale?
The significant economic advantage of buying a resale makes it possible to acquire a cheap housing while the renovation provides the advantage of adapting the property according to tastes and desires of each other. A modern touch in a historic building is often a nice mix.
Let's review the property of : A countryside villa, close to Barcelona and Tossa de Mar
Objective with the property
Rental investment and to enjoy Spain a few weeks per year.
Buyer profile
A Swedish retired couple
Property description
Magnificent two-story property with private pool and garden. Distribution:
Groundfloor with 3 double bedrooms, 1 bathroom with bathtub, kitchen and living room with direct acces the the barbecue aera. First floor: 2 bedrooms and a toilet ( this area is an auxiliary area perfect for kids or young people). Wonderfull garden with artificial turf, barbecue area with full bathroom with shower and fenced pool area with pergola. Parking open inside the property. Panoramic views on the mountains and a lot of privacy.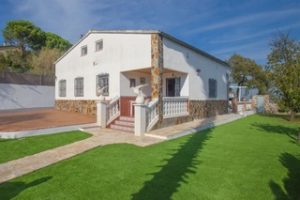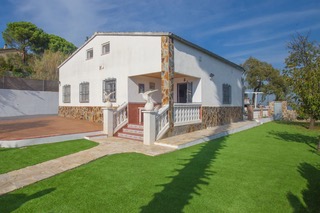 Countryside villa in Tossa de Mar
Neighbourhood
The property is situated in Can Fornaca Area, with facil access to the AP7 motorway, 1 hour from french border, 1 hour from Barcelona city center, and 30 minutes from wonderfull beach city of Costa Brava like Tossa de Mar.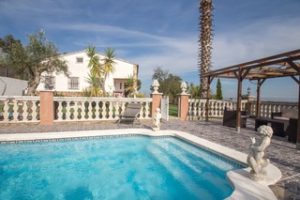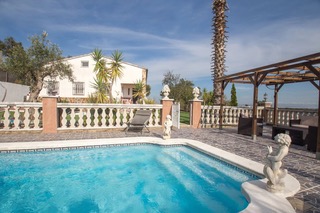 A pool … a must for the summer
Budget
The customers had a budget in mind of 190.000€
How do we help you?
Carrying out work in a property is often synonymous with anxiety for the owner of the premises. We are aware of this and we manage for some of our customers on site renovation with local teams and make sure it runs smoothly.
Investing in a property to be renovated requires the assurance of being accompanied by professionals with a perfect knowledge of the market and the profession.
On the one hand, after having found the ideal property corresponding to the expectations of our customers, we guarantee the buyer peace of mind throughout the entire process by providing him with the competent companies with which it has already collaborated in order to take into account the loads the work to be done.
On the other hand, we also offer our customers the possibility to budget the amount of work by drawing up a precise diagnosis and making various estimates in order to have an overview and to allow the total amount of the property to be assessed after works. In addition to that, in order to offer maximum peace of mind to buyers, the agency can also take care of the entire administrative aspect of the process (authorizations, permits,…). Time and deadline management is a priority for us, which ensure to supervise the process and can set up, thanks to its partner law firm, a contract between the agency and the company carrying out the work in order to provide the ideal protection conditions and get an exhaustive execution of the latter (precise estimate, completion date, etc.).
Adding contractual penalties in the event of partial non-performance or delay of the contractual agreement due by the service provider company, is as wel part of the job
We are committed to supporting our customers before, during and after the purchasing process in order to provide a complete service and ensure regular follow-up to enable buyers to make a successful and secure transaction with complete peace of mind.
Ask our network at HowtobuyinSpain.com
In addition to our local property finders, How to buy in Spain as developed a network of local renovation teams.
If you are looking to buy in Spain, we would suggest that you read our earlier paper on Property hunting: 6 essential reasons for loving your Spanish real estate shopper. This paper is very interesting and gives you some of the important reasons why working with a property hunter is very useful for foreigners looking to buy in Spain. You will find specific samples our independent local partners worked on in Alicante, Valencia, Barcelona and Madrid. Here are our other "Case study" written on Madrid, Barcelona and Tenerife: Property hunting "Case study" in Madrid, Property hunting "Case study" in Barcelona and Property hunting "Case study" in Tenerife written by our local independent property finders.
Looking for a property hunter, a lawyer, an architect,… a local expert in Spain? Ask our network of independent local experts directly!
Property finder in the Costa Brava
Local independent partner of HTBIS Network
Check the full team of HTBIS or check our independent local partners