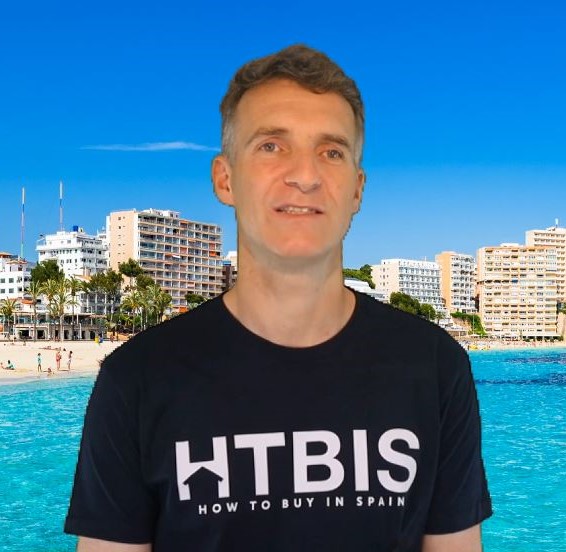 Reading time 4 minutes. Use our table of content for a quick read.
Last Updated on 06/03/2023 by STEPHANE
Click on any flag to get an automatic translation from Google translate. Some news could have an original translation here: News Nouvelles Nieuws Noticias Nachrichten
Tenerife is very much in demand right now. We wrote our paper on the Canary Islands a few months ago: Everything you ever wanted to know about the Canary Islands and last year we wrote this analysis of the real estate market (price have been updated in the charts in the meantime): Have a look at the property market in Tenerife, this paper is our most read paper on any Spanish cities. In order to get closer to the market, we asked our independent local property finder, Manuel, to write about his latest activity on the local market. Should you need more information, we will put you in touch with him, he is our local independent partner of howtobuyinSpain.
Tenerife property investment: a Case study of property for sale in Tenerife
Tenerife is the most famous island of the Canary Islands and the one that attracts the most tourists. About 1300 km from the Spanish coast and in front of Morocco, Tenerife is accessible mainly by plane and has two airports: Tenerife North and Tenerife South. This small volcanic rock lost off the coast of Africa offers us an ideal climate all year, where rains are almost non-existent. Indeed, you may have already seen on TV many tourists in winter with their Santa hat bathing in the warm and clear waters of the Canary Islands. It's a reality and a paradise if you're dreaming of a year-round sun without getting too far from your family and loved ones. So let's go to its discovery.

Beach views in Tenerife
The island of Tenerife
Tenerife is an island in Spain, part of the Canary Islands archipelago, located in the Atlantic Ocean. It is the largest island of the archipelago but also of the highest, the Teide constituting the highest point of Spain with 3 718 meters above sea level.
This island is the most populated of Spain, with nearly a million inhabitants, but also the most urbanized and cosmopolitan of the Canary Islands. Santa Cruz de Tenerife located in the North of the island and the largest city and the capital of the province of the same name. It is the capital of the autonomous community of the Canary Islands jointly with Las Palmas de Gran Canaria, capital of the second largest island of the archipelago, the island of Gran Canaria.
Thanks to its perfect climate: the island lives mainly from tourism all year long. With an average temperature of 24º degrees (find the yearly weather statistics of any major Spanish city) more than 5 million tourists land each year on the island to enjoy the clear waters of the Atlantic. Tenerife is also known for its agriculture of bananas and tomatoes. A large majority of its production is exported throughout Europe. Tenerife is a volcanic island and retains many nature trails to enjoy the breathtaking views of the Atlantic.
Live in Tenerife
Many of you want to stay in Europe, for more convenience in terms of currency, language and culture and especially to stay close to their families while combining sun and security, Tenerife offers you all of those. In addition to its historical richness, Tenerife offers a privileged lifestyle for its inhabitants. Indeed, Tenerife is not a tourist cliché: the island has preserved its natural landscapes. The biodiversity and eco-system of the island are protected, especially two sites are classified as World Heritage by Unesco: the Teide National Park, ideal for beautiful hikes and the city of San Cristobal de La Laguna. Check for more on that in the article written by howtobuyinSpain.com "10 reasons for buying a property in Spain". There is also a biosphere reserve on the Anaga massif.
Water sports activities abound kite-surfing, sailing, fishing, scuba diving but you will find also other activities such as golf and hiking. Many markets are held in the early morning. In February, you will be immersed in the festive atmosphere of the Santa Cruz de Tenerife Carnival, one of the most beautiful carnivals in the world. You will not get bored in Tenerife!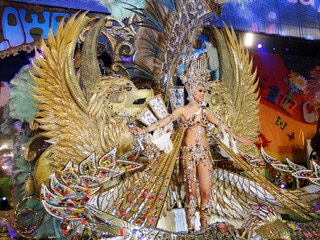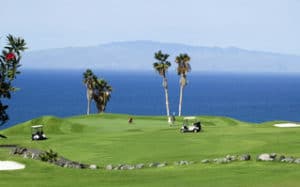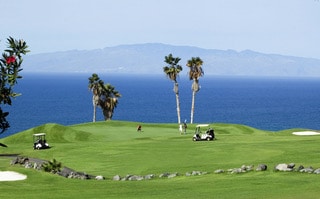 The carnival in Tenerife and beautiful golf course
Real estate in Tenerife
Tenerife is a very good alternative to enjoy your retirement on an island offering a calm and unoccupied environment. In terms of real estate, Tenerife experienced the same economic crisis of 2008 as the Iberian Peninsula. Indeed, real estate prices have fallen by more than 25% but are already recovering and reach almost pre-crisis levels. This is the time to invest in Tenerife if you want to own a pied-a-terre in Spain and enjoy a pleasant climate during the colder winter months in the North. In general, the northern zone of the island remains more competitive with the South, where demand is higher. Indeed, in the North of the island you will find a more urban atmosphere with the capital: renovated apartments and studios, services are close, unlike the South of the island which offers you the most beautiful beaches of fine sand and villas on the edge. It is also common to buy small areas, such as a two bedroom apartment or a studio and thus achieve a good long-term rental investment.
In order to benefit from affordable prices and housing that meet your search criteria, it is highly recommended to use a real estate property finder who is familiar with the local market and the areas to be targeted but also the pitfalls to avoid.
Here are some of our last property finder missions in Tenerife
What is the typical property for sale in Tenerife?
A holiday apartment in Santa Cruz de Tenerife
Buyer: Enterprise manager from Lyon
Property: 90 square meters apartment + 15 square meters terrace, with 2 bedrooms and 2 bathrooms
Neighbourhood: Toscal district, in the city centre of Santa Cruz de Tenerife,
Goal: Self-usage some weeks per year, rent out rest of year.
Budget: €200.000

A nice apartment with a community pool and a lot of places to enjoy your holiday
Holiday and investment apartment in Puerto de la Cruz
Buyer: Teacher from Bruxelles
Property: 73 square meters apartment + 10 square meters terrace with 2 bedrooms and 1 bathroom
Neighbourhood: Martinez district, in the city centre of Puerto de la Cruz, 300 meters from the beach
Goal: Self-usage some weeks per year, rent out rest of year.
Budget: €145.000

Another apartment within a smaller complex
Retiring in an attached house in Callao Salvaje (Adeje)
Buyer: A retired couple from Marseille
Property: Fully furnished and equipped attached house, 135m2, 3 floors, 3 bedrooms and 2 bathrooms, 2 big terraces with sea view in an urbanization with gardens and swimming pool at 500 meters from the beach
Neighbourhood: in the south of Tenerife, 20 minutes from the airport
Goal: Self-usage during all year
Budget: €275.000

A nice independent house with its own pool
If you are looking to buy in Spain, we would suggest that you read our earlier paper on Property hunting: 6 essential reasons for loving your Spanish real estate shopper. This paper is very interesting and gives you some of the important reasons why working with a property hunter is very useful for foreigners looking to buy in Spain. You will find specific samples our independent local partners worked on in Alicante, Valencia, Barcelona and Madrid. If you are looking to buy a property in Madrid, you can read our first "Case study" written on Property hunting in Madrid by our local independent property finder, Pierre. If you are looking to buy a property in Barcelona, you can read our first "Case study" written on Property hunting in Barcelona by our local independent property finder.
About Manuel, our local independent Property finder in Tenerife
Manuel is a native of Tenerife. He is our local independent partner on the Canary Islands and is active as a property finder since 2016. He is a commercially oriented self-made professional, he vibes for new challenges and is focused on results.
Looking for a property hunter, a lawyer, an architect,… a local expert in Spain? Ask our network of independent local experts directly!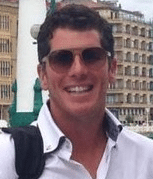 Property finder in Tenerife and the Canary Islands
Local independent partner of HTBIS Network
Check the full team of HTBIS or check our independent local partners