Click on any flag to get an automatic translation from Google translate. Some news could have an original translation here: News     Nouvelles     Nieuws     Noticias     Nachrichten
What are the biggest airports in Spain in 2018?
The Aena, the company managing all the airports in Spain,  just released its quarterly report analysing the airport passenger activity to any airport in Spain.
During the first quarter of 2018, 49.9m passengers went through Spanish airports, a 9.7% growth vs the year before.
What are the top 10 airports in Spain – first quarter of 2018?
 Madrid-Barajas is the biggest airport in Spain with more than 12m passengers transported during the first quarter of 2018
Barcelona – El Prat airport had nearly 10m passengers transported
Gran Canaria airport 3.5m passengers
Malaga airport 3.1m passengers
Tenerife South airport 2.9m passengers
Palma airport 2.7m passengers
Alicante airport 2.4m passengers
Lanzarote airport 1.7m passengers
Valencia airport 1.5m passengers
Fuerteventura airport 1.5m passengers
What are the six Spanish airports with the biggest growth during the first quarter of 2018?
Granada-Jaen airport had a 31% growth with 242.038 passengers transported during the first quarter
Seville airport had a 30% growth with 1,388,594 passengers transported
Santander airport had a 30% growth with 206,924 passengers transported
Valencia airport had a 28% growth with 1,533,639 passengers transported
Ibiza airport had a 25% growth with 605,275 passengers transported
Tenerife North airport had a 21% growth with 1,167,136 passengers transported
We noted that Valencia was very active for real estate investors since mid-2017. It looks like those statistics concur with our analysis.
Remember our paper on what are the top 10 Spanish cities where foreigners buy property?
The top 5 Spanish Cities for purchases by foreigners are
Alicante with #18.847 transactions (23% of transactions by foreigners)
Malaga with #10.761 transactions (13% of transactions by foreigners)
Barcelona  #7.332 transactions (9% of transactions by foreigners)
Madrid #6.301 transactions (8% of transactions by foreigners)
The Balears #5.910 transactions (7% of transactions by foreigners)
Apart from Alicante at the first place, all the other cities are in the top 5 for the airport ranking.
Check our resources before booking your holidays:
Find a lot of useful information, hours of sun per year, Unesco sites in Spain, transport network, and much more on our page "10 reasons why you should want to buy a property in Spain"
Find all our papers and infographics on the Spanish Costas with all the useful activities:
Our infographics on city trips in Alicante, Malaga, Madrid and Barcelona: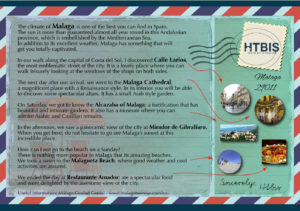 Before picking a city for your holidays, have a look at the monthly weather statistics on the top 20 Spanish Cities here:
Last but not least, read all our "Summer articles for enjoying all the nice places of Spain"
Enjoy your holidays in Spain.
Source: Aena
Looking for a lawyer, fiscal expert, architect, property hunter,… or any expert in Spain? Ask our network of local partners directly!
Senior Analyst and Strategist at HTBIS
Check the full team of HTBIS here
SHARE with the colour icons at the bottom of your screen