Translate this page:
BBVA just released its update on the Spanish residential market
The real estate market has consolidated its recovery in 2016 but the market shows a great geographic heterogeneity. As you can see on our map on our homepage, Madrid, the Mediterranean cities and the islands are leading the way while other regions are showing negative price evolution on a yearly basis.
The main positive factors helping the real estate market identified by BBVA  are the positive evolution of the economy, the favourable financial conditions and the income growth of households. At the same time, real estate investments remain an attractive alternative.
There were 460 000 transactions in 2016, which represents a growth of 13.5% as we wrote on our February news. Properties purchased by foreigners represented 17% of all transactions.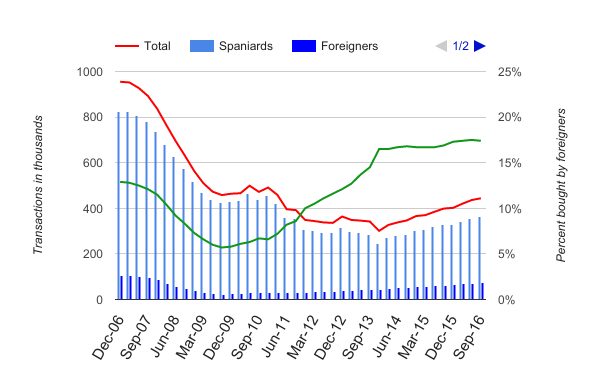 The construction sector is strong as well with 64000 building permits for new homes, a 30% growth.
BBVA expects price rises of 2.5% for 2017 in an environment that contains risks: possible increase of interest rate by the ECB and geopolitical uncertainties
What is the current situation on the Economy?
GDP growth expectations remain strong and close to 2.7% for both 2017 and 2018, just a little bit higher than the expectations of the EU Commission we reported in early February. Inflation coming back towards 2% this year could accelerate the ECB move on the tightening side. On the unemployment side, Spain created 413000 new jobs in 2016 and the unemployment rate came down to 19% a decrease of close to 2 percentage points. Furthermore, BBVA expects a further decrease of 920 000 persons towards 15.8% end 2018. On the risk side, BBVA points towards uncertainty regarding the brexit, uncertainty regarding the new US administration, the cost of energy, inflation evolution and budget deficit expected to be 3.1% of GDP in 2017.
Elections in France on April and in Germany in September could be external risks.
Check our table of up to date Spanish economic indicators in our trends section.
Recovery of the property market continues for the second year.
BBVA points out the important correction that the market went trough since 2006:
The price of housing contracted by around 38% in real terms
As you saw on our chart, housing sales fell from 955186 transactions in 2006 to 300 000 in 2013.
Initiations of new contracts fell by 96% between 2006 and 2013.
This being said, the market seems to have found a bottom in 2013 and is showing a new growth phase: residential transactions grew for a third consecutive year and prices are rising as well for the second year in a row.
In 2016, the rebound was driven by 3 different parts: Madrid, the Mediterranean cities and the Islands.
We reported earlier this month the different property price evolutions per region of Spain in 2016.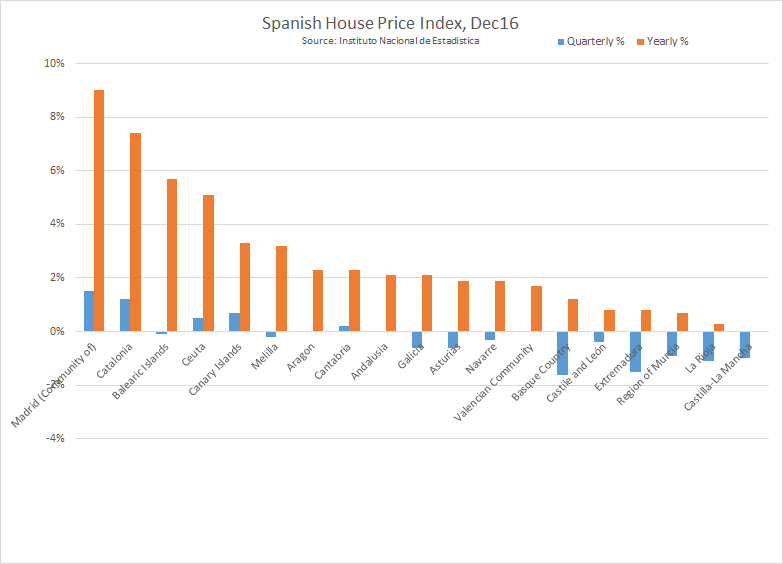 The pick up of sales drives the prices
Domestic demand is driven by job creation says BBVA. In 2015 the growth was 9.4% and in 2016 it was even stronger at 14.1%. The regions with the strongest domestic demand were Baleares, Catalonia and Madrid. If you compare that with the foreigners real estate activity in Spain, as we wrote in January, it is not a surprise to see Madrid disappear from the top 3. The "Comunitat Valenciana" is the biggest Autonomous Region in term of transactions with close to 30% of the transactions. Andalucia and Catalonia are second and third with 20% and 15% of transactions.
Financing remains favourable
As you can find on our return & finance tables, long-term rates are very low at 1.6% and short-term rates, Euribor 1 Year, are negative. At the same time, as you will read it in our tables, the gross yield on rent estimated by the central bank of Spain at end 2016 is 4.4%.
Strong activity by foreigners with 17% of the market and 14% yearly growth
It is interesting to note that since 2009, foreigners bought more properties every year in Spain! Check this impressive chart:
Which nationalities are the biggest buyers?
United Kingdom, France, Germany, Sweden, Belgium,… check our infographic on that.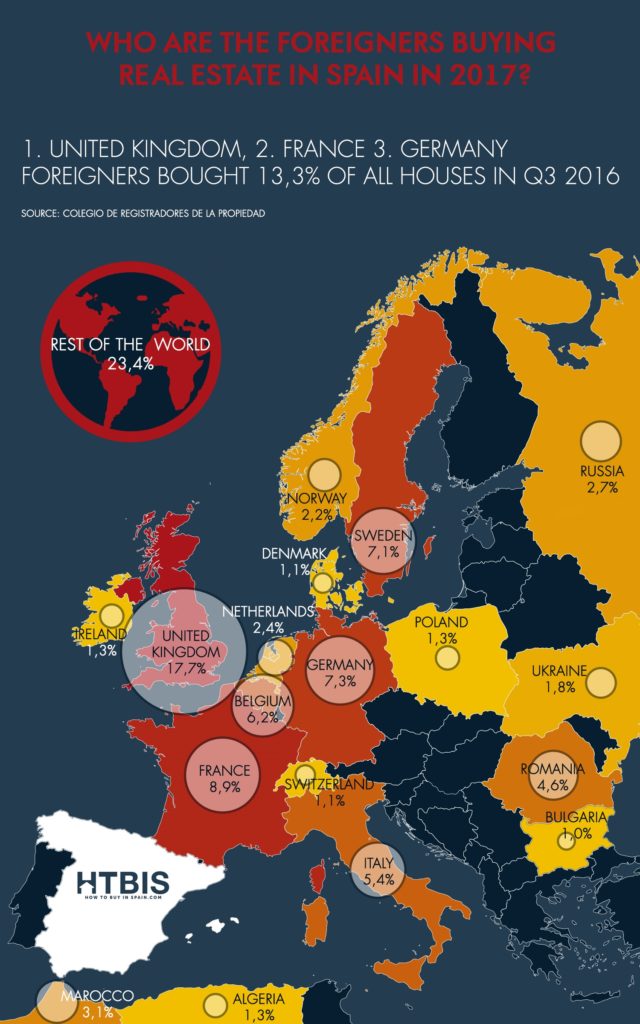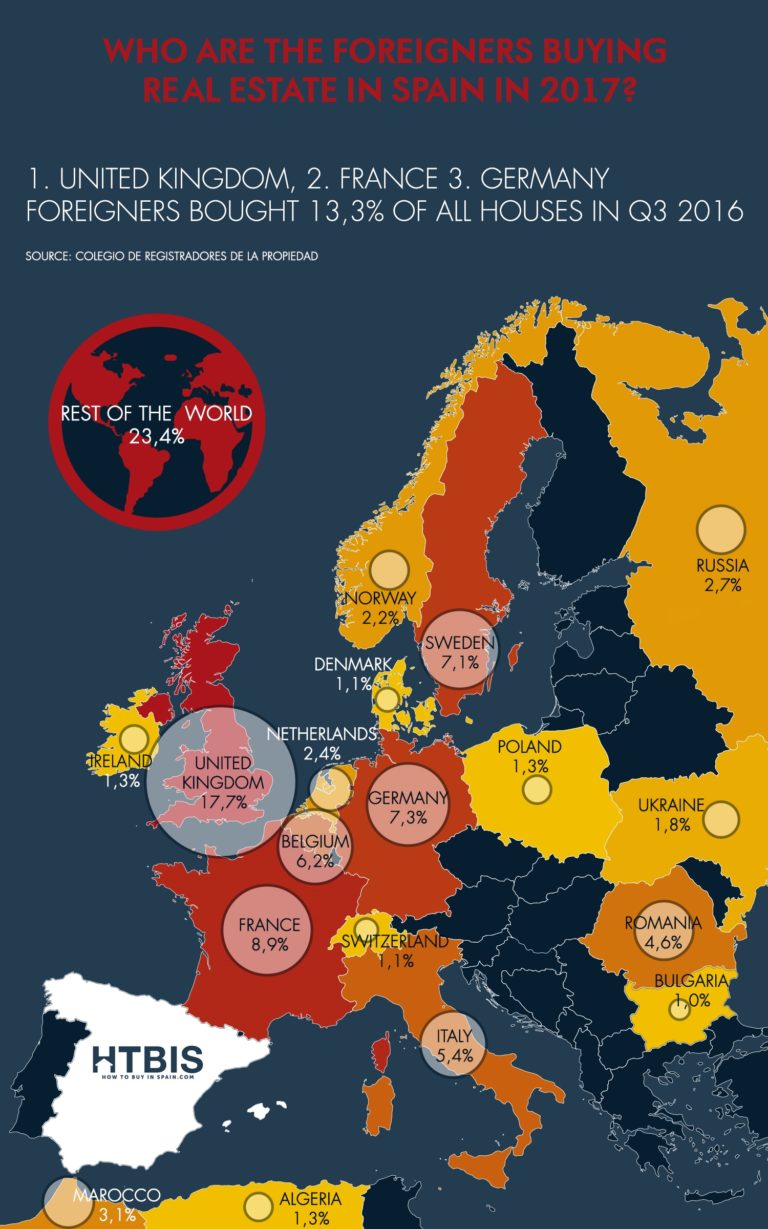 What are the expectations for 2017
BBVA concludes that the expectations are mildly positive:
GDP growth expected to be at 2.7%
450000 creation of jobs to move the unemployment rate further down to 17.5%
490000 transactions expected, +7% vs 2016, driven by local and foreign demand
Low-interest environment
New building activity is back in growth territory
While at the same time risks are present:
Brexit
US policy
Inflation
Interest rates
Geopolitical uncertainties
Have a look at the full report in Spanish here.
Looking for an expert in Spain? Ask us directly!
Senior analyst and strategist at HTBIS
Check the full HTBIS team here
SHARE with the colour icons at the bottom of your screen