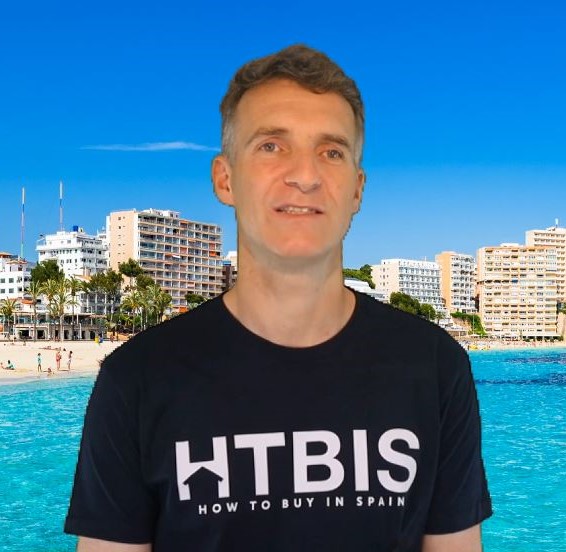 Reading time 5 minutes. Use our table of content for a quick read.
Last Updated on 06/07/2023 by STEPHANE
Click on any flag to get an automatic translation from Google translate. Some news could have an original translation here: News Nouvelles Nieuws Noticias Nachrichten
How to find the best investment properties in Spain?
Our definitive guide to finding the perfect property matching your expectations
In this article, we give you the best tips on how to search for your perfect Spanish investment property. If you want to read further on the subject, it came from our detailed series:
Our ultimate 2021 guide to buying your property in Spain and more specifically the third article The best searching tips for buying your Spanish property.
5 easy steps to start your investment property search in Spain

Step 1 (optional) Hire a local property hunter from our network to save money and time and make the process smooth.
Step 2 Hire a local Spanish property lawyer speaking your language from our network.
Step 3 Define your budget: How much personal funds do you have available? Should be at least 45% of the property value, ideally 70%. If you need a mortgage, have a quick look at our paper: our ultimate guide to your Spanish mortgage.
Step 4 Define the property use: Second home, first home, home to retire or investment property. Here it is an investment property but don't forget it could change in the future. If it will change, your set of criteria for the ideal property will change as well (see step 5)
Step 5 List your criteria for your ideal property: create a list of the best investment criteria, create a list of the best location criteria: What is the perfect location for your Spanish property? Last but not least, create a list of your ideal property criteria. To assist you, we gave you hints for those three lists in the next three sections.

In section 6, you will find our easy to use downloadable form with our 'standard' criteria list allowing you to compare and rank different properties. This list is given as an example so feel free to adjust it with your criteria.

As it is an investment property, as you know, two topics are top of mind:

What is the yearly return after costs and taxes?
How much leverage should I take? Some leverage will increase your return but it will add pressure if you can't find a tenant for a long period.

Contrary to the other property uses, your taste is much less important than if it was a home for yourself. The property should have an efficient location and should be welcoming and easy to use.
The top 17 investment criteria for your buy to let Spanish property

Own funds needed? This is your starting point. Depending on this amount, you will be able to start your search and define a budget. Don't forget that your total cost will be: the property value, the tax and costs related to the purchase (about 15%), the renovation costs if any and eventually furniture if needed. So, in total, you can easily have a total price of 170% of the price of the property.
Rental Yield. If you buy a buy to let property, the rental yield will be very important. Rental yield shouldn't be too low as you will need to pay back a mortgage. Average rent per m² is one of the first data to take into account. On the other hand, we all know that higher rental yield is usually possible in more "difficult" neighbourhood but at the same time, this could change the tenant's profiles and increase the risks. Last but not least don't forget taxes in your home country and Spain.
Potential for value-adding creation. Long term, you will sell your property and the creation of value by selling at a much higher price will be very important.
Renovation costs. The real estate market in Spain is quite old and many properties require a full renovation. The good news is that Spain is known for its quality materials and it doesn't cost too much in general.
Easy to resell at a later stage? Buying a property is easy but if you have an atypical property due to its location, its size, its neighbourhood, its distance to public transport,… you surely have issues for later. This will of course impact your potential for value-adding creation seen before. The general rule here is: go for standard.
The uniqueness of the property. Is the building nice? Does the property have charm? Are the community spaces in a good state? Do you have a community rooftop? Is there a place for a bike? What about the outside spaces? What about the light? The uniqueness of the property could come from one or two topics only but will give it a premium either on the rental market or when you will sell it later. We had a customer looking for an apartment with a terrace. With covid now, we all have to spend more time at home, so a terrace is a positive differentiation for a property in Spain as you may enjoy the weather 320 days per year.
Property Management costs are important for an investment property: do you have a lot of costs for managing it? Rental management is not easy on a day to day basis, even more, if you are not living there yourself. The good news is that we work with many local partners ready to assist you. See at the end of this article.
Furniture costs. Renting a property with furniture could help you to reach some higher-end customers but it means shorter rental contracts.
Size of mortgage. The leverage you will use will increase your return but it will increase your risk as well. Keep your mortgage costs under control and don't forget vacancy. A good rule of thumb is that you can get a mortgage in Spain of a maximum of 70% of the property value. Don't miss our definitive guide to your Spanish mortgage.
Rental demand / Current Vacancy rate in the region is an important start: study the market: is there demand? Is there a lot of economic activity?
Estimated Occupancy rate /How many months per year will I rent? If you rent short term, your occupancy rate is a very important metric to follow.
Population growth in the region / Economic activity Usually, economic growth goes hands in hands with the real estate market.
Rental fees: how much does it cost to be on certain rental platforms? Some platforms cost a lot.
Is short term rental legal? Many regions in Spain don't allow for short term rentals or tourist rentals. Read more on that here: "Tourist rental in Spain, is it legal or not?"
Maintenance costs and community fees are not too high
Other yearly costs as insurance, taxes… read more on
Rent vs Ownership rate in the region. Spain is well known for
The top 16 location criteria for your investment property in Spain

Near economic activities: city centre, companies,… The more wealthy tenants you have in the neighbourhood, the better it is for your property investment.
What about the public transport network? Is it close to where you live? Is it developed as you would like it?
Close to universities and Research centres… A lively community of expats could make it easier to rent your property.
Are restaurants close to your property?
Shops are close and less than 10 minutes on foot
A lively neighbourhood 12 months per year, yes, you don't want to live in a dead village 10 months or 12 months per year.
Close to tourist places is important if you are active with tourist rentals.
It is nice to buy a property where there is a strong demand for short term rentals even if you rent long term which means the market has demand.
Are you living close to the beach? At least within 20 minutes with public transport.
Airport proximity is nice but not a must, it tells that the city is well connected with international cities
A nice neighbourhood with a low crime rate is a must. Of course, you can go to a neighbourhood getting a makeover but be picky!
Are green areas around? Always good to have a place to relax.
If it is a property rental for holidays: infrastructure proximity is a must: golf courses, sports facilities,…
Proximity to excellent Hospital & care facilities. Not a must but always nice to have, we never need it, but when we need it, it has to be good.
Recreational and social activities around?

You will need to adjust this list with your location criteria for your ideal property investment in Spain. Have a look at our downloadable pdf available at the end of this section for an exhaustive list of criteria and our ranking system for your future investment property.
The top 16 property criteria for your investment property in Spain

Property price aggressive vs the local property market. Price will be important as it could make your project a bad investment from day one. Real estate agents in Spain love foreigners… That's why a property hunter will get you better prices. This is the main factor to determine if you did a good investment or not.
The property size is standard: not too big, not too small: +/-70m², two bedrooms which means that it will be easy to rent and put back on the market at a later stage.
Outdoor Spaces are more and more important in a post Corona environment as you spend more time at home: Garden, Terrace,… Have a look at What are the impacts of Coronavirus on Spanish real estate?
The quality of construction and the layout of the property are of course important. Buying a sound property is a must.
A property without pitfalls, Easy to resell. The property should be spotless which will help to rent it out and to sell it back to the market.
Renovation budget is important as well. What is your renovation budget? Are you comfortable with your estimate? What is your experience? Need a second analysis by a professional?
May I rent my property short term? Is it legal? Some regions don't allow short term rentals, check it with our lawyers (links at the bottom of this article)
Yearly maintenance costs will you have a lot of costs yearly?
Yearly taxes are important to calculate your net rental yield and not your gross rental yield.
A swimming pool is nearly a must in Spain, if you are buying an investment property, having a pool within the community space could be a big edge. On the negative side, this will increase your yearly costs.
Natural light is important for any property. Some Spanish properties don't have many windows.
Eco friendly? Insulation, Solar panels, Water. Of course, insulation is not that important in the winter months but in the summer months, it is very useful.
Security: fence and/or entrance gate. Everybody loves a safe place while being at home.
Air conditioning? Could seem normal, but you won't find one in every Spanish property.
Buying within a community? Check how community spaces are fitted? Concierge, pool, garden, terrace, dog park, picnic area, children area, Fitness space, indoor workspace,…
Yearly community costs

If you plan to buy a new build property, we wrote this specific list that will guide you to your ideal new build investment property in Spain. Don't forget to add those criteria to your list.
The top 9 property criteria for your ideal new build Spanish home

The reputation of the builder. Have you checked other projects realized by the same builder?
Design & standard set of specifications
Possibility to personalize to my taste
Bank warranty
Advanced technologies, fire alarm, security
Delivery date
Payment schedule
Detailed plans for the property
Community spaces finishes

Read more on that subject: What are the advantages of buying a new build property in Spain?
Download our exclusive PDF form and compare investment properties

Download our form, print it as many times as needed: one per property, one per partner.

Fill the forms:

How to fill this table? How to compare different homes to retire to Spain?
1. List criteria for the ideal Spanish holiday home with all the persons involved
2. Give a WEIGHT for each criterion between 1 and 10. (10= important, 1= not important)
3. Print a list for each person involved in the project
4. Visit the potential properties and each person involved give RATINGS between 1 and 10 for all the criteria. (10= criteria met perfectly, 1 = bad)
5. Compare the total scores for each property, rank them and compare them with the results of other persons involved in the project.
Note that criteria WEIGHTS (1) are the same for all the properties while Criteria RATINGS (2) are specific for each property.

If you want to read more on how to use this ranking system, please go to section 9 of our detailed article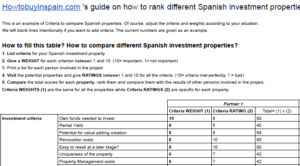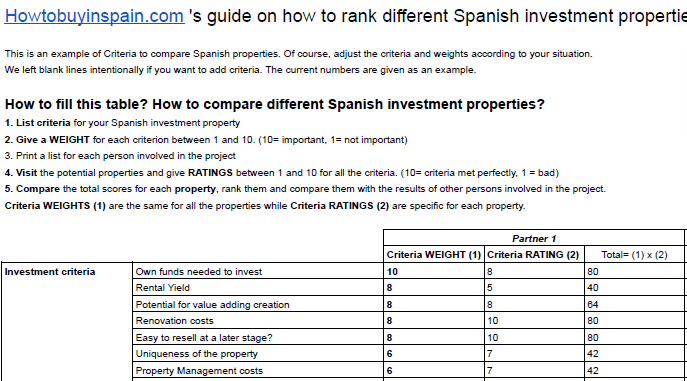 How to compare two investment properties in Spain
How much does it cost to buy a property in Spain?

Depending on the fact that you are buying a resale or a new build, the cost will be different but a good rule of thumb is 14%. Read more on that in our detailed article: The cost of buying a Spanish property.
How much does it cost to own a property in Spain?

A good estimate is 0.7% as we wrote in our detailed article: The cost of owning a Spanish property.
How do our partners help you with those first steps?

We have a local mortgage broker dedicated to getting mortgages for foreigners. Ask for a free mortgage quote.
Our property hunters are there to assist you to find the perfect property more on that in the 3rd article: "How should you search for your dream property?"

With our team of more than +100 local real estate partners, HowtobuyinSpain helps foreigners to buy real estate in Spain.

The experts from our network are active in all the fields you need:
Would you like to read further? Have a look at our article written for real estate investors: What return will you make on your Spanish Property in 2021?
Last year we wrote detailed property buyers guides custom made for any nationality. Here are our FREE pdf property buyers' guides written for all the foreign nationalities looking to buy in Spain: Click on your country flag, you will find your pdf report at the end of each article.
Looking for an expert in Spain? Ask us directly!
Senior analyst and strategist at HTBIS