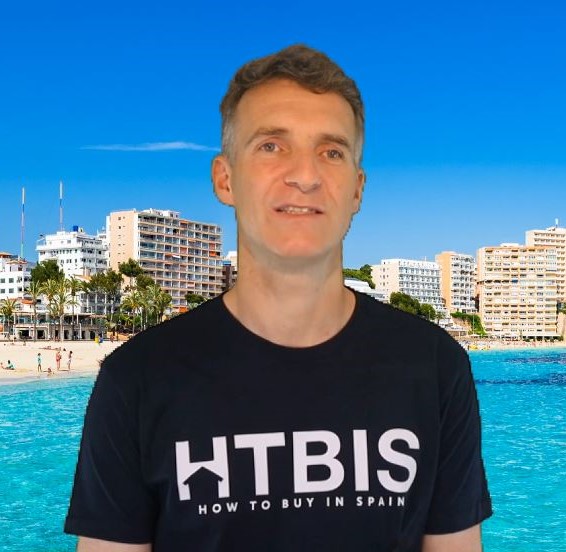 Reading time 6 minutes. Use our table of content for a quick read.
Last Updated on 17/07/2023 by STEPHANE
Click on any flag to get an automatic translation from Google translate. Some news could have an original translation here: News Nouvelles Nieuws Noticias Nachrichten
Everything you ever wanted to know about the Costa Cálida
Welcome to the Costa Calida … or the Warm Coast
"The Warm Coast" is the meaning of Costa Cálida, this is due to the very special microclimate of the area, which makes it a few degrees hotter than everywhere else in Spain, thus creating a somewhat arid microclimate, with less than 340 mm of rain annually: in fact, it is the hottest coast in the Mediterranean Sea. This is great news for everyone looking for quality bathing time year-round, and only a handful of rainy days. Have a look at our weather infographics for the top 20 Spanish cities, for instance Murcia. You will get detailed monthly statistics on any month of the year.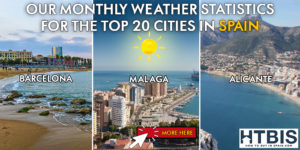 Monthly Weather Statistics on top Spanish Cities
Nonetheless, great weather is not the only thing that makes Costa Cálida one of the most attractive Costas for tourists.
There are more than 25 blue-flagged beaches, which are recognized by the EU to have the perfect environment for visitors to enjoy, like being litter-free, having clear water, and adequate facilities to house tourists comfortably. These beaches are spread throughout the 250 km (155 miles) that make up this beautiful Costa, it spans from El Mojón, very nearby Alicante, to Cuatro Calas, in Águilas, and is located in the Region of Murcia, right in between the gigantic Andalucía and the well-known Comunidad de Valencia, bordering with Castilla-león to the north, and to the south, 250 km of open Mediterranean sea.
There are also very famous maritime routes that go to the Balearic Islands, like Ibiza and Mallorca. You can rent a small ship and go there by yourself, making for an unforgettable experience of a lifetime. If you are not too experienced in sailing, you can go on a Cruise Ship, which will have everything you might need, like warm beds, restaurants, and maybe even nightclubs and bars, if you are willing to pay the price, of course.
However, Costa Cálida is especially known for the natural landmark known as Mar Menor, or Lesser Sea in English, it's a 22km (13 miles) long stretch of sand that ranges from 100 to 1000 meters wide. This creates a natural salty lake with crystal clear waters, that are also very shallow, which makes it ideal for families with children, though, not that ideal for those interested in water sports like surfing or windsurfing.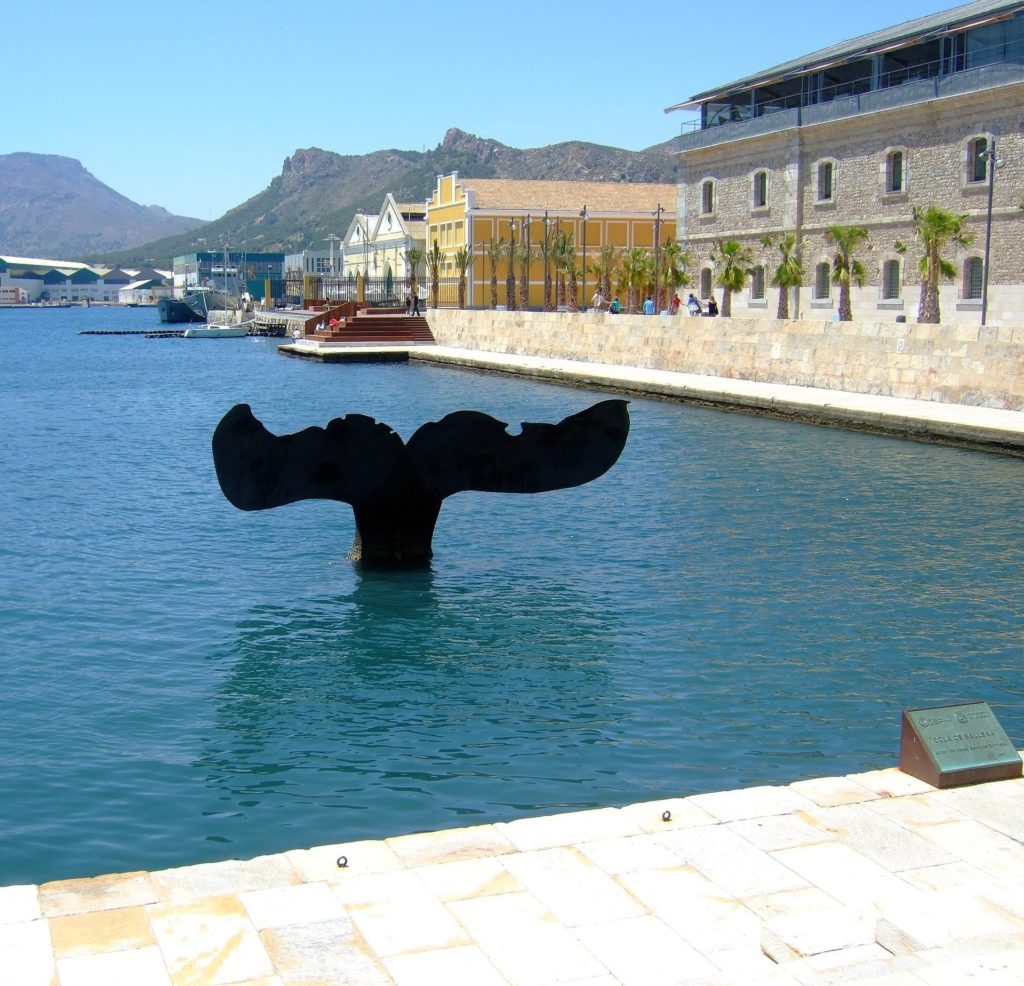 The seafront view in Cartagena
But for them, Costa Cálida has other locations that might be more exciting, like some areas near shipwrecks where you can snorkel and deep dive. There are also trekking and mountain biking routes more towards the inland that is simply described as awe-inspiring.
There are, as well, some of the most important and famous golf courses in Europe, like the Lorca Resort, Condado Alhama Gnk, Hacienda Alamo and La Serena, all of which are very highly rated by golfers. Play with the best golf club sets in Spain thanks to our local partner.
But the potential locations for ecotourism don't end there, Murcia, and specifically, the lands surrounding Costa Cálida are full to the brim with natural parks, like Cabo de Gata-Níjar, Parque Natural De Torrevieja, Sierra de Huétor, Sierra Helada, and Parque Natural de la Serra de Mariola.
And if natural wonders are not that important to you, the rich history and culture might be just as enjoyable, as there are a multitude of medieval fortress, castles and interesting museums, with exhibitions that date back 3.000 years.
There are, as well, more modern instances, especially in architecture, remarkable structures such as The Palace of Benifayó Baron, The Episcopal Palace of Murcia, the military fortress Sol de Lorca and the Castle of San Juan de Águilas are spread throughout the lands.
In addition to the various monuments, Murcia's history has made it into a crossroads for many different cultures, like the Iberians that first populated the lands, the Romans that conquered them, the Phoenicians and the Byzantines, who came later, in addition to the hundreds of years of Arabic control of the lands.
All these very different cultures brought new flavours and traditions to the area, and in conjunction with the especially rich fields that offered an enormous variety of ingredients, it's no wonder why Murcia is one of the top locations on any tourists' list loving gastronomy.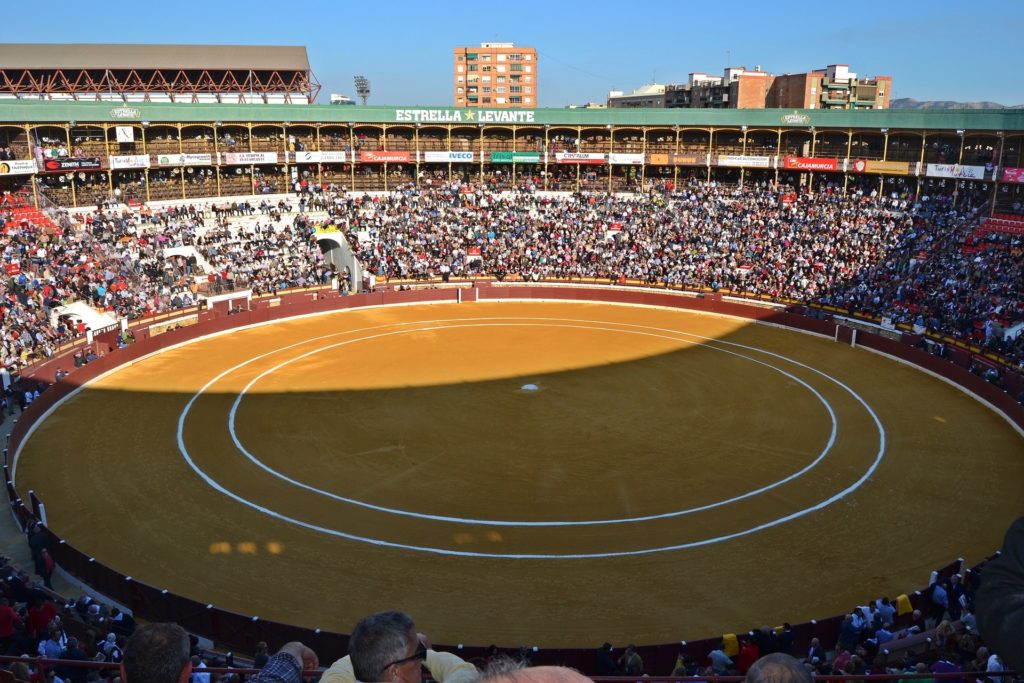 The "Plaza Toros" of Murcia
Among the most interesting activities, there are a variety of wine tastings, that also combine with city tours to give you the best experience, and restaurants that offer special dishes for tourists that combine the most famous local recipes, with a mixture of seafood, local vegetables and meat prepared in the same way they were prepared hundreds of years ago by the first inhabitants.
You might also want to visit the four main urban attraction points, the capital, Murcia, which is great for those who love nightclubs, drinks on a terrace and visiting some museums. There is Cartagena, not to be confused with the city by the same name in Colombia, which is the first place the Romans ever got to in the Iberic peninsula, it has more than 3.000 years of history and its one of the best examples of a contemporary city.
Next up is Lorca, the best place to see monuments, the medieval, renaissance and baroque styles come together in the old town, making for a delightful experience, especially when the Easter Parades are going through.
And at last, Caravaca, one of the five Holy Cities in the world, it's one of the most common destinations for pilgrims and for those interested in the deep Templar history, there are few other places with such a charm.
Planning to invest in the real estate market of Costa Cálida?
There is one short phrase which best describes the real estate market on this coast, "shaky". This is one of the most visited Costas in Spain, and this means that the prices have always been high in the region close to the Mediterranean but are cheap in lands, at the same time, prices remain on the cheap side, compared to other Spanish regions.
In recent years a new phenomenon appeared on the market, it is known as Airbnb, it's an app that allows you to contact the locals of a region and rent a space directly from them, either a single room or a whole apartment. The use of this service has become very mainstream in the last few years, which means that now everyone with a phone and WIFI can rent his apartment to tourists eager to pay more than anyone else would because using Airbnb will always be cheaper than a hotel.
This all sounds great until people started to realize that it is more profitable to have a property has a permanent Airbnb than to rent it to the locals. In fact, it is so much more profitable than some wealthy owners purchased entire buildings to turn them into Airbnb, and as such, the demand for housing increased radically, and so did de prices.
But rising prices have never been anything to be afraid of, much the opposite, it's what investors look for, the problem with Murcia's market (and many other parts of Spain of that matter) is how likely it is for the market to keep growing at this pace.
And this is not because the demand will suddenly fall, or because of there us a bubble ready to pop, it's because of governmental intervention. There have been many, many complaints about the rising prices for rent if you can even find a place that is not an Airbnb, and the government started to take notice. It is unclear what will be the next step, but there have been some negotiations about regulating the use of properties as Airbnbs, and some politicians have even talked about banning it altogether.
Now, buying properties in Murcia might be very profitable for many years if the market remains unregulated, and it will probably take a long time before anything gets done through governmental means, but the second the government announces the slightest regulation on Airbnb, the market will most likely drop. This makes for a risky, but also a very profitable investment, it is up to you to decide if the chances are worth the risk. But of course, you could buy your property for long-term: enjoy the region and its wealth while enjoying your holidays there.
Check the real estate price evolution of Murcia and Spain since 1995
Property prices in Murcia are about 35% under the national average. They remain at the lowest levels seen since 2008 and one of the cheapest place in Spain where you can enjoy beaches, sun and cheap prices.
If you want to read more on this, have a look at our earlier article on Murcia: Murcia, a good city to make a property investment
Let's start with some holidays in Costa Cálida?
A summer house in Murcia is a great choice, not only is it a big enough city that you will always find something to do, but it has a great number of activities to do with children, there are kids parks such as Aqua Natura and Parque de la Seda, natural parks with activities dedicated to children, and enough beaches that you won't be able to see them all in one summer.
Amongst the most famous beaches there is: Playa de Calblanque, Cala del Pino et Plage Entremares, Portús, Barraca Quemada de La Llana, Amarilla, La Carolina, de Percheles, Baño de las Señoritas, Cala Cortina and Cala Blanca, just to name a few.
Nonetheless, the nearby cities do not offer as many activities and are catering more to grown-ups and people looking for a relaxing trip, some families have even found them boring, to some degree, we advise you avoid going there for more than a day or two if you are more of the adventurous type.
Have a quick look at our infographic on Everything you could do in the Costa de la Luz and click on it if you want to download it.
What about retiring to Costa Cálida?
Costa Cálida, and by extension, Murcia, is one of the best places for a retiree to live, especially if you enjoy warmer climates but you don't want to go to tropical places like the Caribbean or South Asia.
The most important thing to take into consideration is the importance you give to nature. Costa Cálida is probably the single most beautiful Costa in Spain, form a ecotourists viewpoint. So, if you are looking for a natural paradise, with warm winters and sunny summers, where the beaches are counted in dozens and so are the natural parks, this is the right place for you.
As for infrastructure, well, it certainly could be improved, the nearest highspeed train station is in Alicante, 80 km away from Murcia. However, if you rather travel by plane, you won't have to look any further than Murcia itself.
But be aware, that Murcia is a somewhat big city, not nearly as big and crowded as Madrid, Barcelona or Valencia, but it has almost half a million citizens, and if you are looking for peace and tranquillity, you would be better off in Cartagena (220.000), Lorca (90.000) or Águila (35.000). Though, you will have to go to Murcia if you want access to things like big Shopping malls and such.
In conclusion
Costa Cálida is, objectively, a great place to be in, you will find many great activities for all ages while real estate prices remain affordable. This is clearly one of the top spots for retirees looking for a place with a tight budget: prices per square meter remain under 1.000€ as of June 2018.
Costa Cálida Map information
Airports: The closest Airport is Murcia
Ave stations: The closest AVE station is Alicante
Cities:

Murcia

(441,000 inhabitants), Cartagena (216,655 inhabitants), Lorca (91,700 inhabitants), Águilas (34,700 inhabitants), Mazarrón (30,700 inhabitants), La Manga (17,000 inhabitants)
Unesco sites: – Find all the UNESCO Sites in Spain on our page: "10 reasons why you should buy in Spain"
Top beaches: Playa de Calblanque (Cartagena), Cala del Pino et Plage Entremares (La Manga), Playa Portús (Cartagena), Playa Barraca Quemada de La Llana (San Pedro del Pinatar), Playa Amarilla (Águilas), Playa La Carolina (Águilas), Playa de Percheles (Mazarrón), Playa Baño de las Señoritas (Lorca), Cala Cortina (Cartagena), Cala Blanca (Lorca)
Kids Parks: Aqua Natura, Parque de la Seda (Murcia)
Shopping Malls & Outlets: Centro Comercial Atalayas, Centro Comercial Thader, Centro Comercial Nueva Condomina (Murcia)
Traditional & Flea markets: Mercado de Veronicas (Murcia)
Top golf courses: Lorca Resort, Condado Alhama Gnk, Hacienda Alamo, La Serena
Natural Parks: Cabo de Gata-Níjar Natural Park, Parque Natural De Torrevieja, Sierra de Huétor Natural Park, Sierra Helada Natural Park, Parque Natural de la Serra de Mariola Play with the best golf clubs sets in Spain thanks to our local partner.
University: Universidad de Murcia, Universidad Católica San Antonio de Murcia (Murcia)
Hospitals: Hospital General Universitario de Murcia, Hospital Mesa del Castillo (Murcia)
Read further on the Costa Cálida and Spain
TOURIST OFFICES:
TRAINS: Renfe website
GOLFS: What are the top golf courses in Spain? Play with the best golf clubs sets in Spain thanks to our local partner.
MUST VISIT IN SPAIN: Our top 5 UNESCO World Heritage Sites in Spain, Find all the Unesco sites in Spain
Find all our other articles and maps on the Spanish Costas: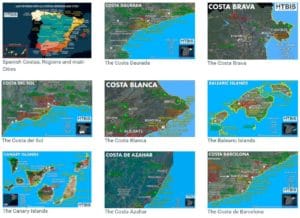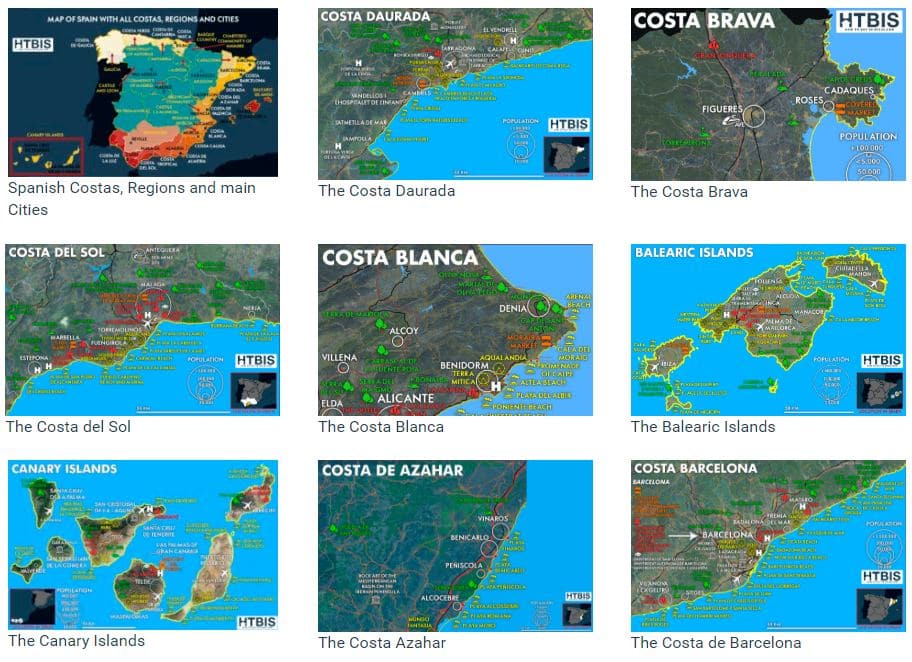 With our team of more than +100 local real estate partners, HowtobuyinSpain helps foreigners to buy real estate in Spain.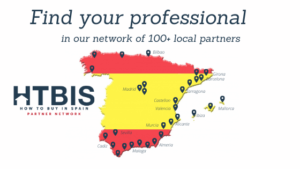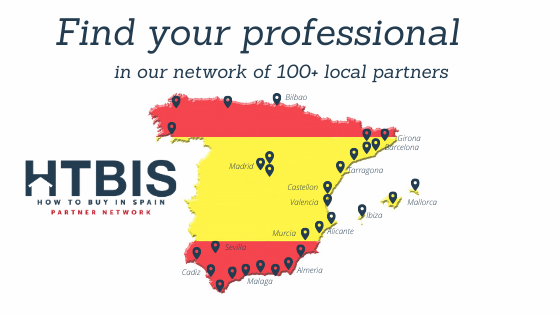 The experts from our network are active in all the fields you need:
Looking for an expert in the Costa Cálida or in Murcia: Architect, property hunter, lawyer,… in Spain? Ask us directly!
Senior Analyst and writer at HTBIS
Check the full team at HTBIS here
[insert_php] echo get_scp_widget();
[/insert_php]
SHARE with the colour icons at the bottom of your screen