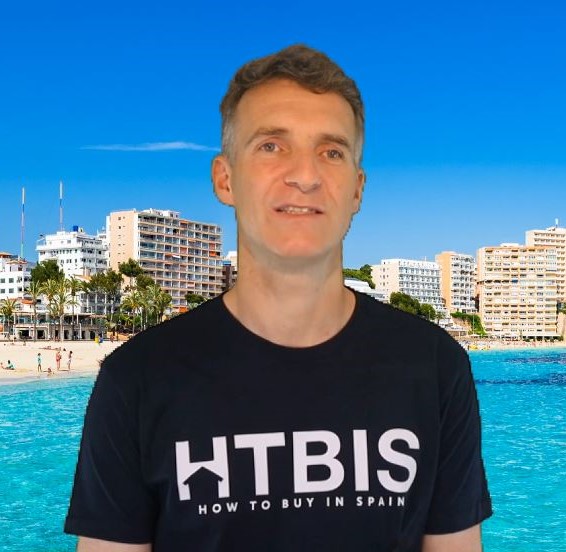 Reading time 9 minutes. Use our table of content for a quick read.
Last Updated on 17/07/2023 by STEPHANE
Click on any flag to get an automatic translation from Google Translate. Some news could have an original translation here: News Nouvelles Nieuws Noticias Nachrichten
Spain's tourism is back… to new highs as of April 2023 ☀  😎
In this quick guide, you will find all our resources in order to organise your best holidays in Spain. Of course, it is very helpful as well if you are looking to buy a property in Spain.
Too busy? Here is our quick-read summary:
Spanish Tourism key insights
Spain experienced its highest number of incoming tourists in April 2023, surpassing any previous records.
The travel and tourism industry contributes significantly to Spain's economy, accounting for 15% of its GDP.
Reasons for Spain's booming tourism industry include favourable weather with over 320 days of sunshine per year, a long coastline, and a high-quality lifestyle.
Spain ranks as the world's healthiest country, with a stable political environment and an excellent healthcare system.
The cost of living in Spain is lower compared to European averages, making it an attractive destination for visitors.
Spain offers diverse tourism opportunities, including cultural heritage tourism, health tourism, gastronomic tourism, and nature and rural tourism.
The most popular regions for tourists in Spain are Catalonia, the Balearic Islands, the Canary Islands, Andalusia, and the Valencian Community.
Here is why tourism is strong in Spain – our 4 minutes video
Would you like to watch this video in your own language? Click at the bottom right of the video on "cc" to get subtitles in your language.

Spain recorded its best April ever in terms of international tourist numbers and spending levels
20% above the pre-pandemic record
Spain had a record year regarding tourism in 2019, nearly 84m tourists visited Spain. Since then… we all know the story.
But, yes make no mistake, April 2023 saw its biggest number of incoming tourists in Spain EVER!
In the first four months, Spain received 21 million arrivals, 32.4% more than in the same period in 2022, according to the National Statistics Institute (INE).

Visitor and spending records were also broken in April: 8.48 billion euros, up 22.7% on 2022 and 20.2% on the best pre-pandemic figure (2019).

Héctor Gómez: "These are extraordinary figures that show, once again, that Spain is at the forefront, that tourism is recovering fully and that the government's policies are working".
Here is the evolution of tourism towards Spain with a rolling year of data:
Major research conducted by the World Travel & Tourism Council (WTTC), the global body which represents the private sector of Travel & Tourism, has revealed Travel & Tourism is the largest sector in the Spanish economy, contributing €176bn to the nation's activity.
Yes indeed: Travel & Tourism contributes 15% of the Spanish GDP, overtaking Construction (14%) and ahead of Retail (12%) and Health (12%).
Why Spanish tourism is booming again? There are many reasons:
The top #10 reasons why tourists love Spain so much
Let's start with the three obvious reasons: weather, a long coastline and of course a word class lifestyle.
#1

The weather: Spain has 320 days of sun ☀ per year, not bad.
Check this useful infographic showing how many hours of sun you will have on a yearly basis for any place in Europe.
Sunshine in Spain is higher than 2500 hours per year… No other country can compete in Europe with that and if you calculate the number of square kilometre with at least 2500 hours of sun per year, Spain has about 80% of the European supply. In this other interesting table from World weather online, Spain holds 6 out of the top 10 positions in Europe in terms of average monthly sun hours.
Do you want to check the weather statistics for any Spanish city to make an informed decision? Have a look at our Infographics on the monthly weather statistics for the 18 biggest cities in Spain: Madrid, Barcelona, Alicante, Malaga,… and discover the sea temperature, the number of hours of sun per day, the number of mm of rain per month… Everything you need before planning your holidays.
#2

The wonderful coastline of Spain
Spain has the second longest coastal line in the south of Europe behind Italy. Enjoy the beautiful beaches of Spain. Don't miss our detailed articles on all the Spanish Costas later in this article.
#3

The Spanish lifestyle
Spain enjoys a very stable political environment compared to Africa or Turkey for instance.
Life expectancy in Spain is the second-best country in the world:
Let's check the top 10 countries in the world by country and by sex. As you will see in the statistics produced by the OECD (2014 data), the life expectancy of Spaniards is the second longest in the world behind the Japanese. The Women are ranked as well as second and the men are ranked sixth.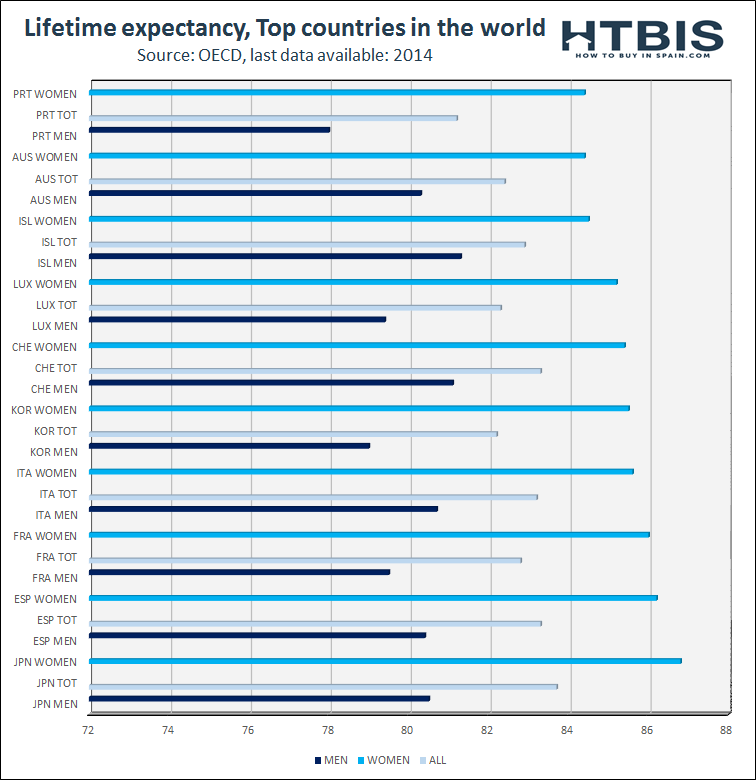 behind the Netherlands, Denmark and France. What a terrific result! The key findings of the research from the OECD are that the ability to successfully combine work, family commitments and personal life are important for the well-being of all members of a household. In Spain, almost 6% of employees work very long hours, less than the OECD average of 13%. The more people work, the less time they have to spend on other activities, such as time with others, leisure activities, eating or sleeping. The amount and quality of leisure time are important for people's overall well-being and can bring additional physical and mental health benefits. In Spain, full-time workers devote 66% of their day on average, or 15.9 hours, to personal care (eating, sleeping, etc.) and leisure (socialising with friends and family, hobbies, games, computer and television use, etc.) – more than the OECD average of 15 hours.
At around 1.3 children per woman, fertility rates in Spain have been amongst the lowest in the OECD for the past two decades. Increasingly, women and men first want to establish themselves in the labour market before having children. This has led to a postponement of childbirth and the average age of first childbirth for mothers is now close to 30. Low fertility rates are also related to a fall in the number of large families and a significant proportion of women remaining childless."
#4

The cost of living in Spain
The cost of life in Spain is much lower than European averages.
We did the work with the help of the Statistics from Eurostat as of December 2017 to compare Spain vs all the other countries in Europe so that you could compare to your actual country of origin.
Here are the results:
#5

Family activities in Spain
Many interesting activities to practice with the family in Spain, here are a few:
And of course, no season for shopping (but we added to the winter section just below) 🙂
#6

Spain is a  wonderful place for Golf lovers
#7

Not only for the summer… Spain is the perfect place for tourism in the Winter
With its nice weather, Spain stays a nice place to visit even in the winter.
Last but not least… yes, let's enjoy some shopping:
#8

Cultural heritage tourism and rural tourism
Cultural heritage tourism in Spain thrives as the nation's rich history paints a diverse and compelling tapestry of civilizations.
From the prehistoric caves of Altamira to the grandeur of the Alhambra in Granada, and the Sagrada Familia in Barcelona, the country offers a plethora of UNESCO World Heritage sites that reflect the influences of the Romans, Moors, and more recently, the modernist movement.
Lastly, nature and rural tourism flourish in Spain's diverse landscapes. From the rugged Picos de Europa to the volcanic beauty of the Canary Islands, and the tranquillity of idyllic rural villages, Spain offers a variety of ecological diversity that inspires a sense of awe and adventure among outdoor enthusiasts.
Top Sights places & Unesco world-heritage places
Spain is a very rich country in terms of culture. You have a lot of Museums, many historic places, many sightseeing places. Spain has as well 45 UNESCO Sites and as such is the third country in the world behind Italy & China in terms of the number of sites! So don't expect Spain to be just Sun and beaches!
Check all the must-do activities on any of the Spanish Costas with our beautiful infographics.
Here is the list of the Unesco sites with direct links to get more information on those:
Here is Our Top 5 UNESCO World Heritage Sites in Spain
#9

Nature tourism
Spain is an ideal destination for nature tourism, offering a diverse range of environments that attract visitors from around the world.
From the rugged cliffs and crystal-clear waters of Costa Brava to the breathtaking peaks of the Pyrenees and Sierra Nevada, the country presents an impressive spectrum of natural beauty. Spain's numerous national parks, such as Donana National Park and Picos de Europa, provide opportunities to see unique wildlife and plants in their native habitats, while the volcanic landscapes of the Canary Islands, particularly Teide National Park in Tenerife, offer otherworldly vistas.
Moreover, the Camino de Santiago trails draw hikers seeking a blend of spiritual, cultural, and natural experiences. With sustainable practices gaining traction, eco-friendly accommodations and tours are also becoming increasingly popular, further boosting nature tourism in Spain.
Thus, for those seeking to immerse themselves in nature, whether through hiking, bird-watching, or simply relaxing, Spain provides an abundance of options.
#10

Gastronomic tourism in Spain
Spain is also famous for its gastronomic tourism. The unique flavours of Spanish cuisine, embodied in its tapas, paellas, and world-class wines, draw food enthusiasts to regions like Andalusia, Catalonia, and the Basque Country, providing an edible exploration of the country's varied regions.
Here are a few examples, not exhaustive of course, of the Spanish cuisines.
### The Andalusian Delicacies
Andalusia, nestled in the heart of Spain, is best known for its olives, sherry, and tapas. The region follows the quintessential Mediterranean diet, which focuses on heart-healthy olive oil, a variety of fruits and vegetables, and high-quality proteins like fish and legumes. One must-try dish is the Gazpacho Andaluz, a refreshing tomato-based cold soup that perfectly embodies the region's love for fresh produce. Pair this with a glass of Fino or Manzanilla, Andalusia's signature sherries, for a well-rounded Andalusian feast.
### The Seafood Extravaganza of Galicia
Moving up to the north-west coast, Galicia boasts a breathtaking coastline that contributes heavily to its seafood-rich diet. Here, the Empanada Gallega reigns supreme – a hearty pie filled with various ingredients, most commonly tuna, sardines, or pork. Don't miss out on the region's renowned Pulpo a la Gallega, a delicacy of tender octopus seasoned with paprika, rock salt, and olive oil. Galicia's Ribeiro and Albariño wines, with their crisp and fresh qualities, perfectly complement the seafood palette.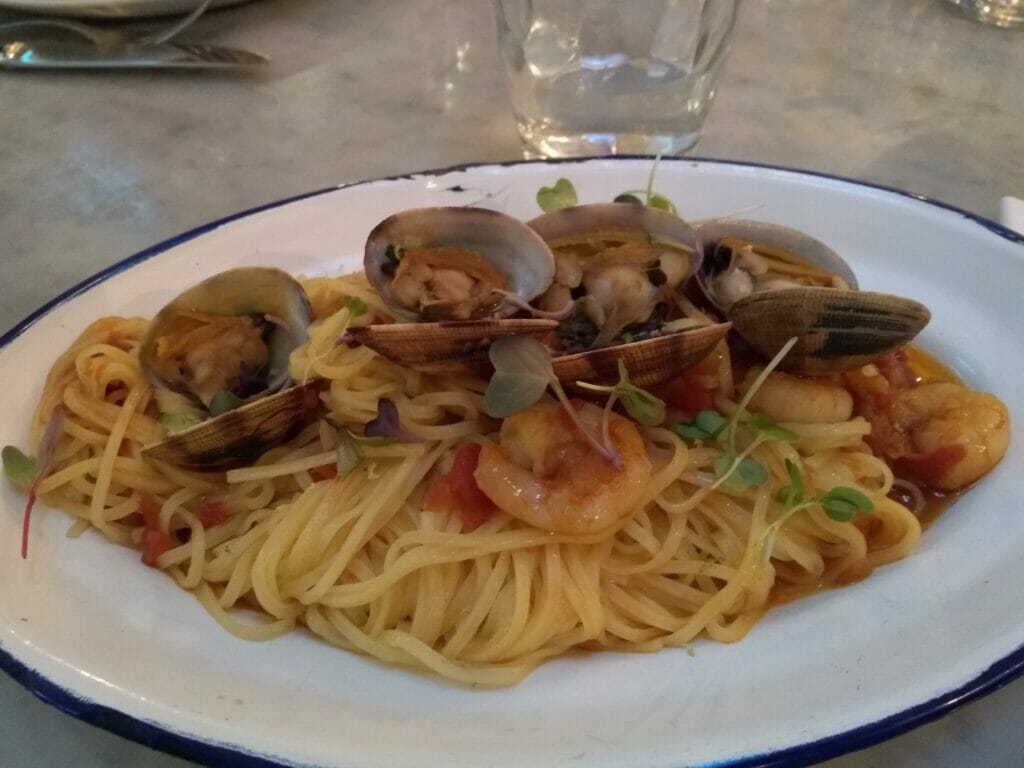 ### The Gastronomic Wonders of Catalonia
In Catalonia, gastronomy is as diverse as the region itself, blending flavours from the mountains and the sea. The traditional Catalan diet is rich in vegetables, legumes, and cereals, supplemented by meat and dairy products. An iconic dish is the Escudella i Carn d'Olla, a hearty meat and vegetable stew savoured during the winter months. Catalan cream, a sweet and creamy custard topped with a hard layer of caramel, is a must-try dessert for the sweet-toothed traveller.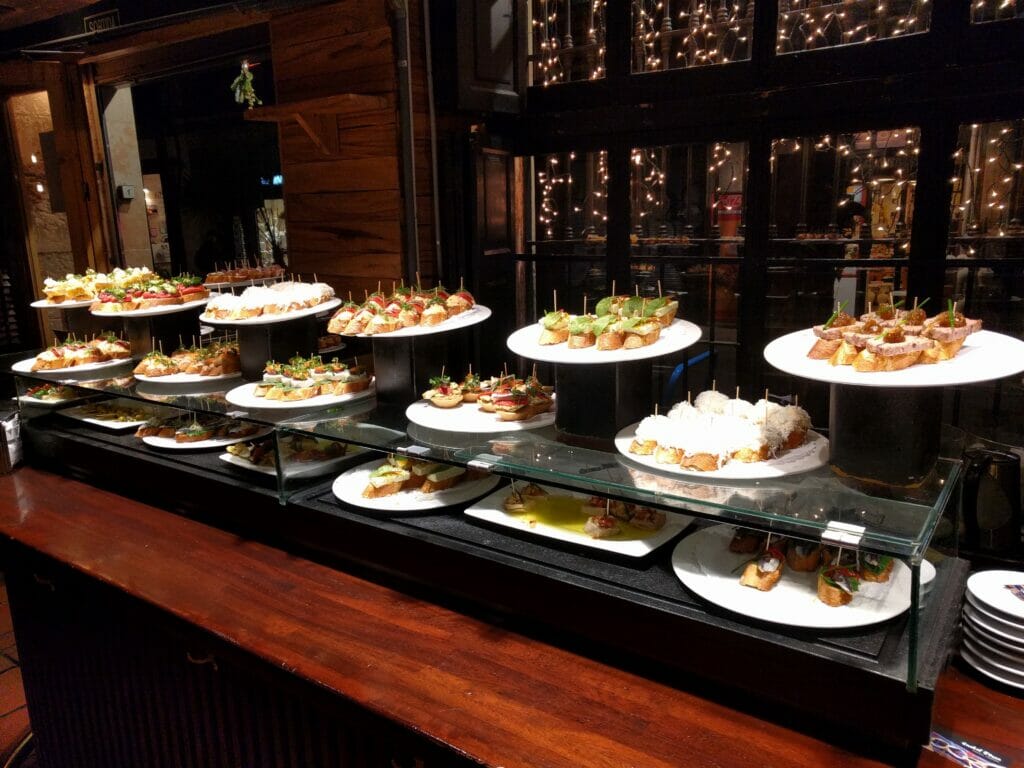 ### The Unique Flavours of Basque Country
Last but not least, we journey to the Basque Country, a region celebrated for its pintxos – small finger foods served atop bread, akin to tapas but with a unique Basque twist. The traditional Basque diet showcases locally sourced ingredients, including fish, lamb, and an assortment of vibrant vegetables. Try the Marmitako, a tuna and potato stew that originated from Basque sailors, and the Gilda, the most iconic pintxo composed of olive, anchovy, and guindilla pepper.
The beauty of Spain's gastronomy lies in its diversity, with each region offering its own unique dietary patterns and food traditions. From the refreshing Gazpacho of Andalusia to the seafood delight of Galicia, the hearty stews of Catalonia, and the famous pintxos of the Basque Country, Spain's gastronomic landscape invites you on a journey that promises to enchant your senses, captivate your heart, and leave an indelible impression on your palate. So, pack your bags (and your appetite) and embark on an unforgettable gastronomic adventure in Spain!
Discover the beautiful Spanish Costas – All our resources are here
In order to help you discover all the Spanish Costas, we wrote detailed articles with nice downloadable maps with all the major activities for each of the Spanish Costas. You will learn about the regions and find all the useful information as:
Where are the closest Airport and Fast train stations (AVE in Spain)?
What are the biggest cities in the region?
Where are the Unesco sites in that Spanish Costa?
Where can you find the top beaches?
Where can you find the best Kids' Parks, traditional markets, Shopping Malls & Outlets, Top golf courses and Natural Parks?
Last but not least, we will give you a direct link to the local tourist offices.
Here are all the links for the different articles and infographics on all the Spanish Costas:
Spanish tourism in numbers: Where do tourists go? Where do they stay?
Here is a quick sum up of all the interesting statistics about tourists visiting Spain from the Spanish national office. All the data are for the full year 2022. So yes, they are not yet back to pre-coronavirus 2019 but close to being. 2023 just started strongly and should be back to 2019 level if not stronger.
#1

Where do tourists in Spain come from?
The top 5 countries for the full year 2022 are:
The United Kingdom with 21% of the tourists
Germany with 14% of the tourists
France with 14% of the tourists
Nordic countries with 6% of the tourists
Italy with 6% of the tourists
Netherlands with 5% of the tourists
Here is our interactive chart with those data:
If you are travelling to Spain and would like to buy your dream home, start with our Spanish property buyer's guides written for the top 10 nationalities buying properties in Spain.
#2

How do tourists arrive in Spain?
83% of the tourists visiting Spain came by plane
. If we think about it, it's obvious, people travel from far where they have less sun to Spain in order to enjoy the sun. Spain has a very strong network of
International Airports.
Have a look at our earlier articles on that:
The second way of arriving in Spain is the car, 15% of travellers towards Spain come by car. Spain benefits from a very strong infrastructure network and in addition to that, there is a latest trend in Spain: Motorways are becoming toll-free in Spain…
Last but not least, even if the AVE Network does exist for more than 25 years in Spain, only a minor portion of tourists come from abroad with fast trains. For sure, the fast train AVE Network helps tourists to move quickly between cities.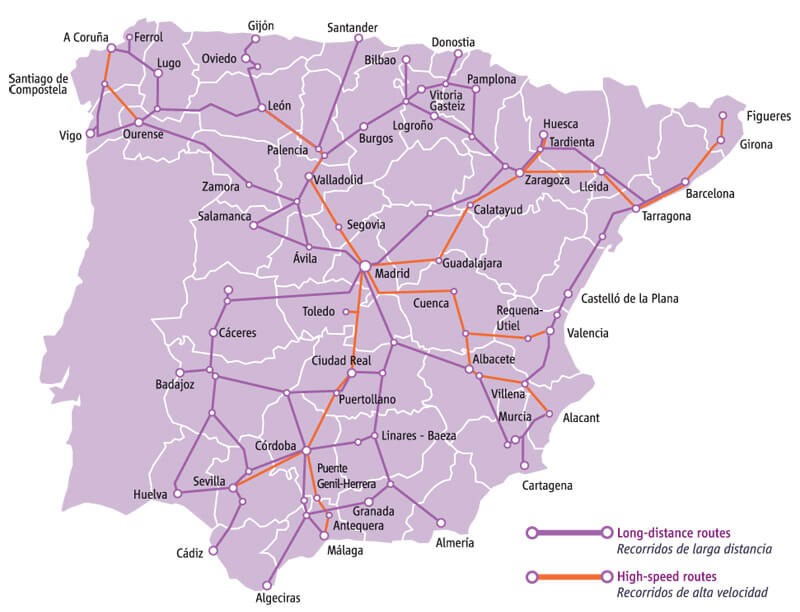 #3

Which are the most visited Spanish Regions by foreign tourists in 2022?
The top 4 Spanish regions are receiving 70% of the tourism traffic.
Catalonia with 21% of the tourists
The Balearic Islands with 18% of the tourists
The Canary Islands with 17% of the tourists
Andalusia with 14% of the tourists
Valencian Community with 12.0% of the tourists
Other Spanish regions apart from Madrid: 9.2%
Madrid with 8.4% of the tourists
Discover all the beautiful Costas of  Spain
#4

How long do tourists stay in Spain?
No night 32% of trips
1 night 3% of trips
2 to 3 nights for 12% of trips to Spain
4 to 7 nights for 33% of trips and so yes, this is the most common length of stay in Spain
8 to 15 nights for 15% of travellers
More than 15 nights for only 5% of travellers, I guess retirees :-).
#5

Where do the tourists stay in Spain? Hotel? Friends?
There were 71,561,489 trips booked in 2022 by foreigners in Spain. Out of those 83% paid to stay a night somewhere and 17% didn't pay.
For those paying for their accommodations, here is where they went:
82.5% of tourists booked a hotel
12% went for a housing rental
And the balance went for camping or other facilities like the "Casa Rural"
For the tourists that did not pay for staying in Spain,  they either enjoyed their personal property 34.5% or enjoyed the hospitality of family and friends 60% of them. The balance is other non-paying options for 5%.
What are the best investment opportunities for a second home?
In order to assist you with your property hunting in Spain, check our dedicated article: The best search tips for buying your Spanish property (if you are too busy start here)
Other interesting resources on Spanish Tourism
Our downloadable infographics on the Spanish tourism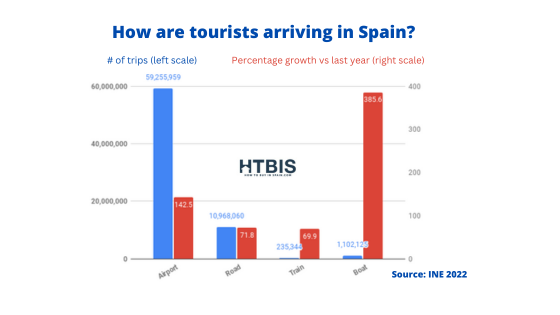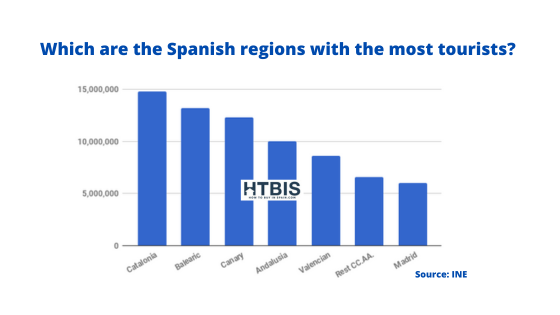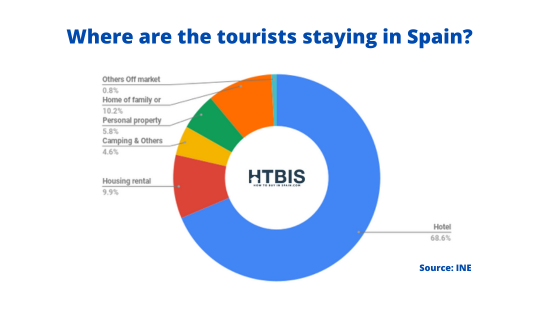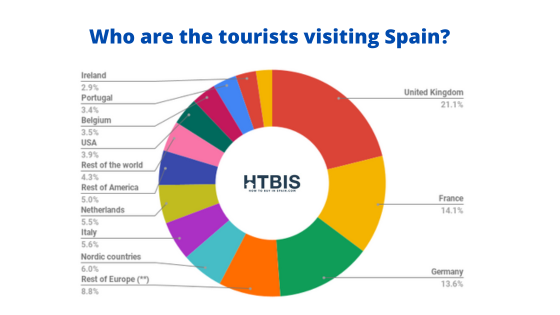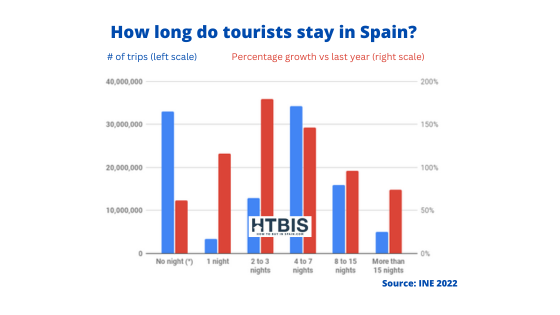 If you want to have more resources before visiting Spain, here is the official website of the Spanish tourism office.
Source: INE
Our FAQ on Tourism in Spain
Why is Spain famous for tourism?
Spain's fame as a tourist destination can be attributed to its rich blend of culture, history, natural beauty, and world-renowned gastronomy. The country boasts a large number of UNESCO World Heritage sites, historic cities like Barcelona and Madrid, and architectural marvels such as the Alhambra and Sagrada Familia. Its diverse landscapes range from sunny Mediterranean beaches to the green mountains of the Basque Country and the snowy peaks of the Sierra Nevada. Spain's vibrant festivals, such as La Tomatina and the Running of the Bulls, attract visitors from around the globe. In addition, Spain's culinary delights, including tapas and paella, coupled with its famous wines, provide a gastronomic experience that enriches the tourism appeal.
Is Spain a good place to travel with family?
Indeed, Spain is an excellent destination for family travel, catering to diverse interests and ages. From beautiful beaches and engaging water parks for the young ones, to historic cities brimming with vibrant culture for the teens, and world-renowned cuisine and scenic landscapes for the adults, Spain has something for everyone. The warm and welcoming culture, coupled with a wide range of family-friendly accommodations, promises a memorable family holiday. For a deeper dive into what each region has to offer, explore our dedicated articles on the different Spanish costas on HowToBuyInSpain.com. You'll also find informative infographics to guide you in planning your family's Spanish adventure.
Why you should go to Spain for holiday?
Spain offers an alluring mix of sun-soaked beaches, rich history, stunning architecture, and delectable cuisine, making it an ideal holiday destination. Its varied landscape offers something for everyone – whether you enjoy lounging on the Costa del Sol, exploring the historic streets of Seville, or hiking in the Pyrenees. With a vibrant arts scene, you can visit world-class museums like the Prado or the Guggenheim. Spain's festivals, such as the flamenco fair in Seville, are experiences in themselves. Additionally, Spain's renowned hospitality and diverse range of accommodations make it a comfortable and welcoming place to visit. Discover more about the country's offerings in the dedicated articles and infographics on HowToBuyInSpain.com.
Can I live in Spain if I am retired?
Yes, Spain is a popular destination for retirees from around the world, and you can certainly choose to live there during your retirement years. Spain offers a - Non-Lucrative Visa - for retirees and others who have sufficient funds to support themselves without working. You would need to provide proof of income or savings to meet the visa requirements. The country offers an excellent quality of life, affordable living costs, good healthcare, and a warm climate that many retirees appreciate. For more detailed information about retiring in Spain, including potential living costs, healthcare, and residency paperwork, refer to the helpful articles and resources available on HowToBuyInSpain.com.
Stéphane Senior analyst and strategist at HTBIS
Stéphane, with over 20 years of experience in real estate, finance and entrepreneurship, is the co-founder of www.howtobuyinspain.com. With an extensive network of local partners in Spain, his deep commitment to the real estate sector combined with strong analytical skills and a problem-solving mentality have fueled his success. Constantly eager to learn and passionate about teaching, Stéphane believes in the power of knowledge sharing to master any subject.