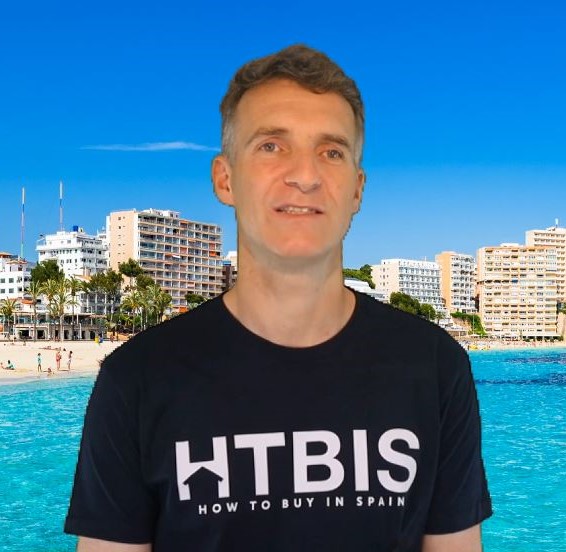 Reading time 5 minutes. Use our table of content for a quick read.
Last Updated on 17/07/2023 by STEPHANE
Click on any flag to get an automatic translation from Google translate. Some news could have an original translation here: News Nouvelles Nieuws Noticias Nachrichten
Everything you ever wanted to know about the Costa de Almería
Almería is a very common name when tourism is the subject. It might refer to Almeria City, house to nearly 200.000 people. Or it might refer to the Spanish province of Almería, of which Almería city is the capital. Either way, the name only brings up images of beautiful beaches, stunning mountain ranges and quite interesting history.
Location-wise, the province of Almería is located in the Autonomous community of Andalusia, a huge landmass that thoroughly covers the south end of the Iberic peninsula. The province's border is marked by several natural landmarks, such as Gádor's Sierra to the west, Sierra Alhamilla on the north, a great valley with the delta of the Andaraz river over the east, and hundreds of miles of gorgeous coast along the southern border with the Mediterranean Sea.
As for the climate, most of the Iberic peninsula's conditions are maintained, nonetheless, the temperatures are much lower than those of the northern provinces, unsurprisingly. With minimum temperatures of 8º (Celsius) on a January morning and maximum temperatures of 31º on an August noon. Normally, bathing time extends from May to October, which is just shy of 9 months. Find out all the monthly statistics for the city of Almería, including sea temperature, in our infographic.
Looking at Almería's History, you will discover how interesting it has been, since it was only in 1492 that the "Reconquista" succeeded, meaning that there were still some Arabic remains on the lands before. The Arabic forces that once dominated almost all of the Iberic peninsula were now cornered and forced to flee, ending a conflict that had been going on for almost 8 centuries straight. This victory was achieved the same year that Christopher Columbus took a famous trip over the Atlantic toward the Americas.
The Arabic influence is very strongly rooted in this area, a great example of this is the former Arabic fortress known as "La Alcazaba", built in the year 955 by the Muslim governors of the time, which ruled from its insides. If ancient architecture and medieval history are counted among your interests, this is a place you can't go without seeing.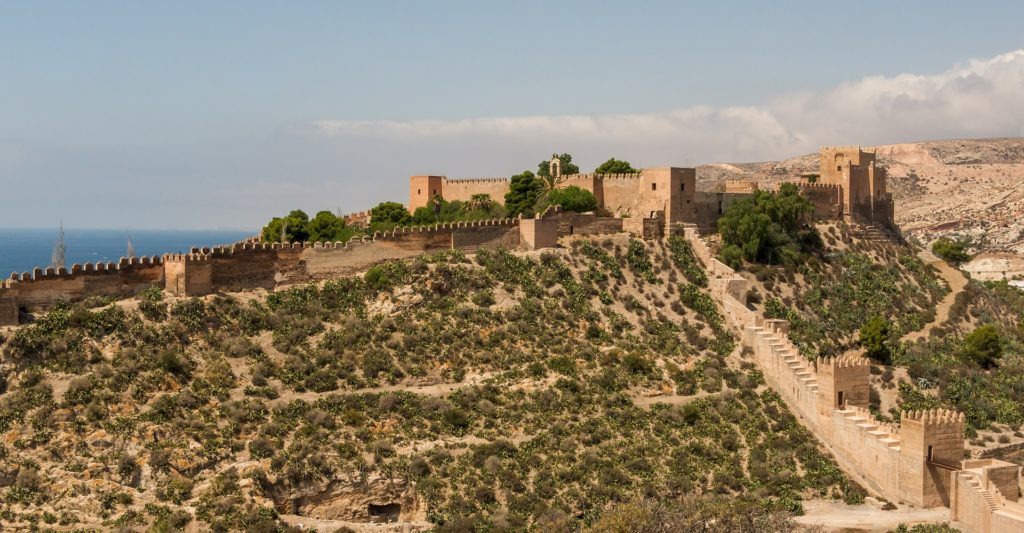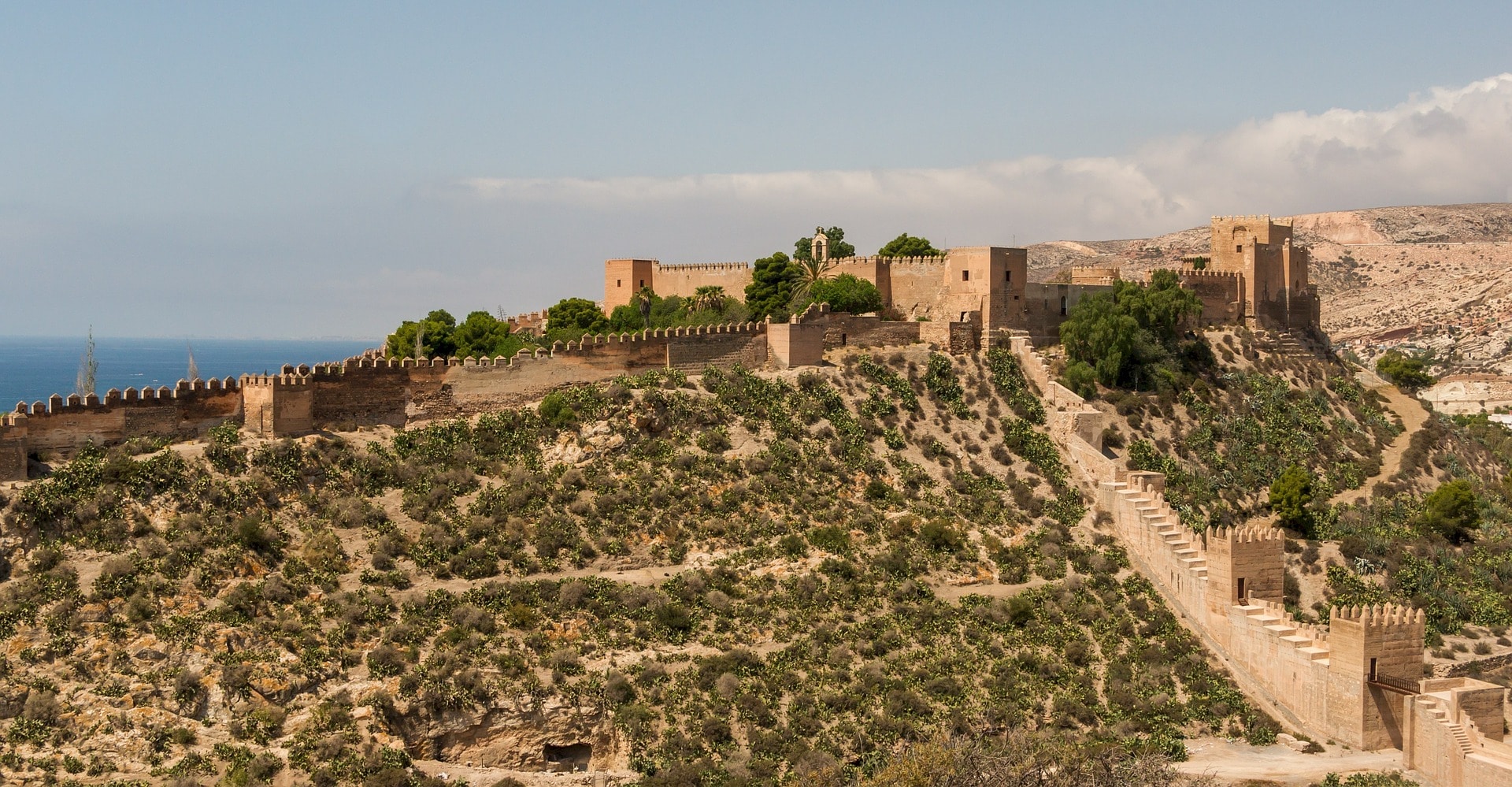 The Alcazaba of Almería is a fortified complex in Almería. The word "Alcazaba" from the Arabic word al-qasbah, signifies a walled-fortification in a city.
Infrastructure in the area is certainly lacking, but this is no surprise since the most populated city of the province does not reach 200.000 citizens. This is a very rural area, if we count the population of the top 6 cities' (Almería, Roquetas del Mar, El Ejido, Adra, Vera and Berja), we only get a tad over 400.000 thousand people.
This means two things, first, the infrastructure is the one of a big town, not a small city. Of course, there are the basic buildings such as hospitals, 2 in Almería and 1 in Roquetas, there is the University of Almería, and the Almería Airport, but there isn't much more. An AVE (high-speed trains) station will be greatly appreciated, and its construction is being planned.
Nonetheless, there is an old fashion railway station that connects the province directly with the city of Granada, other cities such as Madrid and Barcelona are accessible via transhipment. There are also interurban bus routes that connect the city with every province in Spain and even some in France.
What about the real estate market in Almería?
First, let's talk about Almería's general economy. Before the 2007 global crisis, Almería was well off, the unemployment rate was below 5% and the number of businesses was doing nothing but growing. Although Almería had a solid economy before the crisis, it had and still has a heavy relationship with tourism, which is not a particularly profitable sector right after a world crisis.
After the crisis, the number of unemployed people skyrocketed, as it did in the rest of Spain, but thanks to Almería's heavy dependence on tourism and low production, Almería's economy has been recovering ever since, and even though tourism is becoming profitable again, the government has been trying to implement ways of production besides tourism.
The most important one is the agricultural sector. Almería has one of the most important zones of production in Europe, with several thousands of square miles under greenhouses. With more than 2.000 hectares of tomatoes and 70 olives, it is not to be underestimated.
Now, the rest of the industries have fallen behind, Almería is not a trading centre and they do not have much production of manufactured goods, but the tourism sector is starting to grow again, with thousands of tourists visiting the city year-round.
As for the Real Estate Market, it has not been doing very well in the last few years, the prices for the most expensive and luxurious properties have fallen very low, but unexpectedly, the prices of the most affordable and inexpensive properties have risen significantly.
Nonetheless, the market has been predicted to reach a limit for inexpensive properties, but the costlier ones can always go lower. This all means that, unless you are trying to build either a hotel or a farm, if you want to buy real estate in Almería, you will do it to enjoy lower prices… And not, at least in the short term, to make a huge profit.
Read our paper we wrote last year in Almería if you want to discover more of the city: Almería, one of the Andalusian pearls
Check the real estate price evolution for Almería and Spain since 1995
For more on that, read our detailed quarterly report on the Almería property market.
Could Almería be your ideal retiring spot?
Almería is a small and simple place and the people live simple, enjoyable lives. If what you are looking for is a place to relax, to get away from the hassle of living in a crowded metropolitan area, this is the place for you. And as we just explained, last but not least, the real estate prices are low.
But that doesn't mean there isn't anything to do, as a matter of fact, there are many places where you can recreate and enjoy your free time in and around Almería, just to list a few, there are:
The Museum of Almería, Almería's Art Museum, the house of cinematography, the Guitar's Museum, the Civil war shelters, the olive oil museum, the Cervantes Theatre and the Apolo Theatre, and a variety of culturally important locations that you must visit.
There are as well many festivals that you can enjoy, such as the Festival in honour of the Virgen del Mar, La Semana Santa (Holy Week, celebrated during Easter), The carnival, The Corpus Christi, Saint Joan's Night, and Día del Pendón.
Those who are into the history of cinematography will be thrilled to know that the movie theatre in Almería has had an outstanding role since the 60s, and this province has been the scenery for many very famous and important movies, such as Conan the Barbarian, The Good, the Bad and the Ugly, Indiana Jones and the last crusade, among many others.
Why not start with some holidays in Almería?
If you are looking for a summer house, a place in which you can let go of the responsibilities of your life and isolate yourself for a while, this is the place for you. If you have children, though, you might want to go somewhere else.
Almería is not a very big place, but there are many beaches where children can go and still enjoy themselves. For grownups, it's a different story. No matter what you are interested in, you can be sure that Almería has it. Unless you are looking for amusement parks and gigantic roller coasters, of course.
There are at least a dozen museums centred on the most varied topics, history lovers will be delighted with the rich culture and the deep Arabic roots in the area, and movie fans will have a blast at the cinematography's house and go to visit the famous movie locations, and festivals can be enjoyed pretty much year-round.
And, of course, the beaches. There are so many beautiful beaches in Almería that to name them all would require hours. Like Monsul Beach, Balneario de Sierra Alhamilla, Playa de Los Muertos, Serena beach, Playa de lo Genovese, playa de Aguadulce, and many, many others. And if you ever get tired of the beaches, you can enjoy yourself in the river as well.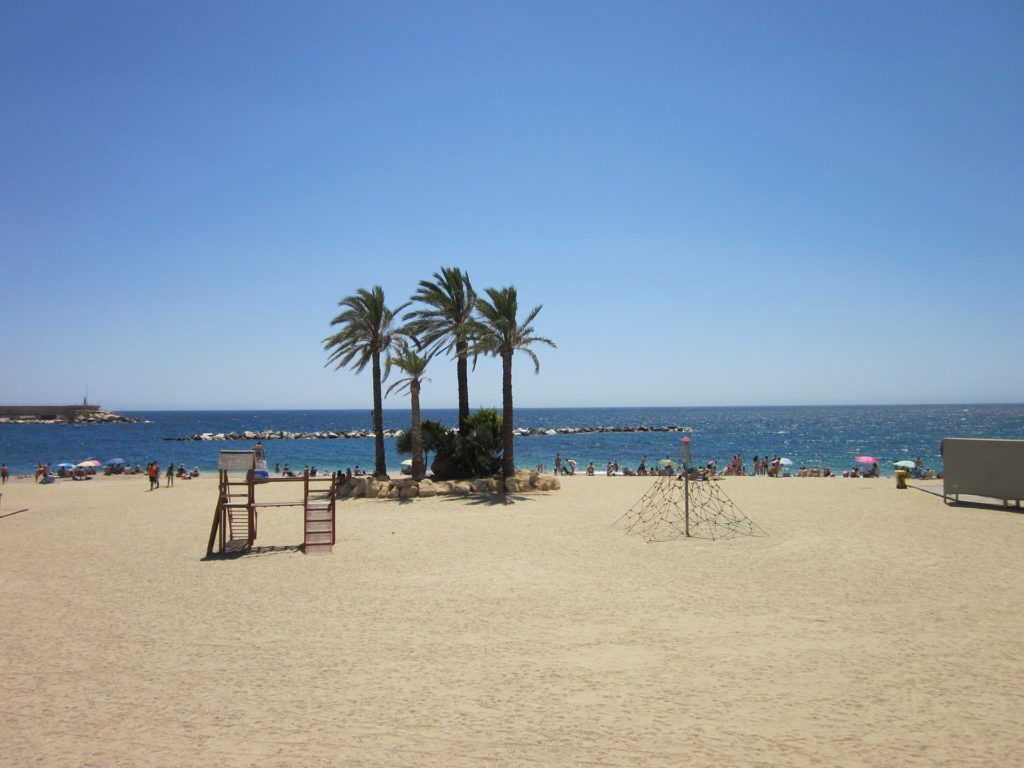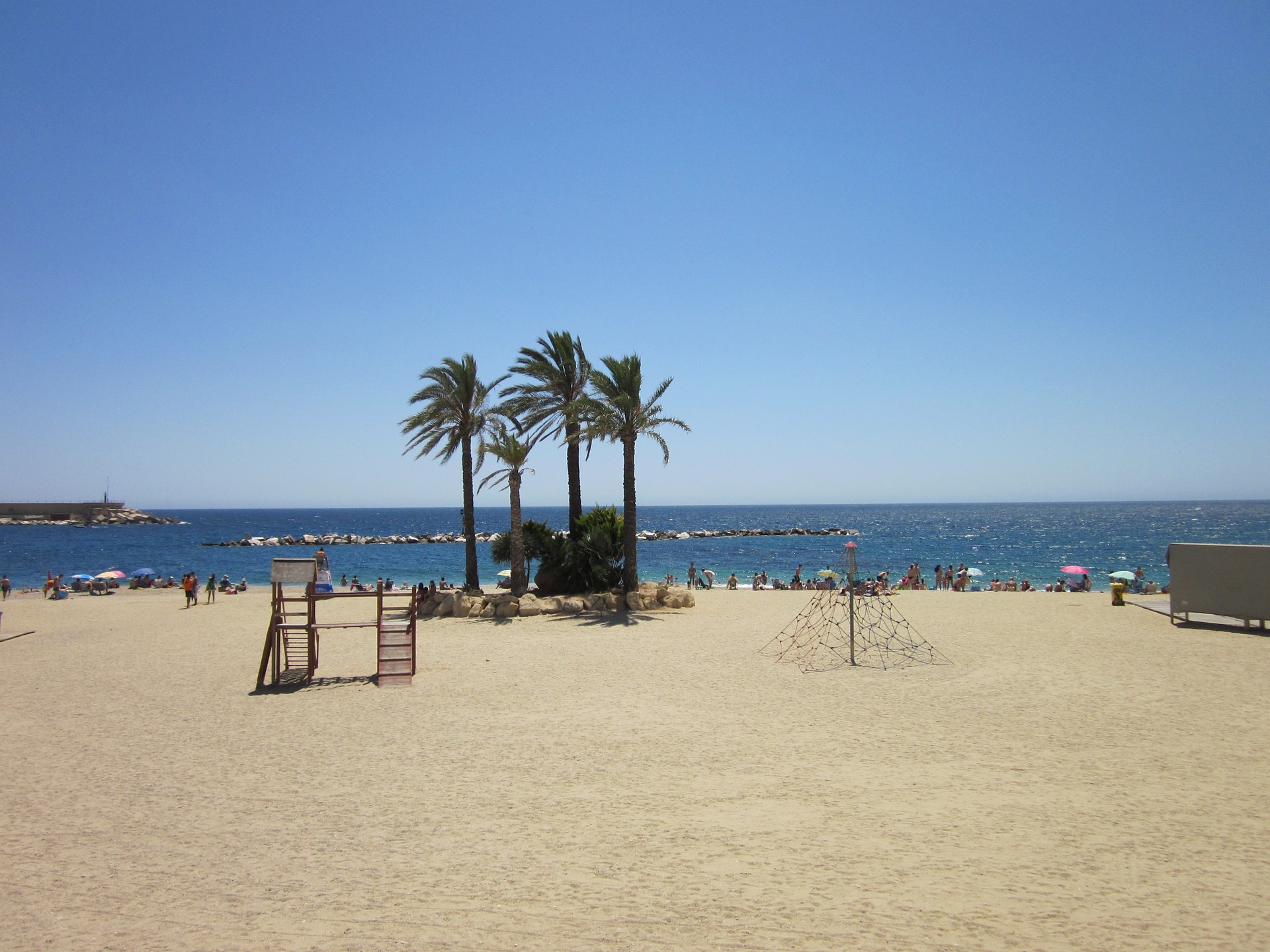 Playa Garrucha
In conclusion
Almería is a gorgeous place, surrounded by nature in its most beautiful expression, with dozens of landmarks to visit, so many that you probably couldn't visit them all even if you tried. This is a paradise for those looking to get away, for those looking to put some distance between themselves and the stress of their daily lives, and for those looking to enjoy the rest of their lives in a very calm and relaxed manner.
Though, if you are looking for a great investment location instead, you are out of luck, and you probably will be better off putting your money somewhere else.
Costa de Almería Map information
Airport: Almería
Ave stations: –
Cities: Almería (193,000 inhabitants), Roquetas del Mar (92,000), El Ejido (88,000 inhabitants), Adra (24,700 inhabitants), Vera (15,000 inhabitants),
Berja (14,000 inhabitants), Almerimar (6,800 inhabitants)
Unesco sites: Alhambra, Generalife and Albayzín, Granada (1984,1994), Find all the UNESCO Sites in Spain on our page: "10 reasons why you should buy in Spain"
Top beaches: Balneario de Sierra Alhamilla (Almería), Monsul Beach (San Jose), Playa de los Muertos (Carboneras), Serena Beach (Roquetas de Mar), Playa de los Genoveses (Cabo de Gata), Playa de Aguadulce (Aguadulce), Cala de Enmedio (Agua Amarga), El Playazo (Rodalquilar), Garrucha Playa (Garrucha), Playas de Vera (Vera), Cala del Plomo (Agua Amarga)
Kids Parks : Oasys MiniHollywood (Almería), Fort Bravo Texas Hollywood (Tabernas)
Shopping Malls & Outlets: Centro Comercial Mediterráneo (Almería), Gran Plaza Shopping Park (Roquetas de Mar)
Traditional & Flea markets: –
Top golf courses: La Envia, Alboran, Playa Macenas, Valle del Este Play with the best golf clubs sets in Spain thanks to our local partner.
Natural Parks: El Hondo, Parque Natural del Penyal d'Ifac, Parc Natural de la Marjal de Oliva-Pego, Sierra de Castril Natural Park, Sierra Nevada National Park, Parque Natural del Montgó, Parc Natural Ses Salines d'Eivissa i Formentera, Parc Natural De l'Albufera
University: Universidad de Almería
Hospitals: Hospital Torrecárdenas, Hospital Mediterráneo (Almería), Hospital de Poniente (Roquetas de Mar)
Read further on the Costa de Almería and Spain
TOURIST OFFICE:
TRAINS: Renfe website
GOLFS: Reread our Summer paper on the subject What are the top golf courses in Spain? Play with the best golf clubs sets in Spain thanks to our local partner.
MUST VISIT IN SPAIN: Our top 5 UNESCO World Heritage Sites in Spain, Find all the Unesco sites in Spain
Find all our other articles and maps on the Spanish Costas: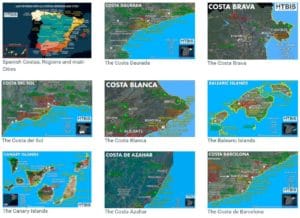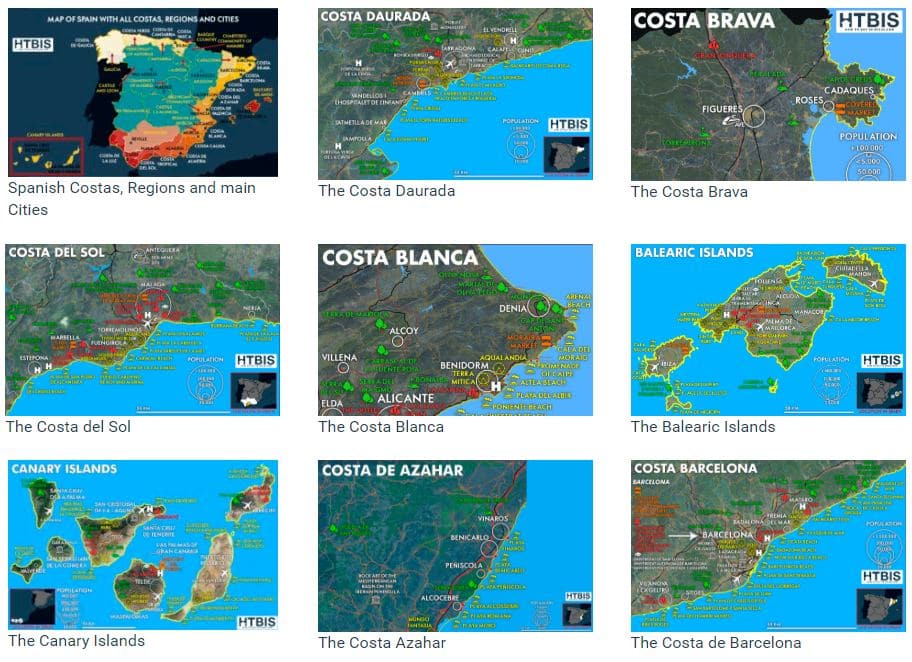 With our team of more than +100 local real estate partners, HowtobuyinSpain helps foreigners to buy real estate in Spain.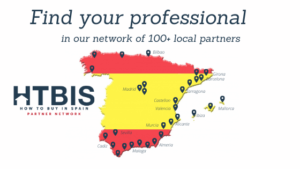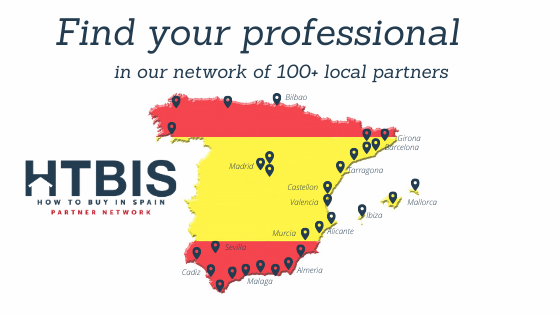 The experts from our network are active in all the fields you need:
Looking for an expert: Architect, property hunter, lawyer,… in Spain? Ask us directly!
Senior Analyst and writer at HTBIS
Check the full team at HTBIS here