Translate this page:
You found your second home, congratulation! You are nearly there!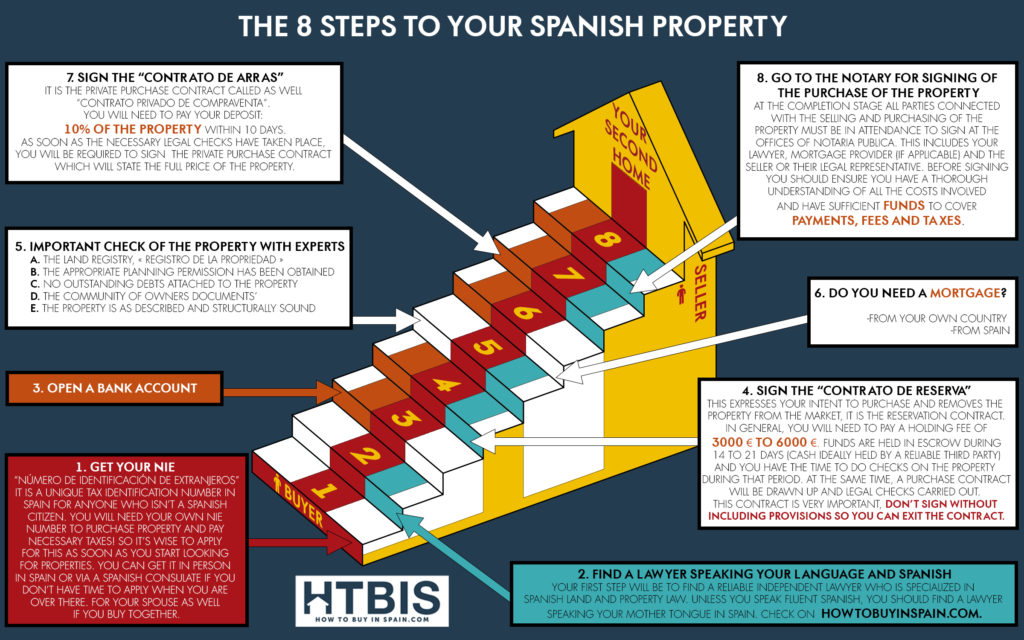 The 8 steps to your Spanish Property
1. Get your NIE "Número de Identificación de Extranjeros"
It is a unique tax identification number in Spain for anyone who isn't a Spanish citizen. You will need your own NIE number to purchase property and pay necessary taxes! So it's wise to apply for this as soon as you start looking for properties. You can get it in person in Spain or via a Spanish Consulate if you don't have time to apply when you are over there. For your spouse as well if you buy together.
Read our article on this: Your Spanish Mortgage: How to apply? How to get the best rates?
2. Find a lawyer speaking your language and Spanish
Your first step will be to find a reliable independent lawyer who is specialised in Spanish land and property law. Unless you speak fluent Spanish, you should find a lawyer speaking your mother tongue in Spain. Check on HowtobuyinSpain.com.
Looking for an expert in Spain? Ask us directly!
3. Open a Bank account
4. Sign the "contrato de Reserva"
This expresses your intent to purchase and removes the property from the market, it is the reservation contract. In general, you will need to pay a holding fee of €3000 to 6000. Funds are held in escrow during 14 to 21 days and you have the time to do checks on the property during that period. At the same time, a purchase contract will be drawn up and legal checks carried out.
=> This contract is very important, don't sign without including provisions so you can exit the contract.
=> Cash ideally held by a reliable third party
5. Important checks of the property with experts
the land registry, « Registro de la Propriedad»
the appropriate planning permission has been obtained
No outstanding debts attached to the property
the Community of owners documents'
the property is as described and structurally sound
Looking for an expert in Spain? Ask us directly!
6. Do you need a mortgage?
from your home country
from Spain
Have a look at our reports on this subject:

7. Sign the "contrato de Arras"
It is the private purchase contract called as well "Contrato Privado de Compraventa".
You will need to pay your deposit: 10% of the property within 10 days.
As soon as the necessary legal checks have taken place, you will be required to sign the private purchase contract which will state the full price of the property.
8. Go to the Notary for signing the contract for the purchase of the property
At the completion stage, all parties connected with the selling and purchasing of the property must be in attendance to sign at the offices of Notaria Publica. This includes your lawyer, mortgage provider (if applicable) and the seller or their legal representative. Before signing you should ensure you have a thorough understanding of all the costs involved and have sufficient funds to cover payments, fees and taxes.
Once you're done with all the paperwork, have a look at our Final six weeks countdown: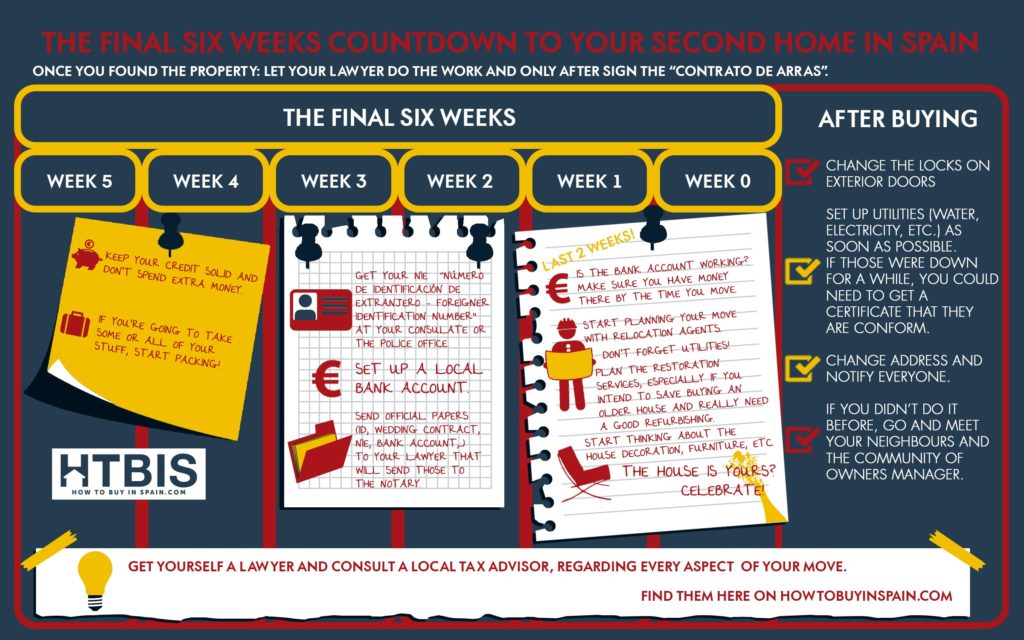 You can find interesting information on this subject on the site of the notaries in Spain.
Looking for an expert in Spain? Ask us directly!
Senior analyst and strategist at HTBIS
Check the full HTBIS team here
SHARE with the colour icons at the bottom of your screen